Increasing Incidence of Osteoporosis and Osteoarthritis to Drive Revenue Growth of the Small Joint Replacement Market
Osteoporosis and Osteoarthritis are the common joint disorders, which are affecting millions of people globally. Osteoporosis is a condition in which the bones become porous and thin, and are more likely to break. The common sites of osteoporotic fracture are the spine fracture, wrist, hip and shoulder. Osteoporosis can occur at any age and can severely affect both men and women. Over 80% of all fractures in people aged 50 and above are due to osteoporosis. Globally, there are more than 8.9 million fracture cases due to osteoporosis.
According to the Arthritis Foundation, it is estimated that around 30.8 million adults have osteoarthritis. It is expected to be the most common cause of disability in adults. In the U.S., the annual incidence of osteoporosis is found to be around 1.5 million and the incidence of hip fracture is recorded to be twice of that. Similarly, in Canada, ~10% of population aged above 40 years are diagnosed with osteoporosis and around 21% are expected to have bone fracture in the arm, wrists, pine, and hip. Thus, the increasing incidence of orthopedic disease is expected to support the demand for small joint replacement and drive the growth of the global small joint replacement market.
Technological Advancements in the Field of Small Joint Replacement
A shift in orthopedic treatment from the conventional invasive procedures to minimally invasive surgeries has been observed in the past few years. Development of advanced implants and materials that are long-lasting are expected to drive the growth of the global small joint replacement market. Traditional and conventional surgeries have a number of limitations such as prolonged recovery time, high risk of infection, and expensive procedures. Minimally invasive surgeries or procedures in small joint replacements such as ankle replacement overcome such limitations.
Minimally invasive surgeries or procedures involve insertion of the tested and reliable implants through a small incision using surgical approaches. These surgeries are of low cost and have faster recovery time. Advancements in technologies, materials, and designs have led to greater durability of about 25-30 years as compared to other conventional orthopedic implants. This transformation is expected to have positive impact on growth of the global small joint replacement market. Number of small joint replacement surgeries is expected to increase, due to their benefits.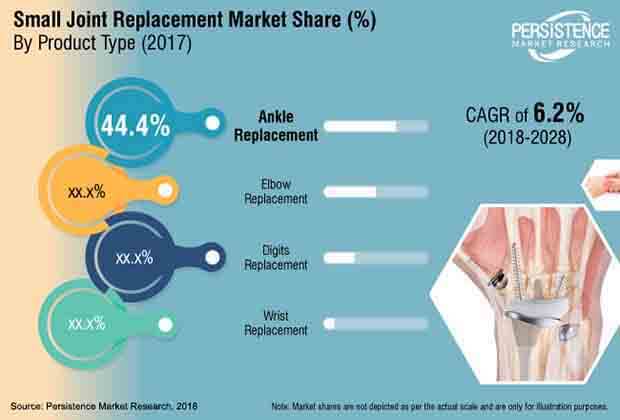 Favorable Reimbursement for Small Joint Replacement Surgery
Favorable reimbursements for small joint replacement are projected to support the growth of the small joint replacement market as the adoption of the procedure is consequently expected to increase. Prior to October 2017, the reimbursement for total ankle replacement a type of small joint replacement was US$ 12,326 under the MS-DRG 470.
However, due to factors such as risk of being bundled into the Medicare payment system and associated costs with revision of total ankle arthroplasty procedures, the loss to the hospitals could not be recovered. This resulted in redesignate total ankle arthroplasty by the CMS in MS-DRG 469, which drastically (~55%) increased the Medicare hospital reimbursement to US$ 19,296 in 2018. Replacement of elbow joint with synthetic substitute is covered under the MS-DRG 483 with a reimbursement value of US$ 14246.3.
Rising Demand for Out-patient Surgical Procedures
Increased awareness regarding reconstructive procedures is expected to support the demand for small joint replacement. The demand primarily is from Singapore, India, China, and South Korea and other similar countries. Advanced emergency room procedures coupled with increased affordability are some of the factors contributing towards increased demand for better quality procedures. In the recent past, out-patient surgeries are preferred for cover by insurance payers that offer reimbursement for medical services. Furthermore, out-patient surgeries do not require overnight or prolonged hospital stay.
Competitive Landscape of the Global Small Joint Replacement Market
This section comprises key player profiles that operate in the small joint replacement market based on their product offerings, marketing approach, and company dashboard. Examples of some of the key players featured in this report include Johnson & Johnson Services Inc, Zimmer Biomet Holdings, Stryker Corporation, Smith & Nephew, Wright Medical Group N.V., Integra LifeSciences, Evolutis Group, Corin Group, KeriMedical SA, and Marle SA, among others.
Large joint replacement market participants are inclined towards using their expertise and advancements in large joint replacement products to enter the small joint replacement market. Advances made by these companies in biomaterials for large joints allow for innovative product development in the small joint replacement products giving them an upper hand in the small joint replacement market. Fast-changing technology, new scientific findings and changing consumer demands is expected to surge the adoption of small joint replacement among the older population.
Definition
Joint replacement is a process in which the bone and surrounding material of the joint is removed and replaced surgically. The replacement joint may be made of metal, polymer or specialized carbon-coated implants. Small joint replacement refers to the replacement of joints in the extremities that are small, such as, finger joints, knuckle joints, wrist joints, ankle joints, elbow joints and others.
Segmentation
The report offers a comprehensive taxonomy of the small joint replacement market based on product type, end users, and region.
Based on product type, the small joint replacement market is segmented into ankle replacement, digits replacement, elbow replacement and wrist replacement.
Based on the end users, the small joint replacement market is segmented into hospitals and outpatient centers.
Based on regions, the small joint replacement market is segmented into North America, Latin America, Europe, Asia Pacific and MEA.
Additional Questions Answered
Some of the additional questions addressed in this report on the small joint replacement market are-
What is the revenue potential of the products related to small joint replacement market across the regions of North America?
Who are the key competitors, and what are their portfolios in the small joint replacement market?
What are major challenges influencing growth of small joint replacement market?
Research Methodology
A triangulation method was adopted for small joint replacement market size estimation through demand-supply outlook. Over all expenditure on research and development funding, adoption of small joint replacement and other similar factors were considered for the estimation. Insights from primary research participants through interviews, surveys and in-person interaction was used for triangulation along with secondary research through verified paid sources, authentic trade journals and other resourceful databases.