Favorable market scenario to present various growth opportunities for manufacturers of laptop cooling pads
Laptop usage has been drastic since many years in every industry owing to which adoption of various accessories associated with laptops has been rising. Laptop cooling pad is one of the hardware accessories that is used to decrease the heat of the system. It is place beneath the laptop to avoid overheating of the system by reducing the operating temperature. Persistence Market Research has carried out a vast market intelligence on laptop cooling pads, the sales volume of these pads across regions and overall revenue generated by each market segment. This research report on global laptop cooling pad market reveals past market analysis and current scenario along with future predictions for a period of eight years based on a strong research model. Two types of laptop cooling pads have been discussed in this research report, namely active cooling pads and passive cooling pads.
Active laptop cooling pad incorporates one or more than one fans for laptop cooling by generating air flow. Active cooling pad requires the use of electricity and therefore results in higher costs, compared to passive cooling. Passive cooling pad achieves high levels of natural convection and heat dissipation by utilizing a heat spreader or a heat sink to maximize the radiation and convection heat transfer modes. Passive cooling pads lie in the energy efficiency and lower financial cost, making it an astute systems design choice for the laptop cooling.
As per PMR analysis, the global market for laptop cooling pads is expected to rise at a high growth rate during the period of forecast to reach a significant valuation by the end of the year of assessment. The global laptop cooling pad market is projected to expand at a value CAGR of 5.9% throughout the period of assessment. It is estimated to touch a valuation of around US$ 430 Mn by the end of 2025 from a value of about US$ 270 Mn in 2017. This increase in revenue can be attributed towards increasing usage of laptops in gaming industry and adoption of measures to avoid laptop failure owing to excessive heat.
Increasing demand for and adoption of laptop accessories in several regions to actively influence revenue growth of the global laptop cooling pad market
Various industry verticals are one of the key opportunity in laptop cooling pad market. Various industry verticals, such as manufacturing, retail and wholesale, IT and ITES, banking and financial sector, and others, are adopting high performance laptops. Hence, increase in laptop market growth will have a positive impact on the growth of the laptop cooling pad market. In the recent years, various countries such as U.S., Germany, France, U.K., India and China are the top adopters of laptop accessories.
Laptop cooling pad manufacturers can invest in these countries to maximize their revenue. In addition, the gaming industry is also booming in these regions and gamers are more inclined towards using laptop cooling pads with gaming laptops. Laptop cooling pad providers can have a good growth opportunities owing to the boost in the gaming industry.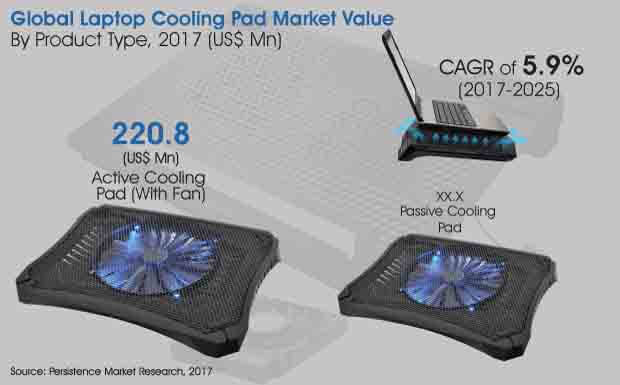 Active cooling pads to witness a high Y-o-Y growth in the coming years
Active cooling pads segment in the product type category is anticipated to witness a high Y-o-Y growth during the assessment period. This segment reflected a high volume and value owing to increased adoption in the gaming industry. The active cooling pads segment is poised to register a high value CAGR of 6.2% during the period of forecast to touch a valuation of more than US$ 350 Mn by the end of the year of assessment.
Market Segmentation
Attribute
Details

By Product Type

Active Cooling Pad (With Fan)
Passive Cooling Pad

By End Users

By Sales Channel

E-Commerce/Online
Organized Retail Stores
Unorganized Retail Stores

By Region

North America
Latin America
Europe
Asia Pacific (APAC)
Middle East and Africa (MEA)
- Companies Covered in This Report -
Targus
Honeywell
Cooler Master Co., Ltd
Thermaltake Technology Co., Ltd.
GIGA-BYTE Technology Co., Ltd
Zalman Tech Co.
Logitech
Zebronics
Portronics
HAVIT
Antec Inc.
Belkin International, Inc.
NZXT
Others.