Introduction
The booming construction industry will remain the primary growth driver for float glass market. Market in East Asia, Europe, and South Asia are projected to register healthy growth in the near future.
Technological innovations by key market participants will also give impetus to the float glass market growth. Global float glass market is projected to reach US$ 210 Bn by the end of the forecast period (2019 - 2029), expanding at a strong CAGR.
Demand in Automotive Industry and Aftermarket Driving Sales
Accelerating demand for automobiles and their aftermarket usage will create more demand for automotive glass. Automotive production was pegged at 95.6 Mn units in 2018, which shows that the demand for automobile is thriving. This factor will significantly boost the overall demand for automotive glass and drive the growth of the float glass market in the forecast period.
The lifespan of automotive glass depends on the driving conditions as well as the weather. In good road conditions, automotive glass exhibits an operational lifespan of seven to ten years. However, any crack in the windshield when hit by a small piece of debris while driving at high speed requires the windshield to be replaced.
This, in turn, enriches the aftermarket segment in the global market. Extreme cold conditions also tend to increase the replacement ratio of automotive glass as the cold weather increases the chances of breakage or cracks in glass. Hence, the aftermarket segment will have better opportunities in cold-prone regions like Canada, the U.S., Norway, the U.K., and other countries.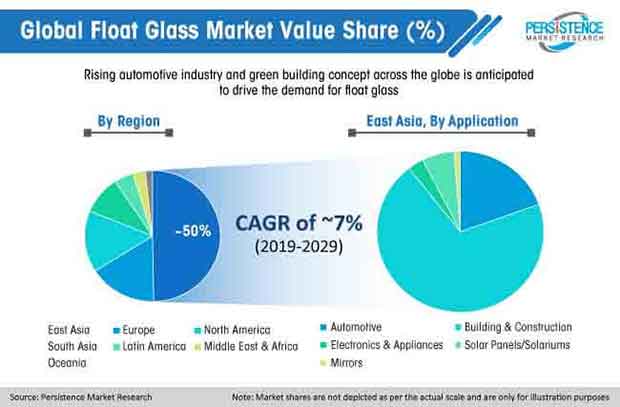 Increasing Implementation of Green Building Concept to Drive Growth
Climate change and resource scarcity have led the construction industry to do some rethinking for developing sustainability as a guiding principle. Green building concept or green design concept is used to facilitate the sustainable use of resources such as energy and water, which are included in the complete lifecycle of the building, including its construction. Float glass being a wholly-recyclable material is beloved by architects as well as designers to accomplish indoor as well as outdoor environmental quality.
The intent of a green building design is to curtail the demand for non-renewable resources, by amplifying the utilization efficiency of these resources when in use, and augment the reuse, recycling, and consumption of renewable resources. Glass permits the entry of natural light, which puts interior of office and residential buildings together with the exterior, leading to a healthy environment.
Ability to Curb Carbon Emissions and Offer Insulation Properties to Attract Demand
The float glass industry through its products, manufacturing activities, applications, research, and sustainability policies will play an active role in shaping a low-carbon economy. This will be achieved with the use of highly-insulated glass that will offer a positive energy balance, which will result in less carbon and other emissions from the glass.
Cutting down fossil fuel usage in daily life and a shift towards renewable energy sources such as concentrated solar power stations, photovoltaic panels on roofs, and integrated photovoltaic facades in buildings, can feed surplus electricity back into the grid. These are some of the factors that will lead to decarburization.
Global Float Glass Market: Competitive Landscape
The global float glass market is fairly fragmented due to the presence of large number of players. Tier-I companies are anticipated to remain a dominant force given their extensive market footprint and higher proportion of revenue shares as compared to the other players.
Key participants in the float glass market such as Fuyao Glass Industry Group Co. Ltd., ?i?ecam Group, Vitro, S.A.B. de C.V., Saint-Gobain S.A., AGC Inc., Nippon Sheet Glass Co., Ltd., and Guardian Industries are also focusing on new product development to enhance their product portfolio.
Growing Production Capacities and Market Consolidation
Over the past few years, an increase in the number of acquisition and merger activities has been witnessed in the float glass market by the tier-I players. Manufacturers are actively pursuing consolidations and enhancements in production capacities to cater to the growing demand for float glass.
In 2018, sisecam Group acquired the Sangalli Vetro Manfredonia facility in Italy. Now it is its second flat glass manufacturing facility in Italy, with a float line capacity of 190 thousand tons/year.
In 2018, Vitro, S.A.B. de C.V. completed the acquisition of PPG's flat glass business.
In 2018, Fuyao Glass Industry Group Co. Ltd. opened a new glass plant in South Carolina, North America. The company has prominent presence in Dayton, and will establish a 182 thousand square foot facility in Fountain Inn, S.C.
Analyst's Viewpoint
A detailed view of the global float glass market has led our analysts to conclude that the market is growing at an impressive rate owing to flourishing construction activities worldwide. The East Asia float glass market is expected to be an opportunistic market in terms of sales.
The building and construction application is expected to dominate the global float glass market throughout the forecast period. The scope of replacement will further boost the growth of the float glass market during the forecast period.
Key Segments
PMR's study on the float glass market is divided into three significant segments - glass type, application, and region. This report offers comprehensive data and information about the important market dynamics and growth parameters related to these categories.
Glass Type

clear glass
tinted glass
Textured Glass
wired glass
extra clear glass

Application

Automotive
Building & Construction
Electronics & Appliances
Solar Panels/Solariums
Mirrors

Region

Latin America
Europe
South Asia
East Asia
Oceania
Middle East and Africa
Key Questions Answered in PMR's Float Glass Market Report
Which factors will play a key role in spurring the demand for float glass over the forecast period?
Which regions are expected to prevail as prominent markets over the foreseen years?
How will current trends impact the float glass market?
How can market players capture low-hanging opportunities in the float glass market in developed regions?
Which are the prominent players in the float glass market?
What are the crucial strategies of the prominent players in the float glass market to upscale their position in this landscape?