Introduction
Fiber drums are used for storing and shipping a variety of products, including food products and flavorings, dyes and colorants, adhesives, rolled sheet material, and various hazardous chemicals. Fiber drums have circular cross-sections with parallel side walls made of thin paperboard or unbleached Kraft paper windings.
Further, these layers are bonded by adhesives, which provides stacking and handling strength. Fiber drums have better corrosion resistance as compared to steel or plastic drums, as their interior layer is made up of paper that is coated with foil or poly lining. Moreover, fiberboard lids are being replaced by metal or plastic rings in order to minimize any type of product contamination.
As fiber drums are made up of fiberboard, they are extremely lightweight. Hence, they reduce shipping expenses. The global fiber drums market is largely organized in regions such as APEJ and North America. The market is expected to be largely influenced by high demand from applications from end-use industries such as chemicals, food, and agro-based industries.
Fiber Drums Market Trends
Growing Demand for Lightweight Bulk Containers: Some of the key factors affecting the fiber drums market are the growing retail sector and increasing preference for lightweight bulk containers. The main advantage of using fiber drums is that they are 100% recyclable.
Most fiber drums used for the transportation and storage of liquid products such as adhesives and dyestuff can be lined with different coatings or insoluble materials such as silicon, polyethylene, or polyester. Performance of a fiber drum is verified by two fundamental tests - drop test and stacking or compression test, in order to check the quality.
Ever-increasing Demand from End-use Industries: Fiber drums are widely used in various end uses and applications such as medical, food and beverages, sanitary chemicals, paints, adhesives, and a range of other chemicals. Different end-use industries have different requirements; for instance, the food and beverages segment has a requirement for FDA-compliant containers, which can be fulfilled by fiber drums.
New manufacturing technologies facilitate the addition of internal and external liners, which increases their resistance and performance for many new applications. Fiber drums are also available for lighter weight and lower volume products.
Both design types can be UN certified for the packaging of dangerous solids. Owing to their low cost, fiber drums are being preferred over other alternatives by various end users. The chemical industry is expected to heavily dominate the fiber drums market during the forecast period.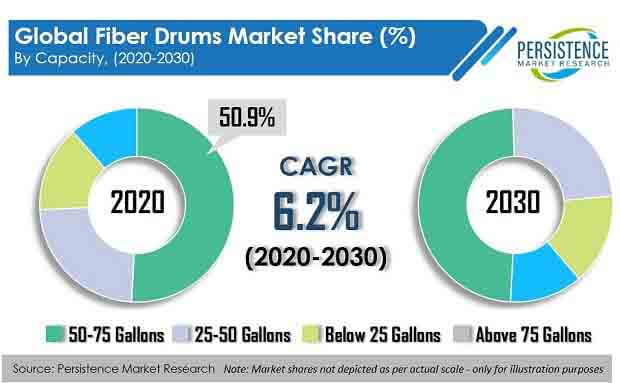 Regional Outlook of Fiber Drums Market
North America is estimated to dominate the global fiber drums market share with nearly one-fourth share. The chemicals segment is boosting the sales of fiber drums in almost all regions, as result of increasing demand containing and transporting various chemicals.
The COVID-19 pandemic has impacted business across all regions, but established economies such as USA and China are likely to recover quickly to hold a firm grip over the market. East Asia and South Asia are considered to be regions with the highest growth rates, owing to continuously expanding pharmaceutical and chemical industries in these regions.
Fiber Drums Market: Structure Analysis
The global fiber drums market is moderately consolidated in nature. Tier-1 players account for around half of the market value share. Key participants in the global fiber packaging materials market are Grief Inc., Cary Company, Mauser Packaging, Schutz – packaging, Sonoco, Great Western Containers, and Fibre Star. To gain a competitive advantage in the market, global leaders are continuously investing in R&D activities to provide products as per the changing requirements of customers.
COVID-19 Impact on Fiber Drums Market
The global fiber drums market is projected to experience a sharp decline over the coming few years, owing to ongoing COVID 19 pandemic. The production of food and beverages, agricultural products, and chemicals is comparatively less, as plants in many COVID-affected regions were shut down during the lockdown period. In developed regions such as North America and Europe, the market is projected to show sharp recovery over the coming years.
Analysts' Viewpoint
The global fiber drums market is estimated experience lucrative growth over the forecast period, owing to increasing investments in chemical and pharmaceutical industries. Europe and North America are together are estimated to account for more than one-third of the market value share. The market has been impacted by the ongoing COVID-19 pandemic, due to which, it is projected to experience a sharp dip in coming year. Key players should focus on customization of the drums as per industry requirements, and they should also expand their footprint through partnerships with local distributors to increase their market penetration.
Fiber Drums Market: Segmentation
PMR's research study on the global fiber drums market offers a detailed market analysis, wherein, key segments have been discussed in detail. The segmentation of the fiber drums has been offered on the basis of closure, capacity, end-use industry, and region. Every segment has been analyzed in detail, and data pertaining to the growth of each segment has been included in the study.
Closure

Metal Closures
Plastic Closures
Fiber Closures

Capacity

Below 25 Gallons
25-50 Gallons
50-75 Gallons
Above 75 Gallons

End-use Industry

Chemical Industry
Food & Agro Allied Industry
Pharmaceutical Industry
Building & Construction Industry
Others

Region

North America
Latin America
Europe
South Asia
East Asia
Oceania
MEA
The fiber drums market research report includes a competitive landscape that provides a dashboard view of key competitors operating in the market.
Fiber Drums Market: Key Questions Answered
The research study offers inclusive insights about the growth of the fiber drums market in the most comprehensible manner for the better understanding of readers. Key insights offered in this report answer some of the salient questions that assist stakeholders in gauging all emerging possibilities.
How have rapidly changing consumer perspectives acted as a major growth engine for the fiber drums market?
Do omni-channel concepts help companies grow in the global fiber drums market?
What are the key trends that are constantly shaping the growth of the fiber drums market?
Which are the prominent regions offering plentiful opportunities for the market?
What are the differential strategies adopted by key players to command a significant chunk of the global market share?