Dietary Fibers Market Outlook (2022-2032)
Worldwide consumption of dietary fibers is currently valued at around US$ 7.27 Bn in 2022. From 2022 to 2032, the global dietary fibers market is predicted to surge ahead at a CAGR of 7.4% and reach a valuation of US$ 14.9 Bn by 2032.
| | |
| --- | --- |
| Dietary Fibers Market Size (2022E) | US$ 7.27 Bn |
| Projected Sales of Dietary Fibers (2032F) | US$ 14.9 Bn |
| Value CAGR (2022-2032) | 7.4% |
| Value Share of Top 5 Countries (2021A) | 48.9% |
As per Persistence Market Research's detailed industry analysis, dietary fiber sales currently account for around 10% to 15% value share of the global plant-based food market.
Dietary Fiber Consumption Analysis (2017-2021) Vs Market Projections (2022-2032)
During the historical period of 2017-2021, the global market for dietary fibers expanded at a compounded annual growth rate (CAGR) of 6.4%.
Dietary fibers show optimistic growth trends in the near future due to several factors such as rising consumer preference for natural food ingredients, increasing consumer awareness regarding maintenance of health, and much more.
Technological advancements in various fields of manufacturing industries along with increasing utilization of dietary fibers across various industries is fuelling demand growth of dietary fibers. The ongoing trend of plant-based diets in various countries such as China, the U.K., Italy, U.S., and others is also expected to propel demand for dietary fibers in the food & beverage sector.
The global dietary fibers market is expected to expand at a high CAGR of 7.4% over the forecast period of 2022 to 2032.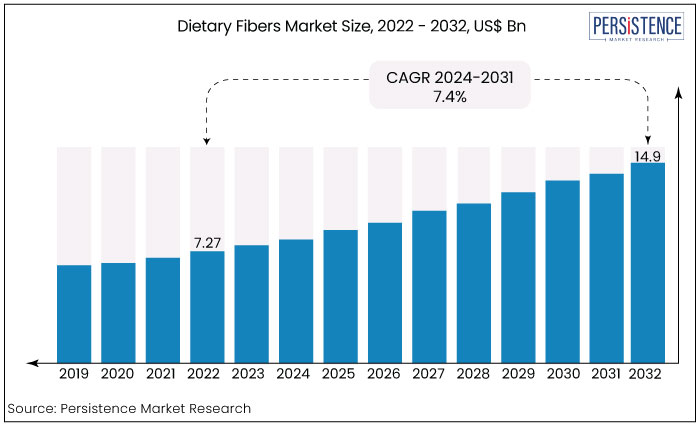 Why are Dietary Fibers Gaining Immense Popularity?
"Rising Incidence of Chronic Diseases Shifting Consumers toward Dietary Fibers"
Chronic diseases/non-communicable diseases are one of the major causes of death among adults across the world. With accelerating urbanization, people are adopting a more sedentary lifestyle, which is pushing obesity rates and cases of chronic diseases upward.
Dietary fibers are helpful in the management and prevention of chronic diseases such as diabetes, cardiovascular diseases, metabolic syndrome, diverticular disease, obesity, colorectal cancer, inflammatory bowel syndrome, and others. Insoluble fiber binds to the bloodstream and adsorbs mutagens, carcinogens, and other toxins, thus preventing harmful effects to the body by the absorption of toxins and targeting those toxins for elimination.
Foods with soluble fibers such as oatmeal, beans, nuts, apples, and much more help in regulating the body's use of sugar, which further aids in keeping hunger controlled and blood sugar in check. Thus, increased consumption of dietary fibers for leading a healthy life would drive the market for the product.
According to WHO (World Health Organization), chronic disease prevalence was expected to rise 57% by the year 2020.
"Increasing Importance of BetaGlucan as Immunity Booster to Bolster Sales of Dietary Fibers"
Beta-glucan is a type of soluble dietary fiber that has been associated with lowering cholesterol and improving cardiovascular health. Beta-glucan also slows down the transition of food in the intestine thereby, helping in improved digestion.
Sugar is not absorbed by the body so quickly; hence, beta-glucan minimizes the risk of blood sugar spikes and assists in the maintenance of blood sugar levels. Since beta-glucan is indigestible, it passes through the entire digestive system. It can carry cholesterol out with it as it moves through, thereby decreasing cholesterol levels.
Beta-glucan can also be used to treat cancer. It is a type of biological response modifier (BRM) that is used in immunotherapy treatment. This treatment strengthens the immune system and activates the defense response. It has the potential to delay the progression of cancer and prevent it from spreading to other places of the body.
The U.S. Food and Drug Administration (FDA) has approved foods that have high amounts of beta-glucan and are heart-healthy food products. For example, eating oats with at least 3g of beta-glucan daily is said to reduce bad cholesterol levels between 5 to 7%.
"R&D Activities on Dietary Fibers to Provide Growth Opportunities in the Global Market"
Key manufacturers are continuously researching the possible applications of dietary fibers with the support of several research institutions, public research universities, and crop institutes across the United States. Constant research is being conducted for expanded application of dietary fibers in the food business, such as food and beverages, pharmaceuticals, and possible applications in the feed industry.
The market for dietary fibers has grown as a result of rising health concerns and developments in R&D activities. The multifunctional benefits of dietary fibers across numerous applications, as well as technological developments to employ it as a sugar substitute, are all contributing to market growth.
EmulGold fiber, a very stable spore-forming prebiotic ingredient that may be integrated into food and beverage items, snacking bars, nutraceutical tablets, confectionery, sauces, and ready meals, is already available from Kerry Group.
"Increasing Consumption of Sports Nutrition & Nutraceutical Products to Provide New Opportunities"
The recognized health claims of dietary fibers of reducing diabetes, obesity, and cholesterol has resulted in a surge in demand for dietary fiber usage in nutraceuticals products. Dietary fibers are also known to help in keeping the gut in good shape.
Soluble dietary fibers help soften stools, and insoluble dietary fibers add bulk and aid bowel movement regularity. Constipation can be also be avoided or relieved by consuming enough fiber, which aids waste movement through the body.
Dietary fibers are beneficial for muscle performance, endurance, and muscle regeneration before, during, and after training. As a result, dietary fiber foods are opening the doors for dietary fiber makers in nutraceutical and sports nutrition industries.
What Might Hinder Dietary Fibers Market Progression?
"Rising Gluten Intolerance to Stunt Dietary Fiber Consumption"
Dietary fibers can be found in legumes, whole grains such as cereals, wheat bran, brown rice, and other gluten-related foods. Gluten intolerance is one of the most frequent food sensitivities among today's consumers.
Gluten-free diets are becoming increasingly popular among consumers due to the claims of improved health, higher energy, and weight loss. As there is an increasing number of people sensitive to gluten-containing foods such as wheat and other grains, demand growth of dietary fibers will be hampered.
Another restrain that might hamper market growth of dietary fibers is various diseases associated with the consumption of gluten, such as infertility, celiac, and neurological disorder. With increasing prevalence of celiac disease, consumption of gluten-free food products is rising, and might hinder growth of the dietary fibers market.
Country-wise Insights
Which is the Leading Market for Dietary Fibers in Europe?
The Italy dietary fibers market is expected to expand at a CAGR of 7.5% during the forecast period (2022-2032) and reach a market valuation of around US$ 393.2 Mn by 2032. Italy is seeing growing demand for dietary fibers that will boost the product market.
Which Country is Showing Promising Growth in North America?
In the North America dietary fibers market, Canada is showing promising growth for the forecast period and is anticipated to register a significant CAGR of 7.3%. Canada holds a market share of around 18.1% and is currently valued at US$ 291.6 Mn in 2022.
Category-wise Insights
Which Sources of Dietary Fibers are Most Popular?
Dietary fibers are majorly sourced from fruits and vegetables, legumes, and cereals & grains that further includes rice, wheat, and others. Under the source segment, cereals & grains hold a major value share in the global market at more than 43% in 2022. Current market value is expected to be US$ 6.3 Bn.
Which Dietary Fiber Type Accounts for Highest Market Share?
Based on type, soluble dietary fibers hold the largest market share; however, insoluble dietary fibers are anticipated to boost overall sales of dietary fibers due to increasing awareness about gut health and its benefits.
Market value share of soluble dietary fibers is 80.3% in 2022, and is further anticipated to be valued at US$ 11.8 Bn by the end of the forecast period in the global market.
COVID-19 Impact
Dietary fibers are majorly found in vegetables, fruits, legumes, and whole grains. During the pandemic situation, several governments were forced to implement harsh lockdowns and limitations on movement and business. This heavily affected the trade scenario of fruits and vegetables, and thus hampered market growth of dietary fibers.
Various businesses, notably the food & beverage industry, faced a setback due to the shutdown of production lines. Disruptions in the supply chain resulted in the scarcity of raw materials and reduction in the output of finished products.
However, due to its nutritional and health benefits, global demand for dietary fibers would see substantial growth over the upcoming years with the relaxation of limits on movement and the opening up of economies.
Competitive Dashboard
Major dietary fiber manufacturers are adopting strategies such as proper utilization of corn, wheat, and chicory root for the extraction of dietary fibers and providing them for application in various industries, including dietary supplements, food and beverages, animal feed, and others.
Key players are also focusing on research & development to find more applications and develop new and improved products from various dietary fibers.
In April 2021, DuPont launched the Nurica enzyme in China. This enzyme is an innovative and new enzymatic solution that enables manufacturers to naturally produce dietary fibers in the form of GalactoOligoSaccharides.
In October 2019, Cargill, Incorporated invested US$ 35 Mn in Europe-based Cargill, Incorporated to produce soluble fibers that meet consumer demand for natural and healthier products.
In September 2019, CP Kelco expanded the production of the Low Methoxyl Amidated (LMA) pectin fiber, which is suitable for drinking yogurts and fruit preparations.
In June 2020, BENEO announced the expansion of its rice starch and chicory root fiber ingredient portfolio with two new organic solutions.
Dietary Fibers Industry Report Scope
Attribute

Details

Forecast period

2022-2032

Historical data available for

2017-2021

Market analysis

USD Million for Value

Key regions covered

North America
Latin America
Europe
East Asia
South Asia
Oceania
The Middle East & Africa

Key countries covered

U.S.
Canada
Germany
U.K.
France
Italy
Spain
Russia
China
Japan
South Korea
India
Thailand
Malaysia
Indonesia
Australia
New Zealand
GCC Countries
Turkey
Northern Africa
South Africa

Key segments covered

Type
Source
Application
Region

Key companies profiled

Archer Daniels Midland Company
Kerry Group
Ingredion Incorporated
DuPont
Cargill, Incorporated
CP Kelco
Roquette Frères
UNIPETonsIN Ingredients AG
BENEO
Tereos S.A.
Advocare International, L.P.
RETTENMAIER & SÖHNE GmbH + Co KG
Tate & Lyle
Yugen Chemicals
Grain Processing Corporation
Grain Millers, Inc.
COSUCRA
Nexira
Drytech Industries
Lonza Group

Report coverage

Market Forecast
Company Share Analysis
Competition Intelligence
DROT Analysis
Market Dynamics and Challenges
Strategic Growth Initiatives

Customization & pricing

Available upon request
Dietary Fiber Industry Research Categorization
Dietary Fibers Market by Type:
Soluble Dietary Fibers
Insoluble Dietary Fibers
Dietary Fibers Market by Source:
Fruits & Vegetables
Legumes
Cereals & Grains
Dietary Fibers Market by Application:
Food & Beverages

Bakery & Confectionary
Dairy Products
Meat Products
Snacks & Cereals
Others

Dietary Supplements
Pharmaceuticals
Animal Feed
Dietary Fibers Market by Region:
North America Dietary Fibers Market
Latin America Dietary Fibers Market
Europe Dietary Fibers Market
South Asia Dietary Fibers Market
East Asia Dietary Fibers Market
Oceania Dietary Fibers Market
Middle East and Africa Dietary Fibers Market