Chromatography Systems Market Outlook (2022-2032)
Worldwide revenue from the global chromatography systems market was around US$ 1.2 Bn at the end of 2021, with the global market estimated to surge at a value CAGR of 6.7% to reach a market valuation of US$ 2.4 Bn by the end of 2032.
As assessed by Persistence Market Research, commercial usage of chromatography systems is expected to hold a market value of US$ 2.4 Bn by 2032. Overall, chromatography system sales accounted for approximately 4% revenue share in the global healthcare analytics market at the end of 2021.
| Attribute | Key Insights |
| --- | --- |
| Chromatography Systems Market Size (2022) | US$ 1.2 Bn |
| Projected Market Value (2032) | US$ 2.4 Bn |
| Global Market Growth Rate (2022-2032) | 6.7% CAGR |
| Market Share of Top 5 Countries | 57.1% |
Sales Analysis of Chromatography Systems (2012 to 2021) Vs. Market Outlook (2022 to 2032)
The global market for chromatography systems recorded a historic CAGR of 6% over the last 9 years between 2012 and 2021.
A significant amount of testing carried out in analytical laboratories involves chromatographic analysis, including ion chromatography (IC), supercritical fluid chromatography (SFC), gas chromatography (GC), high-performance liquid chromatography (HPLC), and capillary electrophoresis (CE).
The implementation of a chromatography data system (CDS), which is essential for instrument control, data processing, report production, and data archiving, is a requirement recognized by all of these instruments.
To offer data confidentiality and integrity in laboratories undertaking regulated testing for pharmaceutical development, manufacturing, and quality control, chromatography data systems play a vital role as a prospective validated client-server network. Distinct observations implied that laboratory scientists, in controlled settings, are predisposed to spend just as much time processing data as they do in front of a chromatographic system.
The in-depth comprehension of the role of a CDS in both, instrument control and data processing, is essential for a better grasp of improved analytical techniques, and this is a reliable factor driving the sales volumes of chromatography systems, globally.
Use of switching valves to link chromatographic columns with various separation goals is referred to as column switching technology. Growing demand for chromatography systems has been augmented by the rising adoption of column switching techniques for improved chromatographic separations in application areas of the pharmaceutical and biotechnology industries.
Furthermore, demand for novel drug discovery is growing across the globe. There is a rise in the adoption of chromatography techniques, as all manufactured products in the pharmaceutical business space must be of the highest quality to ensure the incurrence of the least amount of risk to patients.
To warrant that manufactured products meet specifications, scientists, manufacturers, and developers use a variety of technological equipment and analytical processes, including liquid chromatography techniques, during the development phase.
The global chromatography systems market is thus likely to exhibit high growth at a CAGR of 6.7% to reach a market size of US$ 2.4 Bn by the end of 2032.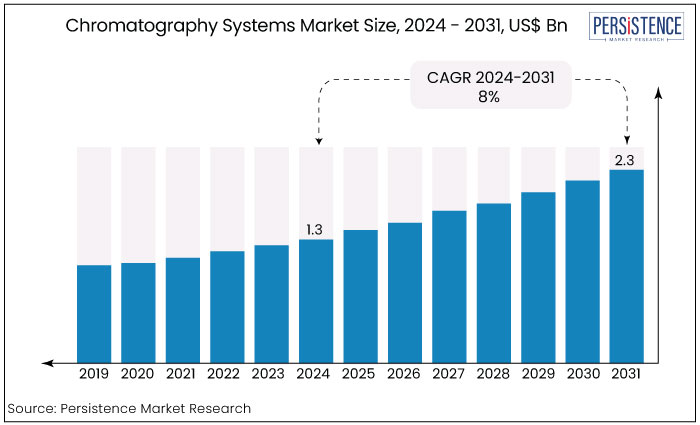 How Can Chromatography System Manufacturers Grow?
"Increasing Automation in Laboratory Systems"
The advancement of instrumentation-dependent industries in emerging nations has been made possible by portable chromatography technology. These portable chromatography systems are suitable for use outside of the laboratory. Both transportable and user-portable versions of portable chromatography devices are available.
In addition to providing a platform for introducing green analytical chemistry issues based on variations in solvent waste production and power utilization, portable instruments can serve comparable pedagogical functions to traditional instruments.
For instance, PerkinElmer Inc.'s Torion® T-9 GC/MS is the smallest portable GC/MS in the world, besides being fast, reliable, and easy to use.
Several attempts are currently underway to reduce manual sampling in the production of small molecule medications and biotech-based products. This is particularly true in the case of cell culture media where manual sampling can lead to a risk of contamination.
Automated sampling is seen as a means of ensuring a representative sample. For the production of active pharmaceutical ingredients (API), automated sampling systems are being developed, in which, the obtained samples must be processed (e.g., by eliminating particulate material) before injection into an online chromatographic system.
The use of automated sampling enables enhanced throughput by addressing the drawbacks associated with manual sampling tools, such as syringes and pipettes. Hence, automation in laboratory procedures will drive demand for chromatography systems during the forecasted period.
How is Demand for Chromatography Systems Being Adversely Affected?
"Presence of Alternatives to Cost-incurring Chromatography Systems"
Chromatography systems are well-found with innovative attributes and performance and are thus priced at a premium range. The cost of a new instrument differs as per the instance of the application.
It is important to consider the nature of the sample when choosing chromatography equipment. In many research and clinical labs, chromatography is utilized for applications such as isolating novel substances and assessing variations between molecules
Chromatography systems are highly cost-incurring. System and operational expense is not a one-time cost that customers need to pay. They also need to plan additional costs per year for consumables such as columns, dry loading materials, reagents, etc.
Allowing time for the better separation and purification of mixtures is necessary to avoid impurities in the final product. The time required for the better separation of synthetic products, herbal extracts, and proteins is quite high, which will restrain market growth.
"Dearth of Skilled Operators of Chromatography Systems"
The appropriate use of chromatography equipment necessitates the knowledge of various chromatography techniques as well as related experience by trained professionals. In the pharmaceutical business, there is a dearth of competent personnel who can operate chromatography instruments and perform chromatography procedures.
As a result, global chromatography systems market expansion may be hampered due to a shortage of experienced workers to handle and operate these systems.
Additionally, even though chromatographic separation systems are now the gold standard for antibody purification due to their excellent resolving power, it is becoming increasingly clear that there may be limitations on a very large scale.
The presence of alternatives such as precipitation, membrane chromatography, high-resolution ultrafiltration, crystallization, and high-pressure refolding techniques, as well as the availability of alternative techniques for drug development may decline market value.
Country-wise Insights
Why is the U.S. Chromatography Systems Market Booming?
"Increasing Induction of Automated Laboratory Systems"
The U.S. accounted for around 86.3% market share in the North American chromatography systems market in 2021, and a similar trend is expected over the forecast period as well.
Demand for automated laboratories and systems is driving the growth of the U.S. chromatography systems market, which can be attributed to factors such as the emergence of chromatography-related conferences and symposia, rising venture capital funding in the U.S., and developed infrastructural facilities.
Why is the U.K. a Lucrative Market for Chromatography System Suppliers?
"Large-scale Biologics Production in the U.K."
The U.K. held around 29.4% market share of the European chromatography systems market in 2021.
Increasing activities associated with the production of novel biologics, as well as growing developments in the field of genomics and proteomics within the European region are factors that have propelled the usage and implementation of chromatography systems within laboratory and production settings, thus providing traction to the growth of the U.K. market.
How is China Emerging as a Prominent Market for Chromatography Systems?
"Quality Assessment for Traditional Chinese Medicines"
China held the largest market share of 48.8% in the East Asian chromatography systems market in 2021.
The country observes a wide usage of Traditional Chinese Medicine (TCM), and the Chinese Pharmacopoeia (ChP) drug code formulated by the Chinese government ensures total quality management of TCM production. This factor generates traction for the application of chromatography systems in the quality assessment for medication production within the country.
Category-wise Insights
Which Product is Majorly Driving Market Growth?
"Liquid Chromatography Systems for Pharmaceutical Production"
Liquid chromatography systems held around 50.4% share of the total market in 2021.
Due to advancements in liquid chromatography equipment for improved efficiency and lower cost of chromatographic procedures, liquid chromatography has become a significant supplementary tool in the pharmaceutical businesses for mid-sized, small, and large established laboratories.
Wide application in areas such as quality assessment of pharmaceutical products and medication development, as well as integrated automation in chromatographic equipment, are factors propelling the adoption of liquid chromatography systems.
Increased investments in the pharmaceutical sector by producers and government agencies are increasing the adoption of liquid chromatography techniques, resulting in high segment growth.
Which Modality Displays the Highest Adoption in the Market?
"Time-reduction and Cost-efficiency Making Continuous Chromatography Systems Popular Choice"
Continuous chromatography systems held the largest market share of around 39.9% in 2021.
When the purification stage is connected to an upstream perfusion bioreactor, continuous chromatography systems are designed to be supplied continually, which is a helpful technique for the purification of oligonucleotides, peptides, and biopharmaceuticals.
It enables high productivity with both, high-purity and high-yield, in reversed-phase chromatography and ion-exchange chromatography, which results in significant cost reduction, time-saving, and minimal product waste from crude materials.
Which Usage of Chromatography Systems is Highly Beneficial?
"Detection of Contaminants for Commercial Usage"
Commercial usage of chromatography systems dominates the global market scope with a market value share of around 67.8% in 2021, and this segment will continue to flourish throughout the forecasted years at a CAGR value of 7.3%.
Growing adoption of chromatographic techniques for production and quality control has been facilitated by the rising need to establish clinical and quality guidelines for production within developmental facilities. For commercial usage and validity, chromatography systems prove vital and support the supply and adoption of manufactured products upon integrity evaluation.
Competitive Landscape
Leading manufacturers of chromatography systems are aiming to enter into strategic alliances to expand their product demand and sales footprint across countries. Chromatography system suppliers are focused on product launches, product patenting, and acquisitions to gain high market revenue.
For instance:
In February 2022, Sartorius completed the acquisition of Novasep's chromatography division.
In April 2022, PerkinElmer launched its first Ready-to-use HTRF® and AlphaLISA® assay kits for CHO HCP impurity detection and quantification.
Chromatography Systems Industry Report Scope
Attribute
Details

Forecast Period

2022-2032

Historical Data Available for

2012-2021

Market Analysis

USD Million for Value

Key Countries Covered

U.S.
Canada
Brazil
Mexico
Argentina
U.K.
Germany
Italy
France
Spain
Russia
Nordic Countries
BENELUX
Rest of Europe
India
Malaysia
Thailand
Indonesia
China
Japan
South Korea
Australia
New Zealand
Turkey
GCC Countries
Israel
South Africa

Key Market Segments Covered

Product
Modality
Usage
End User
Region

Key Companies Profiled

Bio-Rad Laboratories, Inc.
Thermo Fisher Scientific Inc.
Merck KGaA
Sartorius AG
Agilent Technologies
Tosoh Corporation
Shimadzu Corporation
PerkinElmer Inc.
KNAUER Wissenschaftliche Geräte GmbH
Hitachi High-Tech Corporation
Waters Corporation
Repligen Corporation
Bruker
Biobase Biodusty (Shandong), Co., Ltd.
O.I. Corporation
Gilson Incorporated
Malvern Panalytical Ltd
CAMAG
YMC CO., LTD.

Report Coverage

Market Forecast
Competition Intelligence
DROT Analysis
Market Dynamics and Challenges
Strategic Growth Initiatives

Customization & Pricing

Available upon Request
Key Segments Covered in Chromatography Systems Industry Research
Chromatography Systems Market by Product:
Liquid Chromatography Systems

High-Performance Liquid Chromatography Systems
Ultra-High Performance Liquid Chromatography Systems
Medium-Pressure Liquid Chromatography Systems
Flash Chromatography Systems
Other LC Systems

Gas Chromatography Systems
Supercritical Fluid Chromatography Systems
Thin-Layer Chromatography Systems
Chromatography Columns

Pre-packed Column
Self-Packed Empty Column

Auto-sampling Systems
Consumables and Accessories
Chromatography Systems Market by Modality:
Single-use Chromatography Systems
Multiple-use Chromatography Systems
Continuous Chromatography Systems
High Performance Chromatography Systems
Chromatography Systems Market by Usage:
Process Development
Commercial
Chromatography Systems Market by End User:
Biopharmaceutical Companies
Hospitals
Diagnostic Centers
Clinical Research Organization
Academic Institutes
Chromatography Systems Market by Region:
North America Chromatography Systems Market
Latin America Chromatography Systems Market
Europe Chromatography Systems Market
South Asia Chromatography Systems Market
East Asia Chromatography Systems Market
Oceania Chromatography Systems Market
The Middle East & Africa Chromatography Systems Market