Packaging Has Never Been So Safe & Flexible… BOPP Films Are Here to Stay!
---
Date : May 24, 2018 Author : PMR Editorial Staff Category : Business
Surging Demand for Cost-effective Packaging to Boost Adoption of BOPP Films for Packaging Globally
In a bid to mitigate for the ever-growing demand for novel, innovative packaging solutions, the global packaging industry is progressing rapidly towards a plethora of new trends. Stakeholders are swiftly switching to BOPP (biaxially-oriented polypropylene) films, from the conventional waxing paper, cellophane, and aluminum foils.
The fact that BOPP films are highly flexible and enable packaging at a faster pace, compels the industry players to choose them over the usual packaging materials. Companies, in addition to reap the benefits of advanced sealing properties of BOPP films, are also innovating the market with a wide range of BOPP-based products. Manufacturers perceive BOPP films as an ideal printing surface that can also be made into stickers and labels.
Innovia Gears up; Presents a New BOPP Product Range
Innovia Films, a big name in the world of packaging, recently announced increasing investments in a bid to present an enhanced high-barrier portfolio. The company is currently concentrating on high-barrier materials' R&D, which is eventually expected to help introduce a new range of BOPP products to the market, which will possess optimum barrier performance.
More recently this year, Innovia has launched a BOPP product – Propafilm REF that has been designed specifically for packaging of bakery and confectionary items, and biscuits, tea, and dried foods. This product is said to have a broad sealing range, when compared with the standard coextruded films, which are being conventionally used in packaging food products.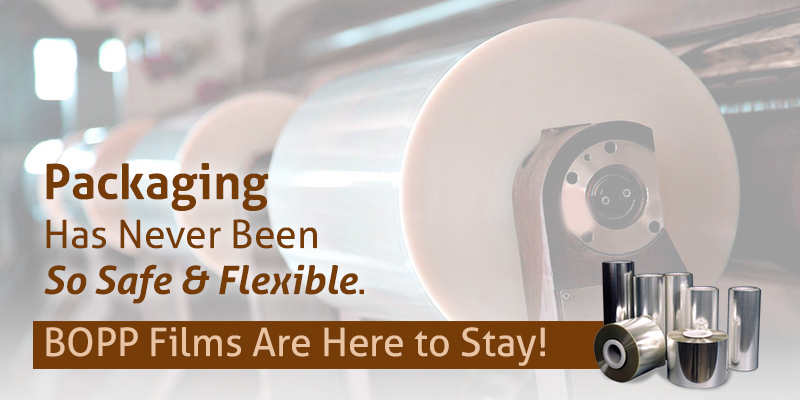 Persistence Market Research projects a promising growth outlook for the global BOPP films for packaging market. While the market is estimated to exhibit a 6% CAGR between 2017 and 2025, it has been anticipated to attain the revenue of over US$ 21 billion by the end of 2025.
Manufacturers Adopt Slip Additives to Achieve High-speed Converting and Packaging
The packaging industry has been dealing with a growing need for rapid production process at minimal costs, over the years. Through the past decade, the industry has also been observing fostering growth of flexible plastic packaging materials with sharp and catchy graphics. While these mark the two highly important trends in packaging market, simple BOPP films often fail to target them owing to the films' natural tackiness. As the market advances technologically, incorporation of slip additives proves to be immensely helpful for manufacturers in targeting the aforementioned trends for growth. Silicone slip additives are among the most sought after slip agents adopted by BOPP manufacturers.
Food & Beverages Industry Adopts BOPP Films as the Safest & Most Convenient Packaging Solution
Food and beverages sector is likely to register the highest rate of adoption of BOPP films packaging technology, which is prominently due to the ability of BOPP films to protect packaged products and provide resistance from tampering. These films tend to cater to specific chemical, biological, and physical needs of food and beverage products, in addition to facilitate the preservation of nutrition. While the food and beverages packaging industry is constantly supported by innovation, BOPP films packaging seems to be a lasting one. This assumption is strongly backed by the booming consumption of processed/frozen/ready-to-eat food products and RTD (ready-to-drink) beverages, which comprise microwave suppers.
Cosmetic, dairy, medical, and textile industries are among a few other end-users of BOPP films. Bolstering sales of tobacco and allied products has been recognized as a major growth driver for BOPP films. Although paper box remains the most preferred packaging type used for tobacco and based products, a growing trend of using BOPP films for tobacco packaging is evidently visible, fueling the revenue of the global BOPP films for packaging market.
---