Growing Emphasis on Enhancing Properties of Writing and Specialty Papers
Improving productivity as well as surface and print quality are key concerns for paper & paperboard industries. There are number of solutions mineral formulations, which deliver properties such as gloss, opacity, printability, and brightness to papers.
Chemicals such as nano calcium carbonate and talcs make superior fillers and coating pigments for printing and writing papers, improving quality, and brightness. As coating agents, these help improve printability and deliver superior optical properties such as gloss and opacity.
In specialty papers such as labels and colored papers, minerals reduce dye demand and improve color intensity. Attributing to these factors, the global paper processing chemicals market is projected to grow at a significant pace.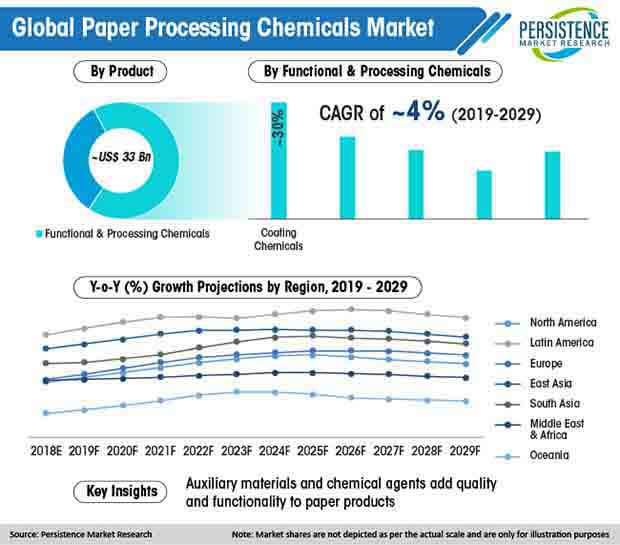 Thriving Demand for Paperboard, Wrapping, and Packaging Paper
Although the digital revolution has significantly impacted the consumption of paper & paperboard, population growth and change in living standards have created new market opportunities through paper goods such as personal hygienic tissue papers and skid resistant paper packaging.
Unbleached pulp may be refined to cut fiber and roughen the surface of fibers. To enhance pulp surface, pulping chemicals act as ideal solutions for the paper industry. The pulping chemicals segment accounted for 32.8% share in the global paper processing chemicals market in 2018.
Increasing Preference for Biodegradable Chemicals
Various chemicals are widely utilized at the time of paper production. These paper processing chemicals are mostly fossil-oil based compounds. Thus, they create a negative impact on the environment. In the backdrop of rising environment concerns, paper mill manufactures are looking for biodegradable paper processing chemicals such as polymer-free coatings, and soy chemicals, which are compliant with various government legislatures.
This factor is anticipated to create huge demand for biocides and other paper processing chemicals.
Luxury Lifestyle and Growing Awareness about Hygiene Bolstering Demand
Besides conventional applications of paper napkins and tissue paper products, the paper processing chemicals market is currently witnessing increasing use of attractive paper napkins in various DIY projects, home interior décor, and accessories.
As a result of pretty designs and refreshing prints, tissue papers are gaining popularity in hotels. Art enthusiasts purchase designer napkins to add a distinctive touch to their home interior. For big projects, the market has specific wholesale dealers who sell an extensive variety of paper napkins in bulk.
Thus, increased awareness of hygiene as well as a luxury-oriented lifestyle are estimated to increase consumption of tissues and napkins.
Competition Landscape Analysis
The global paper chemicals market has a fairly fragmented competition landscape, where number of manufactures are emphasizing on expanding their paper and pulp business through solid distribution partnerships, joint ventures, and expansions.
Key manufactures of paper processing chemicals are prioritizing product developments & innovations. To gain significant market share, global paper processing chemical manufactures may continue to focus on inorganic growth strategies including expansions, acquisitions, and product innovations.
Key Segments of Paper Processing Chemicals Market
PMR's study on the paper processing chemicals market is divided into three significant segments- product form, application, and region. This report offers comprehensive data and information about the important market dynamics and growth parameters related to these categories.
Attribute
Details
Product Form

Pulping Chemicals

Cooking Chemicals
Bleaching Chemicals

Functional & Processing Chemicals

Biocides
Defoamers
Sizing & Strengthening Chemicals
Binding & Filling Chemical
Coating Chemicals

Application

Paperboard, Wrapping and Packaging Paper
Printing & Writing
Sanitary and Household Tissue
Newsprint
Others

Region

North America
Latin America
Europe
East Asia
South Asia
Middle East & Africa (MEA)
Oceania
Key Questions Answered in PMR's Paper Processing Chemicals Market Report
Which region is anticipated to hold a prominent market share over the forecast period?
What will be the key driving factors propelling the demand for paper processing chemicals during the forecast period?
How current trends will impact the paper processing chemicals market?
Who are significant market participants in the paper processing chemicals market?
What are the crucial strategies of prominent players in the paper processing chemicals market to upscale their positions in this landscape?