Primary Hepatocytes Market Outlook (2022-2032)
The global primary hepatocytes market was valued at US$ 213.8 Mn in 2021, with an estimated CAGR of 6.6% for the next ten years, which suggests highly progressive market growth. A comprehensive industry study reveals that revenue from primary hepatocytes will surge to US$ 428.1 Mn by the end of 2032.
| Attribute | Key Insights |
| --- | --- |
| Primary Hepatocytes Market Size (2022) | US$ 226.5 Mn |
| Projected Market Value (2032) | US$ 428.1 Mn |
| Global Market Growth Rate (2022-2032) | 6.6% CAGR |
| Share of Top 5 Countries | 58.4% |
According to Persistence Market Research, primary hepatocytes usage in biopharmaceutical companies and academic research institutes adored a market value of US$ 150 Mn in 2021, accounting for nearly two-thirds of the overall market share.
Revenue from primary hepatocytes accounted for nearly 45% share of the global primary cell culture market in 2021.
Sales Analysis of Primary Hepatocytes from 2013 to 2021 Vs Market Outlook for 2022 to 2032
The global primary hepatocytes market expanded at a CAGR of 5.7% over the last five years (2017-2021).
Currently, isolated hepatocytes are observed as the most suitable and practical models for drug metabolism and drug-drug interaction study. Microsomes of liver tissues are also used as a primary screening model in early drug discovery and development. However, microsome-based analysis has now been replaced or supplemented with human hepatocyte-based models.
The U.S. FDA has suggested that human primary hepatocyte is a standard model for drug metabolism study and also published some guidelines for the same. Hence, researchers are focusing on using human primary hepatocytes for drug toxicity and drug development.
Furthermore, demand for drug discovery and screening is growing across the globe. Primary hepatocytes have several advantages over cell lines. They are capable of giving better results and possess desired characteristics. Thus, primary hepatocytes are primarily used for drug discovery and toxicity testing, and this is one of the major factors driving market expansion.
Increasing incidence of chronic diseases such as heart disease, cancer, diabetes and stroke is leading to rising demand for pharmaceutical drugs to achieve better treatment, which, in turn, is fuelling revenue growth of the global primary hepatocytes market.
According to the American Heart Association, by 2030, 40.5% of the U.S. population will suffer from cardiovascular disease. Revenue from the primary hepatocytes market is expected to grow owing to increasing research & drug development for the treatment and monitoring of chronic disease to control mortality rates.
The global market for primary hepatocytes is predicted to surge ahead at a CAGR of 6.6% and record sales worth US$ 428.1 Mn by the end of 2032.
What Opportunities are on Offer for Primary Hepatocyte Manufacturers?
"Use of Hepatocytes in Drug Development, Drug Testing, and Development of New Cancer Treatments"
Hepatocytes are routinely adopted to analyse potential medication candidates, allowing researchers to get novel medicines into clinical trials more quickly. Developing novel medication therapies that satisfy the demand of patients and doctors is a massive task, the success of which is mainly influenced by the reliability of the models used in testing.
As technologies advance, the need for animal models will be reduced and largely replaced by increasingly in vivo-like systems. Hence, this will drive primary hepatocyte demand over the forecasted period.
Growing number of cancer patients and demand for cancer therapy have increased. Thus, research involving primary hepatocytes is increasing. Personalized medicine provides the highest response and safety margin to assure better patient care by allowing each patient to obtain an earlier diagnosis, risk assessment, and optimum therapy.
In laboratories, these personalized medications are developed using primary hepatocytes. The market for primary hepatocytes has grown in parallel with the rise in demand for personalized therapeutics.
Similarly, In terms of therapy, whether liver damage is caused by a virus, an oncogene, a medication, or even surgical removal, the best option to treat hepatic illness is a liver transplant. However, scarcity of suitable transplantation makes meeting medical demands problematic. To compensate for the scarcity of liver donors, additional options such as hepatocyte transplantation have been explored. This will immediately increase demand for primary hepatocytes and drive market development.
Various regulatory bodies have set standards demanding that the well-being of animals used in experiments be ensured. In addition to researchers' self-imposed limits, external controls exist at numerous levels and in many forms.
External rules include formal, legal requirements of federal, state, or local governmental rules and regulatory controls, as well as research funding or journal publication depending on adherence to specified standards. With these stringent regulations, demand for in-vivo models has increased, thus, acting as an opportunity for primary hepatocyte providers.
What's Restraining Demand for Primary Hepatocytes to Some Extent?
"Availability of Other Types of Cells for Drug Screening; High Risk of Contamination & High Maintenance of Hepatocytes"
Different types of cells are available for research and drug development. Primary hepatocytes are difficult to maintain and obtain every time, and require the preparation of a fresh batch to carry out research. Other types of cells are also available in the market. These include cancer stem cells, immortalized cell lines, and others. These cells are available in relatively high numbers and require low cost for growth and maintenance.
Even freshly-isolated hepatocytes lose critical functions after only a few days in culture, for reasons that are still unknown. They also require a special medium for growth and maintenance. Due to this high maintenance, researchers may shift to other cells for experimenting. Thus, the challenge in maintaining the activities of hepatocytes in-vitro and the availability of other cell types for drug screening may decline market value.
Additionally, micro-organismal contamination or cross-contamination can occur as a result of inadequate cell culture methods such as contact with unplugged pipets, aerosols, cell culture media sharing, incorrect inactivation of feeder layers, and clerical mistakes in labelling or inventory management.
Cell lines are routinely contaminated early in culture, often at the originating laboratory, and any changes in identity might go undetected if the appearance of the contaminating cells matches that of the source. This contamination risk may hinder primary hepatocytes transfection market expansion over the forecasted period.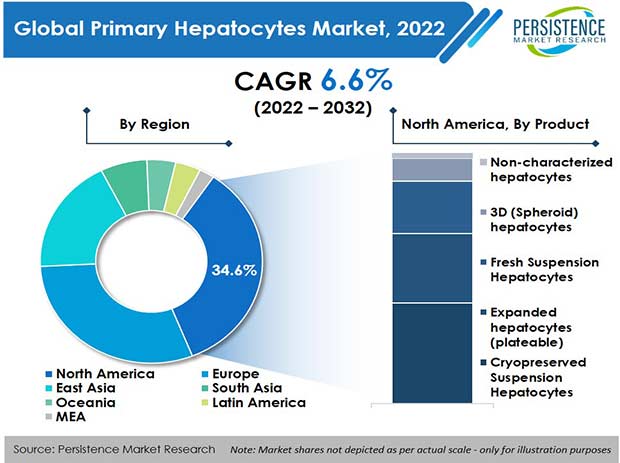 Country-wise Insights
Why are Primary Hepatocyte Manufacturers Targeting the U.S. Market?
"Increase in Investments for R&D Programs as Well as Growing Business Expansion"
In 2022, the U.S. is estimated to account for a market share of 84.7% in the North American primary hepatocytes culture market.
As per the Centers for Disease Control and Prevention (CDC) report, out of 10, every 6 Americans live with one or more chronic diseases.
These figures indicate the rising prevalence of chronic diseases and increase in research and development activities to develop better treatment options in the country, which contributes to market growth.
Furthermore, developed medical structure and strategic planning to collaborate for expansion are major factors that will contribute to the growth of this industry in the U.S.
For instance, LifeNet Health opened a facility in San Diego, California, for research operations and tissue engineering services.
How is Demand for Primary Hepatocytes Shaping Up in Germany?
"Several Leading Primary Hepatocytes Industry Players Present in Germany"
Germany is one of the top countries that have high healthcare expenditure. The country is projected to account for 28.3% of the Europe primary hepatocytes market share in 2022, and is projected to gain steady growth over the coming years at 4.7%.
Germany holds the largest market share in Europe due to the presence of many major players in the country, which increases the accessibility of products in the country.
Why is China Emerging as a Prominent Market for Primary Hepatocytes?
"High Level of Research Activities Ongoing in China"
In 2022, the China primary hepatocytes culture market is estimated to be valued at US$ 20 Mn, with a market share of 48% in the East Asia primary hepatocytes market.
Several researchers are performing extensive R&D activities, thus contributing to market growth in China.
According to scientists of CDC China, researchers developed lung airway cells from human tissue culture to propagate the COVID-19 virus in 2020.
Collaborative research activities will drive the Chinese market and offer lucrative opportunities to local players.
What is the Outlook for India Regarding the Primary Hepatocytes Industry?
"High Adoption of Modern Medicines and Newer Therapies"
India accounted for 32% of the total value of the South Asia primary hepatocytes market, valued at US$ 4.5 Mn in 2021.
The affordability of drugs is increasing in India owing to sustained growth of incomes. Adoption of novel drug therapies and personalised medicines would increase due to the presence of leading manufacturers.
Further, leading players are also succeeding in increasing the acceptance of biological drugs and preventive therapies in the Indian market, thus driving the growth of the market.
Category-wise Insights
Which Type of Primary Hepatocytes is Driving High Market Growth?
"High Demand for Cryopreserved Suspension Hepatocytes"
The cryopreserved suspension hepatocytes segment accounted for the highest market share of 40.1% by revenue in 2021.
Cryopreserved hepatocytes are generally accepted experimental systems for the evaluation of human drug properties and have the advantage of allowing long-term storage. Cryopreserved suspension hepatocytes are used routinely in the pharmaceutical industry for drug discovery and development.
Regulatory agencies such as the European Medicines Agency (EMA) and USFDA recommend drug metabolism and drug-drug interaction evaluations using a suspension of cryopreserved hepatocytes, thus increasing demand for cryopreserved suspension hepatocytes.
Which Application or Assays is Driving Demand for Primary Hepatocytes?
"Cell Viability Assays Continue to Account for Highest Market Share"
Cell viability assays held the highest market share of 25% in 2021, and are projected to dominate over the forecast period at a growth rate of nearly 6% CAGR.
Rising prevalence of several chronic diseases such as malignant tumours, innovative cancer treatment methods, and high demand for adapting primary hepatocytes in drug screening applications led to the highest revenue from cell viability assays.
Which Species Heavily Demand Primary Hepatocytes?
"Human Primary Hepatocytes Dominate market Among Species"
Human primary hepatocytes are projected to dominate the market with a revenue share of 62.6% in 2022.
Increasing funding for the development of regenerative therapies and rising application of human stem cells are driving the growth of this segment.
Impact of COVID-19
The outbreak of COVID-19 had a positive impact on the primary hepatocytes market due to the increase in research for drugs and vaccines.
This impact was for the short term as most of healthcare resources of the global healthcare system were engaged in tackling the COVID-19 pandemic situation.
There was subsequent increase in the manufacturing of drugs and vaccines requiring drug toxicity testing, including primary hepatocytes. However, the lifting of lockdowns, reopening of companies and industries, and revised market strategies of players helped them capitalize on the growth opportunities in the market.
Competitive Landscape
Leading providers of primary hepatocytes are aiming to enter into strategic alliances to expand their product demand and sales footprint across the world.
Primary hepatocyte manufacturers are focused on product launches, product patenting, and acquisitions to gain higher market revenue in the primary hepatocytes industry.
SEKISUI XenoTech, LLC introduced New CryostaX Individual Donor Human Hepatocytes in 2021.
In October 2020, BioIVT introduced a long-term, stable, and in vitro model - HEPATOMUNE kit - for studying inflammation-mediated and immune-related liver injury.
SEKISUI XenoTech was awarded the Cryopreservation Patent and achieved numerous hepatocyte enhancements in 2017.
Primary Hepatocytes Industry Report Scope
Attribute
Details

Forecast Period

2022-2032

Historical Data Available for

2013-2021

Market Analysis

US$ Million for Value

Key Countries Covered

U.S.
Canada
Brazil
Mexico
Argentina
Germany
France
Spain
Italy
U.K.
BENELUX
Nordics
Russia
Poland
India
Thailand
Malaysia
Indonesia
China
Japan
South Korea
Australia
New Zealand
Turkey
GCC Countries
Northern Africa
South Africa

Key Market Segments Covered

Product
Species
Application or Assay
End User
Region

Key Companies Profiled

Thermo Fisher Scientific
Corning Inc.
Lonza
Axol Bioscience Ltd.
LifeNet Health
SEKISUI XenoTech, LLC
Cytes Biotechnologies
Cell Biologics, Inc.
ZenBio, Inc.
BioIVT.
ScienCell Research Laboratories, Inc.
Kerafast
Takara Bio Inc.
Kosheeka

Report Coverage

Market Forecast
Competition Intelligence
DROT Analysis
Market Dynamics and Challenges
Strategic Growth Initiatives

Customization & Pricing

Available upon Request
Key Segments Covered in Primary Hepatocytes Industry Survey
Primary Hepatocytes Market by Product:
Cryopreserved Suspension Hepatocytes
Fresh Suspension Hepatocytes
3D (Spheroid) Hepatocytes
Expanded Hepatocytes (Plateable)
Non-characterized Hepatocytes
Primary Hepatocytes Market by Species:
Humans
Rats
Mice
Dogs
Monkeys
Horses
Others
Primary Hepatocytes Market by Application or Assay:
Cell Viability Assays
Cytochrome Enzyme Activity
High Content Cytotoxicity
Transporter Inhibition Assays
In Vitro Intrinsic Clearance
Phospholipoids Assays
Others
Primary Hepatocytes Market by End User:
Biopharmaceutical Companies
Academic and Research Institutes
Contract Research Organizations
Primary Hepatocytes Market by Region:
North America Primary Hepatocytes Market
Latin America Primary Hepatocytes Market
Europe Primary Hepatocytes Market
South Asia Primary Hepatocytes Market
East Asia Primary Hepatocytes Market
Oceania Primary Hepatocytes Market
The Middle East & Africa Primary Hepatocytes Market