Mussel Market Outlook (2022-2032)
The global mussel market is forecasted to expand at a CAGR of 3.4% and increase from its current size of US$ 5.36 Bn to US$ 7.47 Bn by the end of 2032. China, Spain, South Korea, and France are major markets for mussels. However, Latin America also holds a significant share of the global market.
During the historical period (2017-2021), the compounded annual value-based growth rate (CAGR) of the mussel market was 2.4%.
Mussels have shown steady growth over the years and the rise in consumption is linked to their benefits. Growing concerns about food intake and nutritional value have led to an increase in the demand for mussels. This is likely due to the high content of omega-3, which prevents skin damage and promotes cellular repair, along with other benefits associated with mussel consumption.
As we move forward, the general populace is also growing concerned about unsustainable cultivation practices. This has led to a general awareness of switching to sustainable farming practices. Mussels can be farmed sustainably without aggravating nature. This is good news for the industry as mussel farming can be commercially adopted without damaging the environment.
Expansion of the food & beverage industry, food service industry, dietary supplements, and retail/household across East Asia and Europe are creating high-potential opportunities for mussel manufacturers in these regions. Even in countries like India, there is an increased focus on the protein revolution and the aim is to increase the amount of protein consumed by every individual. Apart from lentils being a source of protein in these countries, the amount of seafood consumption is also rising, and thus mussels are being accepted and consumed more than before.
Key players in the industry have shifted their focus to utilizing state-of-the-art cultivation and processing techniques. There is an increased focus on implementing a holistic approach while offering high-quality mussel products.
| | |
| --- | --- |
| Mussel Market Size (2022E) | US$ 5.36 Bn |
| Projected Sales of Mussels (2032F) | US$ 7.47 Bn |
| Value CAGR (2022-2032) | 3.4% |
| Value Share of Top 5 Countries (2022E) | 67.3% |
What are the Key Trends in the Market for Mussels?
"Growing Popularity of Mussel as the Ultimate Superfood"
Mussels are growing popular and are termed as one of the most sustainable superfoods based on them being an excellent source of protein having all the essential amino acids. The protein quality of mussels is better as compared to other sources such as beef, pork, and chicken. The protein content is high while being easily digestible, and the calorie content is low as well. Thus, for adults and senior citizens who cannot easily digest high-protein foods, mussels can serve as a viable alternative to fulfill their nutritional requirements.
The high-iron content in mussels is beneficial in the prevention of anaemia. The presence of vitamins such as A, B12 (needed for high RBC production), C, Folate, Phosphorous, Zinc, Manganese, and fatty acids like Omega-3, EPA (Eicosapentaenoic acid), DHA (Docosahexaenoic acid) needed for cardiovascular health make mussels even more attractive.
Selenium is an essential mineral that is needed in the human body due to the presence of a special class of proteins called selenoproteins that rely on selenium to function and control the thyroid regulation mechanism, muscle function, and sperm production in males. Mussels happen to be rich in selenium as well.
Rising awareness about the health benefits associated with mussel consumption has led to a rise in the demand for the same. They are rich in mucopolysaccharides that are essential in maintaining good skin health along with omega-3, which slows down the process of aging, and iodine, which also happens to be an essential trace mineral.
"Consumption of Mussels Gaining Traction among Health-conscious Populace"
Mussels are gaining popularity among athletes/gym goers due to their high protein and low calorific content.
In accordance with U.S Food and Drug Administration guidelines, an 85-gram (3 oz.) serving of mussels fulfills the RDA (Recommended Dietary Allowance) by providing approximately, 20% zinc, 40% protein, one-third iron, and 10% and 8% of Vitamin A for women and men, respectively. The recommended daily intake of selenium by experts is 55 mcg, while mussels provide a greater amount of 67.2 mcg in a 3 oz. serving. A serving of 6 oz. of steamed mussels provides the body with around 30% of the recommended Vitamin C intake.
Veganism and plant-based diets have benefits in lowering the risk for ischemic heart disease and certain cancers, but lack of nutrients, especially iron, vitamins -B12, and proteins. Long-term vegan diets have a substantial risk, and therefore, suitable sources of protein and other vitamins are needed.
Mussels can fulfill the nutritional requirements of the rapidly growing population. The commercial farming of mussels has a low carbon footprint as compared to other aquaculture products such as salmon and all the other sources of commercially produced animal meat.
"Increasing Trend of Sustainable Mussel Farming"
Mussel farming requires no additional requirement of feed or antibiotics. As such, the cases of antibiotic presence in consumable food as in poultry and bovine farming can be avoided entirely. Mussels are filter-feeder organisms and play a vital role in the ecosystem by mitigating eutrophication and improving water quality. Mussels are classified as bivalve organisms and there is increased traction in the integration of bivalve organisms in Integrated Multi-Trophic Aquaculture (IMTA) systems.
A multi-departmental research study has proven the benefits of mussels being grown in conjunction with mullets, sea cucumbers, and mangroves. Bivalve organisms such as mussels, clams, etc., consume the excess nitrogen and nutrients that would, under normal circumstances, cause algal blooms and eutrophication.
Commercial salmon farming is linked with an increase in carbon footprint and severe environmental degradation. Research suggests that these can be completely mitigated with the IMTA farming of mussels with salmon, which is gaining popularity among the aquaculture community as well.
Key market players are focusing on incorporating the results of the latest research and technology to increase their yield while preventing damage to the environment.
"Risks Associated with Inappropriate Mussel Farming and Consumption Practices"
Mussels farmed during red tides have been known to cause shellfish poisoning paralysis, with the toxicity of the poison increasing when mussels are cooked. This condition can be fatal depending on the quantity of mussels being consumed. Mussels also contain an increased concentration of lead, arsenic, and mercury, which is not harmful under normal conditions, i.e., up to 340 grams (12 oz.).
Allergic reactions to mussels can be potentially life-threatening and raw mussels too can be harmful to the well-being of an individual. Since mussels are soft tissue organisms, they are increasingly susceptible to contaminants and pollution caused by human intervention, such as micro-plastic content in the oceans. Apart from this, mussels, when dead, deteriorate rapidly and must not be consumed because they can cause harm to the health of the consumer.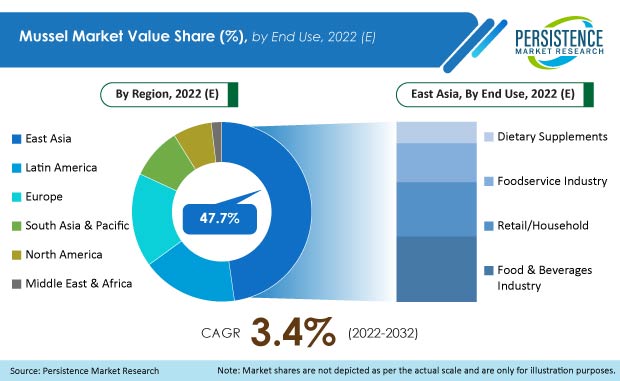 Country-wise Insights
Which Markets Have High Growth Potential in East Asia?
In the East Asian market, China, Japan, and South Korea are expected to expand at value CAGRs of 3.4%, 3.8%, and 4.5%, respectively, during the forecast period (2022-2032).
Mussels have been steadily consumed in East Asian regions, especially China, since the 1970s. Demand for mussels is rising steadily in the East Asian market due to high awareness of their high nutritional content. Rising demand for time-saving and easy-to-prepare food items with good health benefits makes them even more appealing. Since rapid urbanization can be seen in these developing countries, fast expansion of trade routes along with rising incomes has resulted in mussel consumption growth as well.
How is the Europe Mussel Market Faring?
In the European market, Spain shows promise for the forecast period and is expected to register a CAGR of 2.4%. The share of Spain in the European market is around 39% and is currently valued at US$ 355.5 Mn.
A prominent factor for the significant growth of the Spanish mussel market is its proximity to the Mediterranean Sea, with fishing being a primary industry due to the extensive coastline. Mussels are easy to cook and consume; hence, they are very popular in Spain. Tourism is a prominent industry and is a significant factor in growing mussel consumption in the country.
Category-wise Insights
Which End Use of Mussels Accounts for High Revenue Generation?
Based on end use, the market for mussels is segmented into the food & beverage industry, foodservice industry, dietary supplements, and retail/household, among which, mussels are prominently used in the global food processing industry.
The forecasted volume CAGR for the foodservice industry and dietary supplements segments are 3.3% and 3.8% respectively. However, the food and beverage industry holds a majority stake in the global mussel market with an approximate share of 41% in 2022.
Why are Sales of Whole/Intact Mussels Higher across the World?
Based on form, the market is segmented into half-shell mussels and whole/intact mussels. Among these, whole/intact mussels hold a major value share in the global market at 71.92% in 2022, as these are easy to package and transport as compared to half-shell mussels that require additional steps before reaching the consumer.
The whole/intact mussel segment stands at a market valuation of US$ 3.86 Bn in 2022.
Competitive Dashboard
Prominent manufacturers of mussels have focused on the incorporation of the latest technologies, research, and development. Another strategy being followed is collaborating with other players who hold a significant market share to increase brand visibility, value, and revenue. Mergers, acquisitions, and collaborations with other players help companies incorporate new technology and increase their brand presence, globally.
In 2021, New Zealand Coastal Seafood and Talley's Ltd. (NZ) agreed to supply the latter with its products like bone-in and boneless varieties of Ling Maw, GLM meat, and products linked to Ling and Hoki Fish Skin. To upgrade the processing capacity, a vacuum-packing process was also introduced. Talley's has been investing in and utilizing the latest technologies to obtain a data-driven environment while maintaining the quality of the product.
Sanford Ltd. (NZ) focuses on expanding its footprint in other countries by developing strategic partnerships with international distributors and suppliers. The company grows mussels by utilizing the longline method which is environment-friendly and enhances production.
Mussel Industry Report Scope
Attribute

Details

Forecast period

2022-2032

Historical data available for

2017-2021

Market analysis

USD Million for Value
Tons for Volume

Key regions covered

North America
Latin America
Europe
South Asia and Pacific
East Asia
The Middle East & Africa

Key countries covered

U.S.
Canada
Brazil
Mexico
Argentina
Chile
Germany
U.K.
France
Italy
Russia
Spain
Poland China
Japan
South Korea
India
ASEAN
Oceania
GCC Countries
Turkey
Northern Africa
South Africa

Key market segments covered

Form
Type
End Use
Distribution Channel
Region

Key companies profiled

American Mussel Harvesters, Inc.
Atlantic Aqua Farms
Blue Ocean Mussels
Camanchaca S.A.
Kingsun Foods Co., Ltd
Kush Shellfish
Open Ocean - Whakatihea Mussels ipitiki Ltd.
Penn Cove Shellfish, Llc
Pacific Seafood Group
Sanford Limited
St. Andrews Smoky Delicacies S.A.
Talley's Limited
Thimble Bay Blues Incorporated
Toralla, S.A.

Report coverage

Market Forecast
Company Share Analysis
Competition Intelligence
DROT Analysis
Market Dynamics and Challenges
Strategic Growth Initiatives

Customization & pricing

Available upon request
Mussel Industry Research by Category
By Form:
By Type:
Blue Mussel
Green Mussel
Brown Mussel
Others
By End Use:
Food & Beverage Industry
Foodservice Industry
Dietary Supplements
Retail/Household
By Distribution Channel:
Business to Business
Business to Consumer

Hypermarkets/Supermarkets
Convenience Stores
Specialty Stores
Online Retails
By Region:
North America
Latin America
Europe
South Asia & Pacific
East Asia
Middle East and Africa