Motion Control Encoders Market
Motion Control Encoders Market - Global Industry Analysis 2016 - 2020 and Opportunity Assessment 2021 - 2031
Motion Control Encoders Market Segmented by Incremental encoders and Absolute encoders used in Automotive, Medical Devices, Industrial, Consumer Electronics
Global Motion Control Encoders Market: Market Outlook
Motion control encoders are electro-mechanical devices that are designed to translate mechanical motion such as position change and direction, into electrical signals. The core of the encoder is designed with the use of proprietary optical or magnetic-based technology for the purpose of sensing. These encoders are basically divided into two types that are Incremental encoders and Absolute encoders. The Incremental encoders provide relative position, whereas Absolute encoders generate a unique code for each position.
These encoders are used in several applications including industrial, automation and consumer electronic applications. The motion control encoders comes with a variety of options and characteristics that include, high operating temperature, a wide range of resolutions, multiple channels, various output options, and more. The increasing adoption of motion control encoders for industrial automation is propelling the market growth. Moreover, the motion control encoders brings high reliability and accuracy in automotive applications like instrument panel control and steering assist. Thus, the rise in demand from automotive sector is a key driving factor for motion control encoders market.
Find Out More about the Report Coverage
What are the Major Driving Factors beyond the Growth of Motion Control Encoders Market?
In the field of industrial automation, reliability, speed and endurance are the most valued in sensors. Encoders plays a critical role in every industrial automation systems. They are an essential component of high speed, high volume industrial automation applications. These devices convert motion into electrical signals read by a control device to measure changes in position, speed, count, direction, and linear distance. They provide information required for the precise control of a variety of applications, such as positioning a rotary table, pick and place, machine assembly, packaging, robotics and more.
The rise in automation in workplace, increased need in the healthcare field, and increasing adoption of industrial robots for the purpose of automation, has created the demand for motion control encoders more than ever. Optical encoders are the most accurate of the standard styles of encoders, and the most commonly used in industrial automation applications.
Motion control encoders are used in several applications in the automation industry including packaging, printing, processing, medical & laboratory and semiconductor etc. or for CNC industry. Increasing automation in the industries has led to the requirement of precise and accurate electronic systems, for maintaining the accuracy and speed which has increased the demand for motion control encoders in the market.
Customize this Report
Explore Intelligence Tailored to Your Business Goals.
Emergence of 3D Printing Systems: Why Motion Control Encoders are the important part of 3D Printing Systems
The 3D printing industry has been on a stable growth trajectory over the last decade. 3D Printing (also known by additive manufacturing) is the process in which printers build three-dimensional objects from computer-aided design models. 3D printers can be programmed to manufacture medical items, prototypes, machine parts, clothing and much more. This new application is growing in popularity in both consumer and industrial sectors, with promises of completely changing many processes.
Motion control encoders is the key component for in the 3D printing systems. As the industry grows across services and sectors, the precision, accuracy, and speed of the printers are becoming increasingly important. Motion control encoders are used to coordinate and control all the moving parts in a 3D printer. These encoders serve to accurately synchronize multiple axes, increase the precision of printing mechanisms, reduce noise, and increase print speed.
Market Research Methodology - Perfected through Years of Diligence
A key factor for our unrivaled market research accuracy is our expert- and data-driven research methodologies. We combine an eclectic mix of experience, analytics, machine learning, and data science to develop research methodologies that result in a multi-dimensional, yet realistic analysis of a market.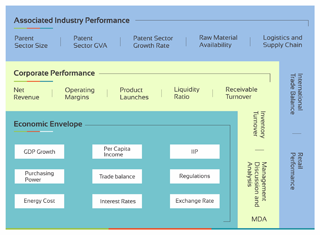 How the trend of Industry 4.0 is Reshaping the growth of Motion Control Encoders Market?
We are in the midst of the Industry 4.0 takeover, where factories feature machines equipped with sensors that generate a multitude of data points. These data are transferred through multi-directional communication to a system that controls the entire production line and makes autonomous decisions. Motion control technology can help to achieve many goals that are driving Industry 4.0, helping to develop more compact and lighter machinery.
A growing number of companies are moving into the motion controller market as concepts like industry 4.0 and intelligent manufacturing become prevalent and are implemented, as in last few years several cases of mergers and acquisitions occurred.
For instance, B&R became part of ABB's Industrial Automation division as a new global business unit--Machine & Factory Automation. Moreover, In December 2018, Shanghai MOONS' Electric Co., Ltd. announced the acquisition of T Motion to strengthen its competence in the high-end motion control solution market.
Explore Persistence Market Research's expertise in promulgation of the business !
What are the Key Challenges that may Restrain Growth of the Motion Control Encoders Market?
Encoder-based organizations are hesitant to invest on motion control encoder's technology in emerging markets, due to high capital investment and lack of awareness about long-term benefits of implementing motion controls in manufacturing and other operational processes.
Furthermore, weak government funding for industrial research, lack of a technological roadmap, and clear vision for investment communities, along with the absence of national strategy for motion control encoders are some key factors expected to hamper the adoption of motion control encoders.
Key Segments of Motion Control Encoders Market Covered in the Report
Based on Type, the Motion Control Encoders market has been segmented as
Incremental encoders
Absolute encoders
Based on Application, the Motion Control Encoders market has been segmented as
Automotive
Medical Devices
Industrial
Consumer Electronics
Others
Based on the region, the Motion Control Encoders market has been segmented as
North America
Latin America
Europe
East Asia
South Asia & Pacific
Middle East & Africa
Competitive Landscape
Key players such as
Vishay
TE Connectivity
Sensata
Murata Manufacturing
CUI Devices
Grayhill
Alps Alpine
Broadcom Limited
Bourns
others
are actively involved in offering motion control encoders.
Which key strategies does market players are adopting to increase their market share in the Motion Control Encoders market?
The major vendors involved in the manufacturing and development of motion control encoders are carrying out different organic and in-organic growth strategies to increasing their market share in the global market. Key players are focusing towards the expanding their global presence and upgrading their existing products by incorporating advanced computing technologies to stay competitive in the market.
In September 2020, Motion Industries Inc. announced the acquisition of Applied Machine and Motion Control Inc. (AMMC), a Kentucky-based supplier of motion control and automation products and services.
In November 2020, Emerson has announced its new PACMotion servo motion control portfolio to offer an integrated automation solution for industrial applications. The new product connects directly into the PACSystems RX3i programmable logic controller backplane for high-speed, high-precision performance with synchronized motion for up to 40 coordinated axes, enabling end-users to scale up their motion systems without sacrificing performance.
What are the Key Opportunities for Encoder Manufacturers in the Motion Control Encoders Market?
Increasing adoption of Internet of Things (IoT) technology is rapidly fueling the growth of the global motion control encoders market. Internet of Things (IoT) fill motion encoders are developed to control and monitor position, speed, count, direction, and distance associated with the industrial machines.
The IoT enabled motion control encoder's offers high response and high precision control for more flexible operation and automation machinery applications, and is ideal for high-performance multi-axis and synchronous motion control. The increasing adoption of IoT based motion controllers, is a major factor creating business opportunities for motion control encoder manufacturers and research departments in emerging markets.
Why is the U.S. a Big Market for Motion Control Encoders?
U.S. is expected to hold the largest share in the North America Motion Control Encoders market. Several industrial and manufacturing organizations have deployed advanced encoders in their systems to automate their industrial processes. The country has always been at the forefront in terms of technological advancements, and their adoption in the industrial sector is not an exception.
Moreover, U.S. is home to multiple motion control encoders manufacturers, such as Vishay, Sensata, Broadcom Limited, and among others. These companies are targeting higher revenue and business expansions due to high competition and demand prevailing across the region. Organizations in U.S. focus on innovations to keep pace with the latest advancements in the market.
How Motion Control Encoders market is expected to grow in the China?
China is among the major industrial economies in the world. The majority of the semiconductor devices are manufactured in China. Enterprises in China are adopting the latest technologies to sustain in the global market competition. Government policies in China are also promoting the adoption of IoT solutions in manufacturing and industrial sectors.
Moreover, China is the world largest automobile production country and one of the largest markets for electric vehicles, which creates higher demand for motion control encoders from automobile manufacturing companies in the China.
How COVID-19 Pandemic has affected the Growth of the Motion Control Encoders Market?
The outbreak of COVID-19 virus in December 2019 has spread to almost 200+ countries worldwide. The impact of COVID-19 has already started to negatively affect semiconductor market. The spread of coronavirus has directly affected the production and demand of semiconductor electronics. Governments across the globe have taken severe confinement measures, including restricting shopping markets, businesses, rallies, theatres, universities, and other crowd gathering activities.
The on-going measures has resulted in significant reductions in daily commercial and industrial electricity demands. All the motion control encoder manufacturing companies gone on hold for around 7-8 months. The market disruptions due to the coronavirus pandemic has resulted in 8%-10% Year on Year (YoY) decrease in annual motion control encoders in 2020. The outbreak certainly resulted in decreased supply and demand in the global semiconductor market. However, as per research, the motion control encoder manufacturers got started recovering from the end of September 2020, also the global market would totally recover soon and is estimated return to growth by Q3, 2021.
NOTE - All statements of fact, opinion, or analysis expressed in reports are those of the respective analysts. They do not necessarily reflect formal positions or views of the company.
Our Clients