Latex Agglutination Test Market Outlook (2022-2032)
Global revenue from the latex agglutination test market is estimated at around US$ 2.4 Bn for 2022, with the market predicted to move ahead at a CAGR of 5.6% and reach a valuation of around US$ 4.1 Bn by the end of 2032.
According to Persistence Market Research, LAT (latex agglutination test) for antigen detection secured a market value of US$ 1.4 Bn in 2021. This was after the global market for latex agglutination recorded a historic CAGR of 3.3% from 2012 to 2021. Overall, latex agglutination test sales accounted for approximately 8% revenue share of the global immunology market in 2021.
Latex agglutination provides advantages over other types of immunoassays. For instance, the results of the test can be obtained within a short period such as 15 minutes to an hour. These tests can be performed using various sample types, including blood, plasma, cerebrospinal fluid (CSF), etc. This test has several potential benefits, including portability and ease of use, minimal production of biomedical waste, and prolonged shelf life at ambient temperatures between 2 and 450C.
The test can be utilized by researchers with little expertise in low-resource environments. It would be ideal to utilize the latex assay in field studies, especially in epidemic investigations, given its high specificity, capacity to identify more cases using only acute-phase sera, and simplicity of use. A latex agglutination test can also be used for vaccine validation. A crucial strategy in the prevention and management of avian influenza (AIV) in poultry is vaccination. To verify vaccine effectiveness, a quick and easy test must be used in routine fieldwork to track antibodies against AIV H5N1 generated by immunizations.
The hem agglutination inhibition (HI) assay is currently the preferred serological assay for the detection of antibodies to AIV; however, it is time-consuming to carry out because it needs a constant supply of the appropriate erythrocytes and pre-treatment of serum samples to remove nonspecific inhibitors.
The enzyme-linked immunosorbent assay, which takes at least a few hours and requires experienced workers and specialized equipment, is another frequently used technique. Hence, to overcome these limitations, the latex agglutination testing method can be used for vaccine validation.
| Attribute | Details |
| --- | --- |
| Latex Agglutination Test Market Size (2022) | US$ 2.4 Bn |
| Projected Market Value (2032) | US$ 4.1 Bn |
| Global Market Growth Rate (2022-2032) | 5.6% CAGR |
| Market Share of Top 5 Countries | 56.8% |
How Can Latex Agglutination Product Manufacturers Grow?
"Rapidly Increasing Adoption of LAT across Healthcare Settings"
LAT is performed to prevent and monitor hospital-acquired infection caused due to staphylococcus aureus.
According to CDC, one in 31 hospital patients has at least one infection related to their medical care on any given day.
Because many patients in healthcare settings have compromised immune systems or have undergone surgeries, there is an increased risk of more serious staph infections. Patients in intensive care units (ICUs), patients who have had specific types of surgeries, and patients who have medical devices introduced into their bodies all have a higher chance of developing a more serious staph infection in a hospital setting. Therefore, to monitor the load of bacteria, especially S.aureus, LAT is highly required in these settings.
When it comes to the veterinary industry, the application of latex agglutination is high. Early detection and targeted treatment can prevent disease progression and financial losses. Mastitis, an inflammation of the mammary glands, is linked to pathological alterations in the udder glandular tissue as well as physical and chemical changes in the milk. One of the most prevalent diseases affecting dairy cattle herds globally is mastitis. It is considered to be the biggest breeding failure.
Mastitis may lower cow prices, herd earnings, and profitability. The direct implications of mastitis on the economy include medical care, veterinary costs, and death. The indirect effects include decreased milk supply, a decrease in the amount of protein in the milk produced, a rise in the rate of reproductive failure, and a fall in survival rates.
Immunoassays and related biomedical diagnostic techniques have used latex particles. Latex agglutination assays are reasonable, require little expertise, equipment, or time, and have adequate sensitivity and specificity. It might be a useful substitute technique for finding bacterial mastitis agents, thereby driving the market for latex agglutination.
Are There any Restraints That Can Affect Market Growth?
"Barriers Offered by Human Error in Interpretation of Results"
Reaction time analysis is crucial to keep in mind while optimizing an experiment because immunoagglutination assays do not reach an endpoint. Moreover, the particles settle and the liquid dries as the reaction time grows, making it harder to read the results, thereby leading to false-positive interpretations. It takes trained professionals working in the field to grade this assay as strong, intermediate, or weak positive.
Additionally, other more advanced tests such as enzyme-linked immunosorbent assays and chemiluminescence immunoassays provide more accurate and timely results in comparison to LAT. The benefits of these tests over the latex agglutination test can prove to be a restraining factor for market growth.
The partial desorption of adsorbed protein that often takes place during storage has been linked by researchers to a decrease in the activity of latex beads that have been physically adsorbed-sensitized.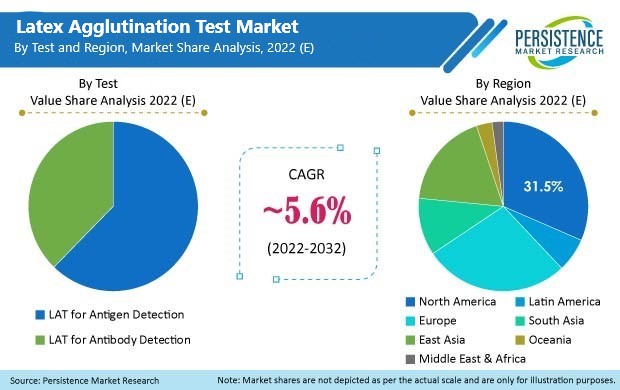 Country-wise Insights
Why is the U.S. Market Surging Ahead?
"Increasing Adoption of Diagnostic Devices"
The U.S. accounted for the largest share of the North American market contributing US$ 684.6 Mn in 2021.
Rise in the number of infectious diseases increases the importance of early diagnosis and treatment to avoid further complications.
According to CDC, the number of patients visiting emergency departments with infectious diseases and parasitic diseases as their primary diagnosis, in the United States, was 3.4 million in 2018.
This high number also raises the number of tests for its diagnosis, and hence, the market for latex agglutination tests is expected to grow over the coming years.
How is the Market for Latex Agglutination Faring in Germany?
"Rising Research & Development in Europe"
Germany held 21.6% share of the European market in 2021. Germany is among one of the prime research and development centers for educational, business, and training purposes.
In 2020, the European Union spent almost 310 billion euros in the R&D sector. This huge expenditure also raises the use of technology in clinical diagnostics and immunoassays for medical purposes. This makes the market for latex agglutination highly lucrative in Germany.
Why is China Emerging as a Prominent Market for Latex Agglutination Products?
"Staph aureus Infections Common in China"
China accounted for the highest share of 44.9% of the East Asian market in 2021.
The most prevalent Gram-positive bacteria in China, S. aureus, produces clinical infections ranging from simple skin infections to serious illnesses. China is home to more than 1.4 billion people and provides half of the world's animals. According to the CDC, China's ecosystem poses a risk for rare, emerging, and developing diseases that could jeopardize both China and the rest of the world.
Category-wise Insights
Which Latex Agglutination Test is Hugely Popular?
"Precision of Antigen Tests Driving Use for Diagnosis"
LAT for antigen detection, among the types of tests used, held the largest share by revenue in the market in 2021. The segment generated US$ 1.41 Bn in revenue in 2021.
High sensitivity and specificity (70-100%) of antigen detection kits by latex agglutination are the diagnostics of choice for a majority of clinical situations. These antigen detection techniques can be completed rapidly and do not call for an expert morphologist. Antigen detection tests have undergone a great deal of development, leading to commercially available agents for parasite infections.
Which Sample is Most Used for Latex Agglutination Testing?
"Blood/Plasma Commonly Collected Samples for Any Diagnostic Procedure"
In 2021, blood/plasma accounted for more than 30% of the market revenue share with a market value of US$ 792.1 Mn.
Blood and plasma are the common reservoirs for pathogens in the human body. Hence, the detection of them becomes easier for the technicians unless extra confirmatory other samples are required. In addition, agglutination tests can be carried out easily on a blood sample because of the presence of clotting factors, which is the reason for its higher market share globally.
Competitive Landscape
Leading manufacturers are developing cutting-edge technologies and diagnostic techniques to bolster their product lines. Consolidation efforts have been made by several significant competitors in the latex agglutination sector to advance research and development.
For instance:
In October 2022, at the Association for Molecular Pathology's (AMP) 2022 annual meeting and exhibition, held from November 1 to 5, at the Phoenix Convention Center, Thermo Fisher Scientific, an industry pioneer in providing science services, displayed its most cutting-edge creative research and diagnostic technologies.
In January 2022, a wide variety of native viral antigens were released by Creative Diagnostics, a market leader in providing raw materials, antibodies, and reagents to the biotechnology industry. These antigens are perfect building blocks for the creation of infectious disease kits and reagents.
Similarly, recent developments related to companies manufacturing latex agglutination test kits have been tracked by the team at Persistence Market Research, which are available in the full report.
Latex Agglutination Test Industry Report Scope
Attribute
Details

Forecast Period

2022-2032

Historical Data Available for

2012-2021

Market Analysis

USD Mn for Value

Key Countries Covered

U.S.
Canada
Brazil
Mexico
Argentina
Rest of Latin America
U.K.
Germany
Italy
France
Spain
Russia
Nordic Countries
BENELUX
Rest of Europe
India
Thailand
Indonesia
Malaysia
Philippines
Vietnam
Rest of South Asia
China
Japan
South Korea
Australia
New Zealand
Turkey
GCC
Northern Africa
South Africa
The Rest of the Middle East and Africa

Key Market Segments Covered

Test
Sample
Application
Indication
End User
Region

Key Companies Profiled

Atlas Medical GmbH
Thermo Fisher Scientific
Cardinal Health
Mira Vista Labs
Lorne Laboratories Limited
Bio-Rad Laboratories, Inc.
Calbiotech
Eurofins Technologies
Beckman Coulter, Inc.
Hardy Diagnostics
Geneilabs
Mast Group Ltd.
Lab Care Diagnostics (India) Pvt. Ltd.
Ngaio Diagnostics
ARKRAY, Inc.
bioMérieux SA
Creative Diagnostics
HiMedia Laboratories
Biotec

Report Coverage

Market Forecast
Competition Intelligence
DROT Analysis
Market Dynamics and Challenges
Strategic Growth Initiatives

Customization & Pricing

Available upon Request
Segmentation of Latex Agglutination Test Industry Research
By Test Type:
LAT for Antigen Detection
LAT for Antibody Detection
By Sample Type:
Blood/Plasma
Cerebrospinal Fluid (CSF)
Urine
Sperm
Others
By Application:
By Indication:
C-reactive protein (CRP)
Bacterial Meningitis
Rheumatoid Arthritis (RA)
Staphylococcus aureus
E.coli
Others
By End User:
Hospitals
Diagnostic laboratories
Academic & Research Institutes
By Region:
North America
Latin America
Europe
South Asia
East Asia
Oceania
Middle East & Africa (MEA)