Introduction
The polyisoprene latex market is an extremely consolidated market space, with only a few manufacturers ruling the landscape. Most of the demand comes for medical and industry-specific purposes, for manufacturing products such as gloves, adhesives, condoms, and the like.
Stakeholders are involved in continuous research and development to provide varied products in the market for safety purposes. As such, the global polyisoprene latex market is projected to witness decent growth, at a CAGR of 8% over the forecast period of 2020 to 2030.
Polyisoprene Latex Market Trends
Growing Demand from Medical Sector: Polyisoprene latex is used to manufacture medical/surgical gloves, catheters, and medical balloons, as concerns toward patient safety increases across medical centres, nursing homes, and hospitals, who are preferring polychloroprene and polyisoprene as an alternative material to natural rubber to ensure patient safety from pathogens.
Moreover, polyisoprene latex material has an added advantage of comfort and protection when compared to natural rubber gloves. Synthetic rubber gloves are picking up pace in the healthcare sector, and are expected to significantly contribute to the expansion of the global polyisoprene latex market size over the coming years.
Rising Awareness toward Usage of Contraceptives: Increasing awareness toward contraceptive usage in order to prevent unplanned pregnancies and sexually transmitted diseases is expected to drive the global polyisoprene latex market, owing to its use in the manufacturing of condoms.
Along with sex education and prevention against STDs, increasing urbanization coupled with marketing & promotional stints have made the usage of protection a globally acceptable practice.
Moreover, experiments and innovation with condom designs are also propelling factors for market growth. Growth in the demand from the wearable contraceptive industry is expected to be a major contributing factor toward the growing demand for polyisoprene latex. Condoms are one of the major applications of polyisoprene latex. Increasing demand for condoms is pushing the demand for safe and effective materials such as polyisoprene latex and SBR. Condom manufacturers are using combinations of various materials to manufacture quality condoms to differentiate themselves in this competitive environment.
Automation & Technology to Affect Polyisoprene Latex Market Growth: Automation and technology is growing at a higher rate with each passing day. Artificial Intelligence (AI) is expected to replace multiple manufacturing jobs. Automation is expected to be a major part of the manufacturing industry in the coming years. Subsequently, the demand for PPE, such as surgical and industrial gloves, is expected to be limited to only specific operations. Automation in end-use industries is expected to reduce human labor and considerably increase efficiency as well as accuracy, although it could have an impact on employment and the use of PPE, which, in turn, is expected to hamper the growth of the global polyisoprene latex market.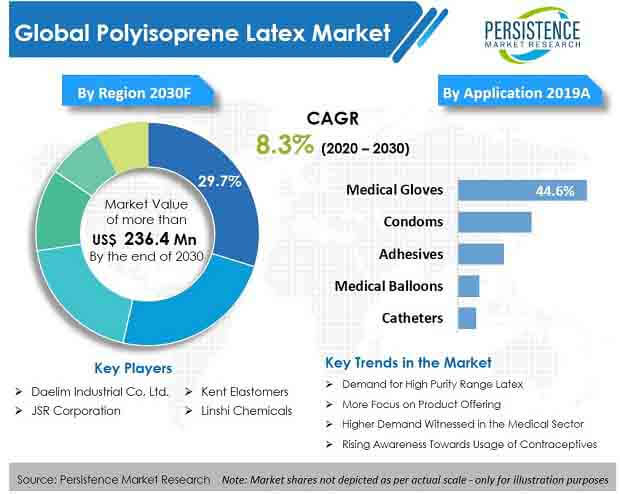 ?Polyisoprene Latex Market: Structure Analysis
With growing demand from the medical sector and contraceptive industry, manufacturers are anticipated to increase polyisoprene latex production. Manufacturers are investing extensively in R&D to develop better quality products and technologically-advanced polyisoprene latex.
Moreover, they are focusing on inorganic as well as organic growth strategies. The market is expected witness high demand in 2020-2021, and manufactures are expected to increase their market share and customer base in the coming years.
Several prominent suppliers are involved in the global polyisoprene latex market, such as Daelim Industrial Co, Ltd., JSR Corp., Linshi Chemicals (Puyang) Advanced material Co. Ltd., Bangkok Synthetics Co., Ltd., Kent Elastomer, and others.
COVID-19 Impact on Polyisoprene Latex Market
The medical sector is witnessing a deficit in personal protective equipment (PPE) as the world is fighting to overcome the COVID-19 pandemic. As such, there has been an increase in the demand for PPE, namely surgical gloves, masks, and other such protective gear.
With the outbreak raging across the world, demand for safety / protective is soaring, not only from medical professionals but also the general public across the world. This is a major factor that is catalyzing the growth of the global polyisoprene latex market.
Analysts' Viewpoint
Production of polyisoprene latex has witnessed significant growth over the recent past, and is expected to continue in a similar trend over the coming years. Preference toward synthetic rubber and latex, and larger emphasis on the technological development of polyisoprene latex mixture, are expected to hold new opportunities for players to increase their polyisoprene latex market share in the future.
Key Segments of Polyisoprene Latex Market
PMR's study on the polyisoprene latex market is divided into three significant segments - application, end use, and region. This report offers comprehensive data and information about the important market dynamics and growth parameters related to these categories.
Application

Medical Gloves
Condoms
Medical Balloons
Catheters
Adhesives

End Use

Medical
Consumer Goods
Industrial

Region

North America
Latin America
Europe
South Asia & Pacific
East Asia
MEA
Key Questions Answered in PMR's Polyisoprene Latex Market Report
Which region is anticipated to hold a prominent market share over the forecast period?
What will be the key driving factors propelling the demand for polyisoprene latex during the forecast period?
How will current trends impact the polyisoprene latex market?
Who are the significant market participants in the polyisoprene latex market?
What are the crucial strategies of prominent players in the polyisoprene latex market to upscale their positions in this landscape?