Handheld Marijuana Medical Vaporizer Market
Global Market Study on Handheld Marijuana Medical Vaporizers: Increasing Legalization of Marijuana Consumption Complementing Demand Growth
Handheld Marijuana Medical Vaporizers Market Segmented By Desktop Marijuana Medical Vaporizers, Portable Marijuana Medical Vaporizers Product with USB-charged Handheld Marijuana Medical Vaporizers, Micro USB-charged Handheld Marijuana Medical Vaporizers charger type
Handheld Marijuana Medical Vaporizer Market
About the Report
Global sales of handheld marijuana medical vaporizers are experiencing significant growth owing to increasing usage in the treatment of neurological disorders. Some other factors that are driving demand for handheld marijuana medical vaporizers are rising awareness about the benefits of vaporizers as compared to smoking on health, legalization of marijuana in various countries, and increasing usage of electronic smoking.
A new report by Persistence Market Research details the trends and opportunities for manufacturers of handheld marijuana medical vaporizers. The report tracks sales in 20+ high-growth markets, with North America leading the way by far. It also details the impact that COVID-19 has had on this market, and what the years ahead will offer.
Find Out More about the Report Coverage
Companies
Herbalizer Vaporizer
Da Buddha Vaporizer
Vapir Rise Vaporizer
Storz & Bickel GmbH & Co. KG
DAVINCI
Tera
Hound Labs, Inc.
Syqe Medical
Resolve Digital Health
Lobo Genetics
Wisp
tCheck
Leaf
Puffco
Kassi Labs Inc.
Ardent
ARIZER
Arizer Company
PAX Labs, Inc.
Other Prominent Players (as per request)
Historical Trends Vs. Future Market Outlook
Over the past 5 years, the global handheld marijuana medical vaporizer market expanded at a CAGR of 16.7%, which is impressive in itself. The years ahead are expected to offer even more opportunities to market players. With increasing demand, strategic partnerships are taking place between market players.
Major players are acquiring pharmaceutical companies to facilitate easy importation of THCF and CBD concentrates to produce cannabis oil, which can act as a helpful resource in various medicinal applications. Therefore, obtaining licenses through pharmaceutical companies serves as an inexpensive and easy way for market players to make, store, and distribute cannabis.
Moreover, legalization of marijuana in the health sector and rising consumption of marijuana in small amounts to treat medical conditions are driving demand for handheld marijuana medical vaporizers. Further, integration of smartphones in cannabis temperature control is boosting global market growth. Overall, the market is slated to surge ahead at an impressive CAGR of close to 22% from 2021 to 2031.
Customize this Report
Explore Intelligence Tailored to Your Business Goals.
How is Integration of Smartphones in Controlling Cannabis Temperature Boosting Market Growth?
Consumers are demanding more temperature-controlled vaporizers to experience optimum taste. If the temperature goes too high, it can result in a burnt taste. If the temperature is too low then it will give weak hits that will not have much taste. Furthermore, as concentrates, oils, and dry herbs are expensive, they need to be used in an efficient way.
Apart from that, a digital temperature control option allows for an automatic setting of temperature according to the user's needs and requirements. Premium temperature-controlled vaporizers allow users to track the temperature, amount of dosage, and other advanced monitoring features, which has become appealing to users in recent years.
Market Research Methodology - Perfected through Years of Diligence
A key factor for our unrivaled market research accuracy is our expert- and data-driven research methodologies. We combine an eclectic mix of experience, analytics, machine learning, and data science to develop research methodologies that result in a multi-dimensional, yet realistic analysis of a market.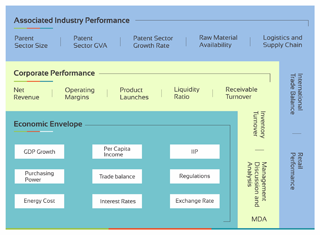 How is Increased Spending on Recreational Activities Driving Sales of Handheld Marijuana Medical Vaporizers?
Changing lifestyle, growing socialize quotient, and modified spending habits on leisure activities are factors triggering sales of marijuana vaporizers. Rise in social gatherings and peer parties has increased demand in recent times.
The millennial generation's increased spending on recreational activities is a growing trend. Social media influence is another factor driving this generation to indulge in recreational activities.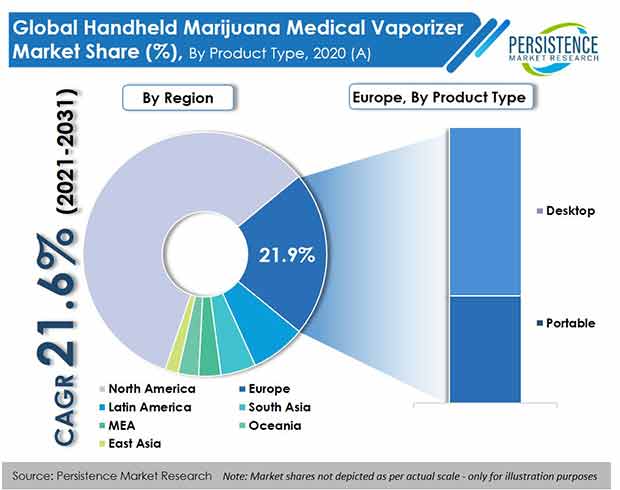 Explore Persistence Market Research's expertise in promulgation of the business !
Will Technological Enhancements in Vaporizers Continue Driving Sales?
Different manufacturers are producing technologically advanced vaporizers. They are creating mobile applications to control vaporizers. Users can control the temperature of the vaporizer, the battery level can be checked through the software application, and consumption levels and alarms can be set through the app by connectivity through Bluetooth. DaVinci, and Ghost.
More people have turned to the world of vaping as an alternative to smoking cigarettes, not just because it's safer, but also because of cutting-edge products. Modern vaping tech now creates the smoothest vaping experience with enhancements such as Bluetooth, voice activation, and better batteries.
DaVinci, a key manufacturer of handheld marijuana vaporizers, launched its new product - DaVinci IQ - which is an advanced version of the DaVinci Ascent. Some companies are manufacturing temperature-controlled handheld marijuana vaporizers for the efficient usage of marijuana.
How is Introduction of Innovative Products with Improved Designs Boosting Sales?
Manufacturers are supplying different types of vaporizers such as session vaporizers, hybrid vaporizers, etc., in the market. Session vaporizers continuously heat the herbs for a specified session, which allows to customize the length of vapors.
On-demand vaporizers are also manufactured, which only heat up while inhaling. Various flavoring agents and fixed temperatures are provided by manufacturer, which are leading to a rise in demand for vaporizers.
Will Strategic Partnerships Between Organizations Lead to Market Expansion?
A rising trend in the market is that players are partnering other pharmaceutical companies to acquire the necessary facilities, licensing, and permissions to import raw materials and manufacture medicinal cannabis products. These acquisitions work as a cost-efficient and easy method to manufacture and distribute cannabis products, which has boosted the use of handheld marijuana medical vaporizers.
In 2018, KandyPens Inc. entered into a strategic partnership with Amber Rose. The partnership was aimed at developing a new product line targeting luxury and female smokers.
How Will Increase in Number of Dedicated E-Cigarette Retail Outlets Boost Sales?
Globally, awareness about health concerns due to smoking has been increasing. This has resulted in the development of alternatives that help consumers quit traditional cigarettes. Cancer caused by smoking is one of the major global concerns affecting people.
E-cigarettes eliminate the risk of cancer and prevent the intake of more than 4,000 chemicals that are produced by the burning of tobacco cigarettes. Based on product, the e-cigarette market has been broadly categorized into cig-a-like, vaporizers, and vape mods.
E-cigarettes are being adopted by consumers as an alternative to tobacco cigarettes, as they are considered to be less toxic and safer than conventional cigarettes. Consumers are focusing on replacing conventional cigarettes with healthier and less chemical vaping technology, which will pose ample of growth opportunities for market players over the coming years.
How is Legalization of Cannabis in Various Countries Creating an Opportunity for Market Players?
With rising awareness about the benefits of cannabis, many countries have legalized cannabis use as a sedative and for recreational purposes. For instance, Luxembourg, Germany, the Netherlands, Malta, Switzerland, Spain, France, and the U.K. are some of the European countries that have legalized the use of cannabis.
Commercial cannabis production and sale is also legal in European countries. Such factors are further expected to drive market growth.
Will Shift from Smokable Marijuana to Edibles and Vaporizer Cartridges Drive Sales of Handheld Marijuana Medical Vaporizers?
Retailers across Europe have seen a latest trend of switching of marijuana consumers from the pot-based smoking method to pot-infused foods known as edibles and vaporizer cartridges. Desire for stronger and healthier marijuana has pushed consumers for new ways to consume marijuana.
In the Netherlands, smokable marijuana, which is known as 'flower', accounted for almost 67 percent of all sales at pot shops in 2014. After several years, sales dropped and in 2018 accounted for 44 percent, while sales of potent concentrates such as 'honey' or 'butter' doubled and reached 31 percent.
How is Growing Usage of Vaporizers among Medical Patients Shaping Market Growth?
Use of cannabis for medicinal purposes is not new. It started in China and then spread to rest of the world. THC and CBD are the main two compounds found in cannabis, which is used to reduce nausea and increases appetite. It also helps in muscle-control problems. It is also used to treat addictions and mental illness.
Dronabinol and Nabilone are two synthetic drugs approved by the US FDA.13 They are used to treat nausea and vomiting in patients for anti-emetic treatment purposes. Medical marijuana vaporizers are also used for patients as a treatment. In this case, patients use low heat to turn the active compounds into a vapor. Growing usage of marijuana vaporizers among patients is further contributing to market growth.
Will Stringent Rules & Regulations by Governments in Different Countries Impact Sales?
The challenging factor for marijuana vaporizers is strict rules and regulations of marijuana usage in various countries. There are some countries where marijuana is treated as illegal, which includes Albania, Bahrain, Bahamas, Central African Republic, Indonesia, Hong Kong, and Hungary, to name a few.
Also, there are many other countries that have only legalized medical marijuana use, but not for recreational purposes. Though Canada has legalized this, it has some restrictions - maximum 30 gram possession in public places. China and Japan have already imposed strict rules against marijuana smoking.
Such bans against smoking marijuana for recreational purpose will definitely hamper the marijuana vaporizers market, as it directly depends upon marijuana consumption.
How the Presence of Risk in Vaping Marijuana Hampering Overall Demand?
Health issues such as deterioration of eyesight, damage on brain cells, lung issues, etc., are risks associated with vaping, and are restraining the vaporizer industry from expanding to the full potential.
Vaporizers release dangerous chemicals such as toxic amounts of ammonia residue that can negatively affect human health. Vaping marijuana can cause several problems such as breathing issues, cancer, intoxication, dependence, and brain issues.
Country-wise Analysis
What Makes Canada a Prominent Player in the Handheld Marijuana Medical Vaporizer Market?
Canada's legal marijuana market size was valued at US$ 194.7 million in 2020, and is expected to expand at a compound annual growth rate (CAGR) of 19.5% from 2021 to 2031. Growing acceptance and adoption of legal marijuana for the treatment of chronic diseases such as cancer, arthritis, and Alzheimer's, as well as neurological problems such as depression, anxiety, and epilepsy, is a key factor driving the market.
Legalization of medical cannabis to curb the black market and provide easy access to patients is also expected to spur market growth. Moreover, government earnings through taxation are viewed as an opportunity for the market to earn higher revenues.
Why are Opportunities Abound in the U.S. for Handheld Marijuana Medical Vaporizer Manufacturers?
The U.S. is anticipated to be the fastest-growing country in this market over the coming years. This is majorly attributed to high product adoption and utilization owing to government approvals. As of 2018, the use of marijuana was legal in 30 states and the territories of Puerto, Guam, and the District of Columbia. California was the first state to legalize the use of marijuana for medical use.
Later, other states followed in approving the use of legal marijuana for medical purposes, owing to its high demand amongst patients.
Presently, nearly 57% adults in America are in favor of the use of legal marijuana for medical purposes. A decade ago, only 32% favoured this legalization, and 60% opposed its use. Hence, increasing support of U.S. citizens regarding the use of medical cannabis will fuel market growth during the forecast period. Increasing investments in R&D are likely to expand application further in the medical field.
How is Legalization of Marijuana Creating Jobs and Opportunities in Germany?
Germany is predicted to play a leading role in the European market during the forecast years. Cannabis is gaining momentum across Germany with the legalization of its usage. The legalization of marijuana has led to an increase in demand for marijuana fields; cultivators and manufacturers are focusing more on producing and manufacturing marijuana products in Germany. Also, in 2017, Germany made stringent regulations on the use of cannabis products.
Could Argentina Be the Next Hotspot for the Cannabis Industry?
The market is expected to grow by double digits in the future in terms of the growing population, revenue, changing consumer spending, changing lifestyles, and urbanization in various provinces in Argentina. Moreover, Argentina's production costs are lower than North America, primarily because of lower wages for workers.
These lower costs are expected to attract more investors to the country, especially considering that stocks are dropping for cannabis investors elsewhere. Another advantage for Argentina is the tropical climate, which provides 12 hours of daylight and lots of rainfall to grow abundant crops.
Category-wise Insights
Desktop or Portable Vaporizers - Which One is Better?
Portable devices will register higher growth during the forecast years as compared to desktop product. Increasing adoption of technologically advanced smart devices coupled with being portable, low price, quick charging, and good battery life are anticipated to drive market growth.
Rising awareness regarding the benefits of portable devices, such as increased mobility, is also attributed to the surging adoption of portable vaporizers in hospitals and other healthcare areas.
Which Sales Channel will be Most Lucrative in Future?
Online platforms will be the most lucrative sales channel for handheld marijuana vaporizers during the forecast years, owing to vast product availability on online platforms to compare prices, product designs, and features; secured transaction/ payment; and doorstep delivery. Moreover, return or exchange policies on online platforms attract consumers towards more online purchases of handheld marijuana vaporizers.
Competition Landscape
Persistence Market Research has profiled the following prominent manufacturers in its report:
Storz & Bickel GmbH & Co.
KG (Herbalizer Vaporizer)
7th Floor Vaporizers (Da Buddha Vaporizer)
Vapir Rise Vaporizer
Storz & Bickel GmbH & Co. KG
DAVINCI
Boundless Technologies LLC (Tera)
Hound Labs, Inc.
Syqe Medical
Resolve Digital Health
Vapium Inc.
Target Group Inc.(Wisp)
Puffco
Ardent
ARIZER
FIREFLY
DAVINCI
Arizer Company
PAX Labs, Inc.
PressPart
Merxine
Others
Players operating in the market are finding new ways to cut operating costs. These measures and efforts are being undertaken due to rising input costs and retailer power. Well-established firms are taking a hard look at their operational chains and examining them from both, output and input perspectives.
In light of this, forging new strategic relations with essential players or suppliers to achieve new levels of efficiency is likely to help players cut down operating costs.
Report Scope
Attribute

Details

Forecast Period

2021-2031

Historical Data Available for

2016-2020

Market Analysis

US$ Mn for Value & Mn Units for Volume

Key Regions Covered

North America
Europe
Latin America
East Asia
South Asia
Oceania
Middle East & Africa

Key Countries Covered

U.S.
Canada
Brazil
Mexico
Germany
Italy
France
U.K.
Spain
Russia
BENELUX
India
Indonesia
Malaysia
Thailand
China
Japan
South Korea
GCC
Northern Africa
South Africa

Key Segments Covered

Product Type
Charger Type
Feature
End Use
Sales Channel
Region

Key Companies Profiled

Storz & Bickel GmbH & Co.
KG (Herbalizer Vaporizer)
7th Floor Vaporizers (Da Buddha Vaporizer)
Vapir Rise Vaporizer
Storz & Bickel GmbH & Co. KG
DAVINCI
Boundless Technologies LLC (Tera)
Hound Labs, Inc.
Syqe Medical
Resolve Digital Health
Vapium Inc.
Target Group Inc.(Wisp)
Puffco
Ardent
ARIZER
FIREFLY
DAVINCI

Customization & Pricing

Available upon Request
Key Questions Answered in Report
How will the market expand until 2031?

Persistence Market Research projects the market to register a CAGR of close to 22% across the 2021-2031 assessment period, owing to the benefits of vaporizers as compared to smoking on health, legalization of marijuana in various countries, and increasing usage of electronic smoking devices.

Which product type dominates the market?

As per Persistence Market Research's projections, portable vaporizers dominate the industry and continue to prosper owing to high demand for portable devices, easy to carry feature, good battery life, and low price.

Who are the leading players in the handheld marijuana medical vaporizer devices market?

Prominent players operating in this space include Storz & Bickel GmbH & Co. KG (Herbalizer Vaporizer), 7th Floor Vaporizers (Da Buddha Vaporizer), Vapir Rise Vaporizer, Storz & Bickel GmbH & Co. KG, DAVINCI, Boundless Technologies LLC (Tera), Hound Labs, Inc., Syqe Medical, Resolve Digital Health, Vapium Inc., Target Group Inc.(Wisp), Puffco, Ardent, ARIZER, FIREFLY, DAVINCI, Arizer Company, PAX Labs, Inc., PressPart, and Merxine.
Enquiry before Buying
Is the research conducted by Persistence Market Research?

Yes, the report has been compiled by expert analysts of Persistence Market Research, through a combination of primary and secondary research. To know more about how the research was conducted, you can speak to a research analyst.

What research methodology is followed by Persistence Market Research?

Persistence Market Research follows a methodology that encompasses the demand-side assessment of the market, and triangulates the same through a supply-side analysis. This methodology is based on the use of standard market structure, methods, and definitions.

Who are the respondents for primary research?

Persistence Market Research speaks to stakeholders across the spectrum, including C-level executives, distributors, product manufacturers, and industry experts. For a full list of primary respondents, please reach out to us.

What are the sources of secondary research?

Persistence Market Research conducts extensive secondary research through proprietary databases, paid databases, and information available in the public domain. We refer to industry associations, company press releases, annual reports, investor presentations, and research papers. More information about desk research is available upon request.

Is a sample of this report available for evaluation?

Yes, you can request a sample, and it will be sent to you through an email.

How can I buy this report?

Persistence Market Research provides a secure online payment system to buy reports seamlessly. You can buy the report securely and safely.
Key Market Segments Covered
Product
Desktop Marijuana Medical Vaporizers
Portable Marijuana Medical Vaporizers
Charger Type
USB-charged Handheld Marijuana Medical Vaporizers
Micro USB-charged Handheld Marijuana Medical Vaporizers
Others
Features
Metered Handheld Marijuana Medical Vaporizers
Non-metered Handheld Marijuana Medical Vaporizers
End Use
Handheld Marijuana Medical Vaporizers for Individuals
Handheld Marijuana Medical Vaporizers for Medical Use
Sales Channel
Speciality Stores
Vape Shops
Convenience Stores
Multi-Brand Stores
Exclusive Stores
Independent Small Stores
Online Retailers
Departmental Stores
Wholesalers/Distributors
Region
North America
Latin America
Europe
East Asia
South Asia
Oceania
Middle East & Africa (MEA)
Our Clients