Innovation is key to thriving in the mobile and handheld gaming market
The mantra 'Innovate or die' could hardly be more apt than for the global mobile and handheld gaming market. It is absolutely essential to focus on the latest technologies such as wearables, game stream or VR headsets to entice customers. A number of devices including head trackers, motion sensing devices, color detection, artificial intelligence and sound sensing are but a few of the trends that should shape the mobile and handheld gaming market in the days to come.
AR and VR could be considered the most recent and important as they substantially enhance the gaming experience through a highly advanced, interactive method of gaming. Augmented reality generates virtual information to improve the user's perception. Augmented reality typically includes full body motion control sensors for a totally hands-free gaming experience. Audio-visual, graphics and interaction based AR systems enable users to interact with virtual objects in an augmented environment. For example – Microsoft's Natal utilizes body action controls to provide a truly revolutionary, next-generation gaming experience.
Virtual Reality will transform the virtual world into a real one
Virtual reality and augmented reality are widely considered to be the next big thing in the global mobile and handheld gaming market during the forecast period. Major industry players are investing large sums of money in high-end, advanced technologies to popularize VR and turn it into a mainstream segment of the global mobile and handheld gaming market from its current niche position. NVIDIA is one company that has done more than most others to promote the concept of virtual reality gaming.
NVIDIA provides solutions for virtual reality and serves its customer needs adequately with a diverse and complete product portfolio in its arsenal. Samsung Electronics has also entered the field of virtual reality with the launch of its Samsung Gear VR virtual reality headset, based on Oculus technology. Mobile virtual reality is one of the few segments that can truly generate excitement in the mobile and handheld gaming market as the era of both PC and Console gaming declines in importance compared to the past.
AR and VR should revolutionize the global smartphone gaming market
It is already possible to play several AR and VR game titles on a number of mobile gaming devices today. With the debut of mass market AR/VR game viewer accessories such as Google Cardboard along with massive amounts of R&D and venture funding being pumped into AR and VR hardware and software, it is quite obvious that millions of mobile users will be hooked onto AR/VR games within a few years at the most.
While it is quite challenging to predict how much revenue will be derived at the present moment, it can safely be said that a good chunk of the growth in mobile handset gaming should come from breakthroughs made in AR/VR technologies that have yet to see the light of day.
Smartphone platform type segment to remain the largest segment in the foreseeable future
Smartphones are far more ubiquitous and necessary than dedicated mobile handheld gaming devices as they can be considered the 'Swiss pocket knives' of the technology industry. Smartphones serve a number of functions, a major one being gaming and entertainment. It isn't surprising that the smartphones segment held a market share of more than 70% of the global mobile and handheld gaming market in the year 2016. This is only predicted to rise to nearly 80% of the entire global mobile and handheld gaming market by the end of the forecast period.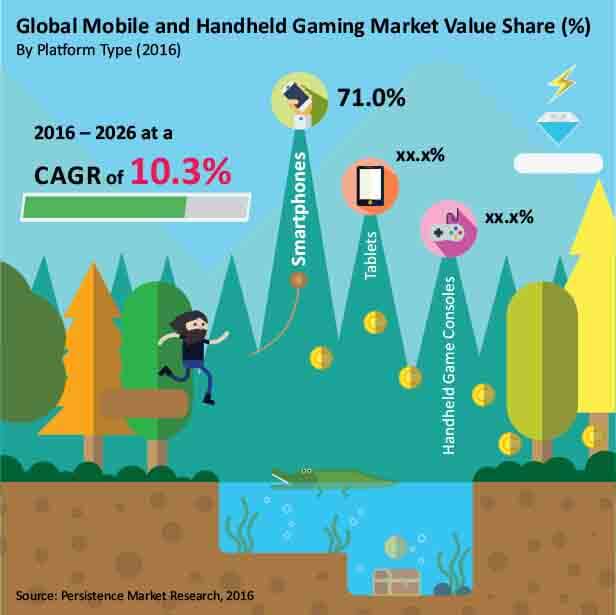 High CAGR and absolute dollar opportunity make the smartphone segment the 'Holy Grail' of the global mobile and handheld gaming market
Though the smartphones segment already accounts for the largest share of the global mobile and handheld gaming market, the segment is forecast to record a CAGR of 11.4% for the period 2016-2026. From a market value of just over US$ 27 Bn in the year 2015, the smartphones segment is anticipated to account for a market value close to US$ 90 Bn by the end of the year 2026. An absolute dollar opportunity of more than US$ 60 Bn exists in the smartphones segment of the global mobile and handheld gaming market.
Market Taxonomy
By Platform Type

Handheld Game Consoles

Handheld Game Software
Handheld Game Hardware

Smartphone
Tablet

By Operating System

By Region

North America
Latin America
Eastern Europe
Western Europe
APEJ
Japan
Middle East & Africa
- Companies Covered in This Report -
NVIDIA Corp
Microsoft Corp
Ubisoft Entertainment SA
King Digital Entertainment, Plc
Supercell Oy
The Walt Disney Company (Disney Interactive)
Others