GCC Industrial Racking System Market Outlook (2022-2032)
The GCC industrial racking system market was valued at US$ 544.1 Mn in 2022. Over the forecast period of 2022-2032, demand for industrial racking systems across the region is projected to surge at a CAGR of 11% to reach a market valuation of US$ 1.5 Bn by the end of 2032.
| Attribute | Key Insights |
| --- | --- |
| Industrial Racking System Market Size (2022A) | US$ 544.1 Mn |
| Projected Year Value (2032F) | US$ 1.5 Bn |
| Value CAGR (2022-2032) | 11% |
| Collective Value Share: Top 3 Countries (2022E) | 73% |
Increasing labor cost and rising warehouse rents have forced companies to focus on their warehouse storage space and utilize the space more resourcefully. According to Persistence Market Research analysis, the logistics industry across GCC is anticipated to grow 10% to 15% by 2032, owing to growth in the industrial, retail, and e-Commerce sectors, which will positively impact demand growth of warehousing industries and eventually industrial racking systems.
GCC Industrial Racking System Consumption Analysis (2017-2021) Compared to Market Forecasts (2022-2032)
Over the 2017 to 2021 historical period, industrial racking system sales across GCC rose at a CAGR of 9.9%.
In any industry, warehouses and storage facilities are considered the backbone of inventory management, whether they use methods such as LIFO or FIFO. Usage of warehouses in GCC countries is increasing as countries in the region are seeking to transform their economies from oil-based to agricultural, tourism, etc., which requires more inventory of products and large warehouse spaces to manage the inventory.
Growth of the industrial rack system market can be attributed to increasing demand for warehousing technologies, effective inventory management, and space optimization. In addition, growth of the e-Commerce sector is also driving demand for industrial racks.
Industrial racks have undergone a series of innovations in the past few years. This has mainly been to cater to the ever-growing needs of the FMCG industry, besides logistics and inventory management businesses. As FMCG businesses supply to several thousands of stores all over the region, to increase warehouse capacity, multiple racking systems are being used. Also, the movement of articles/products from buffer storage areas to final/order packaging areas requires proper warehouse storage systems and industrial racking systems.
Continuously rising e-Commerce sector in GCC countries coupled with the growing logistics industry is expected to drive high demand for industrial racking systems across the GCC region at a CAGR of 11% over the decade.
What's Fueling Demand Growth of Industrial Racking Systems in GCC?
"Surging e-Commerce Sector in GCC to Drive Market Expansion"
Several factors have been recognised for the demand growth of industrial racking systems in GCC countries. One of the major factors influencing the market is the strong supply chain network for e-Commerce in the region.
With the growing population in the region along with economic expansion, there will be a rise in the level of product consumption, which will accelerate the shift toward e-commerce and drive the need for a stronger, more resilient, and more diversified supply chain.
As the supply chain becomes stronger, e-Commerce companies no longer have challenges such as fast and efficient last-mile delivery and managing the increment in the number of product returns.
As the availability of warehouses and storage facilities are strong in GCC countries, e-Commerce companies are identifying locations that provide them further benefits for the easy and effective management of the supply chain and distribution needs. This is positively influencing the sales of industrial racking systems across the region.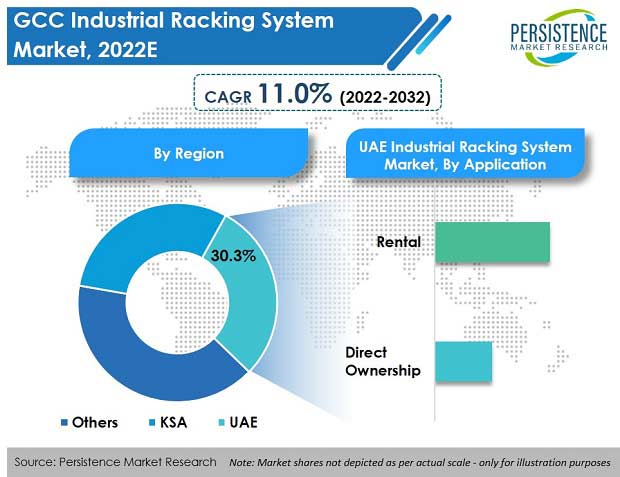 Country-wise Insights
Which GCC Country Offers Great Opportunity for Industrial Racking System Manufacturers?
"Industrial Racking System Sales Highest in UAE"
The UAE warehousing and storage business is a vast and vibrant industry that is bolstered by state-led infrastructure developments in rail, marine, road, and airport facilities. The logistics industry has been designated by the government as a crucial component of its economic diversification agenda.
Emerging customer segments such as e-Commerce present several unique opportunities for 3PLs, owing to the rising demand for complete logistics management through the aggregation of vendors and services. Moreover, the enormous growth witnessed in the e-Commerce sector would augment the establishment of warehouses and distribution centres, thereby driving industrial racking system usage across the UAE.
Which Country is Set to Be the Most Attractive Market for Industrial Racking System Providers in GCC?
"Saudi Arabia to Account for High Demand Growth of Industrial Racking Systems"
The Saudi Arabian government is seeking to diversify its economy by boosting growth in the industrial sector. The sector is currently benefiting from several initiatives, including the Sakani Affordable Housing Program and joint ventures with local partners. In addition, non-oil exports are increasing as a result of the kingdom's efforts to promote trade and investments.
The Sakani Affordable Housing Program is helping stimulate growth in the construction sector. The initiative provides low-cost homes for middle-income families and is encouraging private companies to invest in the construction industry. In addition, the government is encouraging local businesses to form joint ventures with foreign companies. This approach is helping promote innovation and create jobs.
The industrial sector is also benefiting from rising exports. The kingdom's efforts to promote trade and investments are helping increase demand for Saudi Arabia's goods and services abroad. Moreover, food processing businesses are among those that are being encouraged to set up shop in Saudi Arabia.
Several aquaculture farms are also being established to meet high demand for seafood. In addition, the government is investing in localising manufacturing capacity for items such as automobiles and medical equipment.
All these are encouraging the growth of the industrial racking system market in Saudi Arabia.
Category-wise Insights
Which Industrial Racking System Design Type is Most Popular across GCC?
"Pallet Storage Systems Enjoying Huge Popularity across HCC"
Push-back racking systems are amongst the most space- and time-efficient pallet storage systems available in the market. Dynamic push-back racking is particularly useful in marshalling areas for bulk storage and handling.
Pallet racking is widely and extensively utilized in a variety of sectors. Logistics, textiles, and warehousing businesses appear to be the most important.
Pallet racking systems are seeing high demand growth as compared to other racking systems as they allow businesses to load things in quantity. This saves them both, time and money. Because of the low cost, economic value, and practicality, the pallet racking industry is anticipated to grow in popularity in more sectors across GCC.
The pallet racking systems segment is expected to surge at a CAGR of around 12% to reach a market valuation of US$ 114.4 Mn in GCC by 2032.
Which End-use Sector is Expected to Provide Most Revenue for Suppliers of Industrial Racking Systems?
"3PLs Sector to Provide Most Revenue for Industrial Racking System Manufacturers"
The 3PLs segment is estimated to be valued at US$ 371.7 Mn by 2032, exhibiting a CAGR of 11.1% over the decade.
Logistics is an important industry in any economy as facilitates the flow of products from the area of origin to that of consumption. This industry also involves the integration of material handling, warehousing, packaging, transportation, inventory management, supply chain management, procurement, and shipping security.
The 3PL logistics business in GCC countries is being driven by obtainability of specialized service providers, cost reduction, presence of industrial zones, and rising industrialization. Furthermore, rise of the e-Commerce sector in the retail industry is anticipated to offer profitable market potential for GCC's third-party logistics businesses.
Competitive Landscape
Acquisitions and expansions are being witnessed in the industrial racking system industry across GCC. Key manufacturers of industrial racking equipment are also focusing on innovation to better serve end users.
For Instance:
In May 2021, Mecalux installed pallet racks and implemented its Easy WMS warehouse management system together with the Multi-Carrier Shipping software module, for the motorcycle helmet brand LS2 Helmets, which relocated to Terrassa, Spain, to increase its storage capacity and prepare for a larger number of orders.
GCC Industrial Racking System Industry Report Scope
Attribute
Details

Forecast Period

2022-2032

Historical Data Available for

2017-2021

Market Analysis

USD Million for Value
Mn Units for Volume

Key Countries Covered

Saudi Arabia
UAE
Oman
Bahrain
Qatar
Kuwait

Key Market Segments Covered

Design
Carrying Capacity
Sales
End Use
Country

Key Companies Profiled

Jungheinrich AG
Stow International
Godrej Group
SSI Schaefer
Gonvarri Material Handling
Mecalux, S.A.
Daifuku Co. Ltd
Kardex AG
SNR International Services LLC
Sadr Logistics Co

Report Coverage

Market Forecast
Company Share Analysis
Competition Intelligence
DROT Analysis
Market Dynamics and Challenges
Strategic Growth Initiatives

Customization & Pricing

Available upon Request
GCC Industrial Racking System Market Research by Category
GCC Industrial Racking System Market by Design:
Selective Racking
Cantilever Racking
Push Back Racking
Narrow & Wide Aisle Racking
Drive-In-Racking
Pallet Flow Racking
Carton Flow Racking
Mobile Racking
Pigeon Hole Racking
FIFO Racking
GCC Industrial Racking System Market by Carrying Capacity:
Light Duty (40 to 200 kg) Industrial Racking Systems
Medium Duty (0.25 to 1 Ton) Industrial Racking Systems
Heavy Duty (2-4 Tons) Industrial Racking Systems
GCC Industrial Racking System Market by Sales:
GCC Industrial Racking System Market by End Use:
Automotive
Construction
Chemicals & Pharmaceuticals
Food & Beverages
E-Commerce
3PLs
Textiles
Paper & Print
Defense & Railways
Cold Storage
Other Manufacturing
GCC Industrial Racking System Market by Country:
KSA Industrial Racking System Market
UAE Industrial Racking System Market
Oman Industrial Racking System Market
Bahrain Industrial Racking System Market
Qatar Industrial Racking System Market
Kuwait Industrial Racking System Market