Endoscopic Submucosal Dissection Market Outlook (2022-2032)
The global endoscopic submucosal dissection market reached a valuation of US$ 245.9 Mn at the end of 2021, with a projected CAGR of 7.2% for the next ten years, which indicates highly positive market growth. Detailed industry analysis reveals that worldwide revenue from endoscopic submucosal dissection will end up at US$ 532.6 Mn by 2032.
According to Persistence Market Research, by indication, stomach cancer accounted for a market value of US$ 199.1 Mn in 2021, while hospitals held 44.8% share of the global market.
Endoscopic submucosal dissection held an approximate share of 7.9% of the global endoscopy device market in 2021.
| | |
| --- | --- |
| Endoscopic Submucosal Dissection Market Size (2022) | US$ 265.1 Mn |
| Projected Market Value (2032) | US$ 532.6 Mn |
| Global Market Growth Rate (2022-2032) | 7.2% CAGR |
| Share of Top 5 Countries | 75.2% |
Sales Analysis of Endoscopic Submucosal Dissection Products (2014 to 2021) Vs. Market Outlook (2022 to 2032)
The global market for endoscopic submucosal dissection expanded at a CAGR of 6.6% over the historical period (2014-2021).
Increased use of endoscopic procedures for the detection and treatment of colorectal and gastrointestinal diseases has emerged from the rising prevalence of such diseases.
Colon cancer affected 1,148,515 people worldwide, according to the Globocan data for 2020. Similarly, the number of people diagnosed with stomach and esophageal cancer was 1,089,103 and 604,100, respectively.
During the projected period, the incidence rate is expected to increase, resulting in a larger patient pool, thus promoting demand for endoscopic submucosal dissection systems.
Although endoscopic submucosal dissection treatments are comparatively rare in nations such as the United States, Brazil, Australia, and Germany, they are becoming more common with gradual adoption in these regions. Growing demand for minimally-invasive procedures by patients and healthcare professionals provides an opportunity for healthcare authorities in these areas to understand more about techniques such as endoscopic submucosal dissection.
Endoscopic submucosal dissection (ESD) is a minimally-invasive endoscopic/surgical method for the curative removal of advanced lesions, such as early GI cancer. If it's successful, it can eliminate the need for resection surgery (laparoscopic or open).
In the endoscopic medical device sector, the FDA 510(k) premarket approval process is used. According to the FDA's published list of class II (special control) devices, devices that were formerly subject to certain constraints are now free from premarket notice under the Modernization Act) in the United States.
The Modernization Act exempts device makers and developers from filing premarket submissions, allowing FDA to spend its efforts on more critical public health issues.
This reduces the time it takes for regulatory approval, decreasing costs, and, in the long term, will propel the endoscope and endoscopic submucosal dissection markets forward.
The global endoscopic submucosal dissection products market is predicted to surge ahead at a CAGR of 7.2% with sales revenue reaching US$ 532.6 Mn by the end of 2032.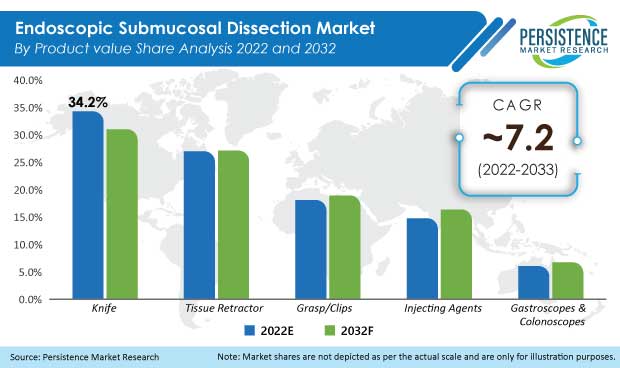 What Opportunities Await Endoscopic Submucosal Dissection Device Manufacturers?
"Advances in Traction Methods for Endoscopic Submucosal Dissection"
ESD is a technique for treating superficial gastrointestinal neoplasms that allow for en bloc excision, regardless of the size of the tumor. ESD is technically challenging; because endoscopists, unlike surgeons, cannot reach into the gastrointestinal tract with their hands, it's challenging to get enough tension in the dissection plane while maintaining a good field of vision.
In comparison to endoscopic mucosal resection, ESD is associated with a longer procedure time and a high risk of adverse effects. During the ESD technique, traction mechanisms have been established to provide sufficient tension for the dissection plane and a good field of vision. Traction modalities include hood traction, natural traction, and device-assisted traction, with internal and external traction methods.
This factor is set to promote demand growth of endoscopic submucosal resection owing to the increasing adoption of ESD procedures to evaluate accurate histopathology, growing incidence of colorectal cancer, and advancements in AI-incorporated, minimally-invasive endoscopic systems.
What's Restraining Demand for Endoscopic Submucosal Dissection to Some Extent?
"Dearth of Skilled Professionals in the Field"
For providers to obtain expertise in ESD, specialized technical skills and dedicated training are required. After several investigations, more than 30 supervised gastric ESD procedures are required to develop technical proficiency and prevent complications.
Several training algorithms have been developed in Japan to standardize ESD training. These methods, however, cannot be directly implemented in Western countries due to major discrepancies in the availability of highly qualified mentors, type of pathology identified, tools employed, and trainee experience.
Thus, the need for highly skilled professionals for performing ESD procedures is high and acts as a restraint to the growth of the overall market.
Moreover, apart from stringent patient selection guidelines, several alternative treatment options such as open surgery and endoscopic mucosal resection that are available may offer resistance to the growth of the endoscopic submucosal dissection market.
Country-wise Insights
Why are Endoscopic Submucosal Dissection Providers Targeting the U.S. Market?
"Growing Education & Practice of ESD in the Country"
North America held a market share of 9.2% in the global endoscopic submucosal dissection systems market in 2021, of which, the U.S. accounted for a market share of 91.7%.
ESD is a well-established endoscopic method that originated in Japan and has been taken up in the West, where it is now actively practiced. NCCN guidelines for the treatment of superficial GI cancers now include the use of this novel method.
Some insurers have begun preapproving and covering members who may benefit from ESD. The current high level of interest and investment in ESD by medical device manufacturers, clinical investigators, and practicing clinicians suggests that the field and discipline of ESD are poised to make tremendous progress in the next years, particularly in the United States.
How is Demand for Endoscopic Submucosal Dissection Shaping Up in Germany?
"Enhanced Overall Quality of ESD Procedures"
In terms of value, at the end of 2021, Germany accounted for 20.4% of the European endoscopic submucosal dissection market.
There is a dearth of established studies from Western regions that report on the influence of the ESD caseload per year on patient outcomes.
The German endoscopic submucosal resection registry was established to observe and evaluate the cost-effectiveness of ESD treatments, their technical success, curative resection rates, and long-term results within the country. This showed implications for the lower occurrence of complications associated with ESD procedures in the country, thereby calling for more adoption of ESD in Germany.
Why is Japan a Prominent Market for Endoscopic Submucosal Dissection?
"Greater Adoption of ESD in East Asia"
In 2021, the Japan endoscopic submucosal dissection market was valued at US$ 67 Mn and held a market share of 47.8% in East Asia.
East Asia accounts for the highest number of endoscopic submucosal dissection procedures. This is mostly owing to Japan's and South Korea's high rates of stomach cancer. Japan is also noted for being the center for ESD training.
The method is still in its early stages of adoption in Western regions. Another reason for its present poor popularity is the considerably lower occurrence of stomach cancer in these areas. This picture is likely to change, as ESD adoption is predicted to increase over the coming years.
Category-wise Insights
Which Endoscopic Submucosal Dissection Product is Driving High Market Growth?
"Product Development for Enhanced Surgical Outcomes"
Knives, among all the products, accounted for the highest market share of 34.3% by revenue in 2021.
With the growing adoption of endoscopic submucosal dissection procedures in the Western world, to mitigate the issues related to complications associated with ESD procedures, there have been advancements in the product range for ESD.
With knives as the dominant segment in the global market, the development of scissor-like knives displayed higher efficiency during surgical procedures, with lesser time taken, and has thus presented positive outcomes for novice providers.
Which Indication is Most Common in the Endoscopic Submucosal Dissection Market Space?
"Highest Prevalence of Stomach Cancer being Witnessed"
High prevalence of stomach cancer is driving demand in this market and accounted for 81% market share in 2021, owing to endoscopic submucosal dissection being accepted as a standard treatment for early gastric cancer (EGC), in Japan, in 2014.
This is due to the rapid adoption of ESD procedures in Japan, China, South Korea, and other Asian countries, and is now also being adopted in a number of Western countries.
Competitive Landscape
Manufacturers of endoscopic submucosal dissection devices are concentrating on expanding their product ranges by introducing new innovative products. Key players are working on getting new products approved by regulatory agencies and launching them in the market as soon as possible.
Some manufacturers are also concentrating on the development of training centers to boost their product sales and market share, globally.
In June 2020, FUJIFILM Medical Co., Ltd. launched an endoscope system "ELUXEO" equipped with a four-color LED light source that supports the diagnosis of inflammation and the discovery of minute lesions using image enhancement functions.
In March 2021, Olympus received FDA 510(k) clearance for Narrow Band Imaging® (NBI) to assess the neoplastic risk of colorectal polyps.
Similarly, recent developments related to companies manufacturing endoscopic submucosal dissection systems and devices have been tracked by the team at Persistence Market Research, which are available in the full report.
Endoscopic Submucosal Dissection Industry Report Scope
Attribute

Details

Forecast Period

2022-2032

Historical Data Available for

2014-2021

Market Analysis

US$ Million for Value

Key Countries Covered

U.S.
Canada
Brazil
Mexico
Argentina
Germany
U.K.
France
Italy
Spain
Russia
China
Japan
South Korea
India
Thailand
Indonesia
Malaysia
Australia
New Zealand
GCC
South Africa

Key Market Segments Covered

Product
Indication
End User
Region

Key Companies Profiled

Erbe Elektromedizin GmbH
Sumitomo Bakelite Co., Ltd.
Ovesco Endoscopy AG
FUJIFILM Holdings Corporation
Olympus Corporation
Boston Scientific Corporation
ZEON CORPORATION
COOK Group
ConMed
Steris

Report Coverage

Market Forecast
Competition Intelligence
DROT Analysis
Market Dynamics and Challenges
Strategic Growth Initiatives

Customization & Pricing

Available upon Request
Key Segments Covered in Endoscopic Submucosal Dissection Industry Survey
Endoscopic Submucosal Dissection Market by Product:
Knives
Tissue Retractors
Grasp/Clips
Injecting Agents
Gastroscopes & Colonoscopes
Endoscopic Submucosal Dissection Market by Indication:
Esophageal Cancer
Stomach Cancer
Colon Cancer
Endoscopic Submucosal Dissection Market by End User:
Hospitals
Ambulatory Surgical Centers
Speciality Clinics
Endoscopic Submucosal Dissection Market by Region:
North America Endoscopic Submucosal Dissection Market
Latin America Endoscopic Submucosal Dissection Market
Europe Endoscopic Submucosal Dissection Market
South Asia Endoscopic Submucosal Dissection Market
East Asia Endoscopic Submucosal Dissection Market
Oceania Endoscopic Submucosal Dissection Market
Middle East & Africa Endoscopic Submucosal Dissection Market