Diethyl Oxalate Market Outlook (2022-2032)
Newly-released data on the global diethyl oxalate market reveals that worldwide sales are expected to reach around US$ 103,156.9 Th in 2022, registering Y-o-Y growth of approximately 4.6%. Demand for diethyl oxalate is projected to register a 4.9% CAGR during the forecast period of 2022 to 2032.
According to Persistence Market Research, global diethyl oxalate consumption is expected to reach US$ 165,685.8 Th by the end of 2032. East Asia, South Asia, and Pacific are expected to remain key markets for diethyl oxalate suppliers.
| Attribute | Key Insights |
| --- | --- |
| Diethyl Oxalate Market Size (2021A) | US$ 98,861.7 Th |
| Market Estimation (2022E) | US$ 103,156.9 Th |
| Market Forecast (2032F) | US$ 165,685.8 Th |
| Value CAGR (2022-2032) | 4.9% |
| Collective Value Share: Top 3 Countries (2022E) | 48.8% |
Consumption Analysis of Diethyl Oxalate from 2017 to 2021 Vs Market Outlook for 2022 to 2032
Diethyl oxalate is an organic compound with colorless characteristics. It is the dimethyl ester of oxalic acid. Diethyl oxalate usage is seen in active pharmaceutical ingredients, polymers, and intermediates for dyestuffs. It is also used as a solvent to make esters, resins, fragrances, and electronic lacquers.
The global market for diethyl oxalate witnessed a growth rate of 2.7% from 2017 to 2021.
Tremendous growth has been seen in the pharmaceutical industry attributed to the high consumption of diethyl oxalate. Demand for drugs such as steroids and barbiturates has led to increased diethyl oxalate usage. Robust research & development has increased advanced treatments and require special medication, which can positively affect market growth.
In addition, the cosmetics & personal care industry is being propelled forward by rising standards of living, the direct influence of beauty and personal care on self and social aspects, and stable consumer motion toward high-end luxury cosmetic products. In the perfume industry, diethyl oxalate is used as a solvent, which is expected to drive its sales going forward.
The global market for diethyl oxalate is slated to expand at a 4.9% CAGR over the next ten years.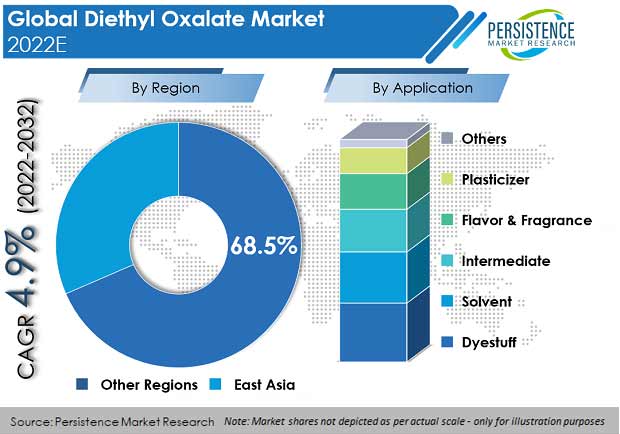 The global market is expected to be dominated by East Asia, followed by South Asia & Pacific and North America, owing to the growth of end-use industries. Among the diethyl oxalate applications, dyestuffs is the leading segment, followed by solvents and intermediates, where diethyl oxalate is widely consumed.
What Strategies Should Diethyl Oxalate Manufacturers Follow?
"R&D to Discover New Applications of Diethyl Oxalate"
Diethyl oxalate is a low-cost additive that can be used to improve the performance of Dye-Sensitized Solar Cells (DSSCs). DSSCs are a type of solar cell that absorbs sunlight and generates electrical current by using a dye molecule.
The addition of diethyl oxalate to the electrolyte solution in DSSCs increases photocurrent density by up to 26%, according to researchers. This increases the efficiency of DSSCs in converting sunlight into electrical energy, potentially leading to cheaper and more efficient solar energy technologies.
A significant portion of key players' revenue is being invested in R&D to investigate new applications of diethyl oxalate in DSSCs, pre-treatment of wood chips, carbonatic substances, and other applications. Diethyl oxalate is being researched for solar cells due to its physical and chemical properties, where it improves cell efficiency, in pre-treatment of wood chips where it saves energy and costs, and so on.
As a result, the use of diethyl oxalate in new applications will allow manufacturers to increase production, thereby increasing their global footprints.
Are There Any Factors That Can Hinder Diethyl Oxalate Demand?
"Toxic Profile of Diethyl Oxalate an Issue"
Every day, millions of workers inhale solvents. Solvent exposure has been linked to neurological toxicity, reproductive harm, liver and kidney damage, cancer, and other health risks. Solvents share several chemical, physical, and biological properties. Furthermore, many solvent groups or individual compounds have distinguishing characteristics that necessitate more sophisticated controls.
Diethyl oxalate is a solvent that is used in the manufacture of perfumes, medicines, and other products. Diethyl oxalate, which is insoluble in water, is slightly denser than water. It sinks, and, as a result, can irritate the skin and mucous membranes, is dangerous if consumed, and emits unpleasant fumes in the event of a fire. This toxicological profile of diethyl oxalate is expected to create a hindrance to the growth of the market.
In addition, government rules & regulations that are made to regulate the production of chemicals and their disposal also restrict the consumption rate of these chemicals. Environmental regulations on using chemically-treated products, which are also associated with the generation of hazards in human proximity, are becoming increasingly stringent, particularly in developed regions. All these factors are expected to adversely affect the diethyl oxalate demand growth.
Country-wise Analysis
What is the Consumption Outlook of Diethyl Oxalate in India?
"Indian Agrochemicals Sector to Drive Demand for Diethyl Oxalate"
The India diethyl oxalate market is anticipated to witness substantial growth owing to expanding end-use industries such as pharma, plastics & polymers, agriculture, and others, which are substantially consuming diethyl oxalate. The market is anticipated to reach US$ 20,162.1 Th in 2032.
In India, agrochemicals are another important end-use industry of diethyl oxalate. India is the fourth-largest producer of agrochemicals, globally, as cited by FICCI. The agrochemicals industry has a significant impact on the Indian economy.
Diethyl oxalate is used in the production of agrochemicals such as pesticides, insecticides, herbicides, and others. Increasing population and per capita income and decreasing arable lands due to infrastructural development have resulted in increased usage of agrochemicals to increase crop yield.
Along with domestic consumption, India is expected to see heavy exports of these chemicals over the coming years. Thus, growing demand for agrochemicals is expected to augment the Indian diethyl oxalate market during the forecast period.
Why Does China Account for Significant Share of the Diethyl Oxalate Market?
"Growing Pharmaceutical Industry Accounts for High Diethyl Oxalate Usage"
The China diethyl oxalate market is expected to expand at 5.4% CAGR during the forecast period. China is believed to be a key producer and exporter of diethyl oxalate. Substantial growth in end-use sectors is bolstering market growth.
Pharmaceuticals play a significant role in the world health system by diagnostics, medicating, and preventing diseases. According to a study, the rapid growth of China's healthcare industry has enabled it to begin the transition from a pharmaceutical production base to a strategic R&D hub.
Chinese pharmaceutical manufacturers have primarily been involved in the production of basic chemicals, intermediates, and active pharmaceutical ingredients. Diethyl oxalate is consumed as a raw material in the production of active pharmaceutical ingredients. These APIs are further used in different medicinal drugs.
Hence, the growth of the pharmaceutical industry will drive diethyl oxalate consumption in China.
Category-wise Insights
What is the Growth Outlook of Diethyl Oxalate in the Pharmaceutical Industry?
"Increasing Use of Diethyl Oxalate in Drug Formulations"
Consumption of diethyl oxalate is expected to grow in the pharmaceutical industry to a certain extent. Diethyl oxalate is a versatile solvent that is used in the production of APIs. The solvent has a high boiling point and low reactivity, which makes it an ideal choice for these applications.
Diethyl oxalate is a key starting material for oxalate syntheses, which are used to make drugs such as steroids, barbiturates, etc.
Demand for drugs such as barbiturates and steroids has increased since barbiturates are used to treat headaches, seizures, and insomnia, whereas, steroid consumption has increased significantly due to increased indulgence in sports such as bodybuilding.
To address the rising problem of anxiety and insomnia, certain manufacturers have increased the production of phenobarbital, which helps reduce anxiety and insomnia, increasing the consumption of diethyl oxalate. As a result, it is becoming a more popular choice in the pharmaceutical industry.
Consumption of diethyl oxalate in the pharmaceutical industry is anticipated to expand at a CAGR of 5.1% during the forecast period.
Which Diethyl Oxalate Application is Expected to Gain High Traction?
"Dyestuff Application of Diethyl Oxalate to Remain Prominent"
Dyes and pigments are used in paints and coatings, printing inks, textiles, construction, and plastics and polymer. Diethyl oxalate is used as an intermediate in the dye manufacturing process. It is used to make triazine dyes, triazine isomers, and derivatives, which have anti-cancer, antiviral, fungicidal, insecticidal, bactericidal, and antimicrobial properties, and are widely used in pharmaceutical and agricultural industries. Dyes and pigments are widely used in the textile and automotive sectors.
Consumption of dyes and pigments is expected to rise as the automobile and textile sectors expand. Diethyl oxalate usage as a pigment dispersant and intermediate in the dye synthesis process has increased.
Hence, due to the above-mentioned factors, the dyestuff application of diethyl oxalate is expected to dominate the global market during the forecast period. The dyestuffs segment is anticipated to reach US$ 47,368.4 Th by end of the year 2032.
Did COVID-19 Dent the Sales Prospects of Diethyl Oxalate?
The COVID-19 outbreak had a significant impact on global economic growth in the first few quarters of 2020. The global diethyl oxalate market is expected to recover steeply after the pandemic due to increased demand from end users such as pharmaceuticals, agriculture, plastics and polymers, pigments and dyes, and others.
Competitive Landscape
Diethyl oxalate is a specialized market. The market has yet to grow since it is still in its infancy stage, with research into its applications in various end-use industries still ongoing. Key players are allocating a significant portion of their revenue to research and development to investigate new applications.
The market is currently in a state of stagnation, with no significant activities such as expansions, acquisitions, or collaborations observed. The market is still in its early phases, and mass commercialization has yet to take off.
There are several potential applications for this chemical, but low consumer/end-user awareness and the availability of substitutes are major roadblocks that must be overcome before its widespread use.
Diethyl Oxalate Industry Report Scope
Attribute
Details

Forecast Period

2022-2032

Historical Data Available for

2017-2021

Market Analysis

US$ Th for Value
Tons for Volume

Key Regions Covered

North America
Latin America
Europe
East Asia
South Asia & Pacific
The Middle East & Africa

Key Countries Covered

U.S.
Canada
Brazil
Mexico
Germany
Austria
Switzerland
U.K.
France
Italy
Spain
Russia
BENELUX
China
Japan
South Korea
India
ASEAN
Australia and New Zealand
GCC Countries
Turkey
Northern Africa
South Africa

Key Market Segments Covered

Product Form
Application
End-use Industry
Region

Key Companies Profiled

TCI Chemicals
BorsodChem MCHZ, s.r.o
Zibo Xusheng Chemical Co., Ltd
ACETO GmbH
Connect Chemical GmbH
Merck KGaA
Nanjing Chengyi Chemical Co., Ltd.
RX Chemicals
Alpha Chemika
Hefei TNJ Chemical Industry Co., Ltd.
Indian Oxalate Limited
Mudanjiang Fengda Chemicals Corporation

Pricing

Available upon Request
Key Segments Covered in Diethyl Oxalate Industry Research
Diethyl Oxalate Market by Product Form:
Liquid Diethyl Oxalate
Powder Diethyl Oxalate
Diethyl Oxalate Market by Application:
Flavors & Fragrances
Dyestuffs
Solvents
Intermediates
Plasticizers
Others
Diethyl Oxalate Market by End-use Industry:
Pharmaceuticals
Agricultural
Plastics & Polymers
Cosmetics & Personal Care
Pigments & Dyes
Electronics
Chemicals
Others
Diethyl Oxalate Market by Region:
North America Diethyl Oxalate Market
Latin America Diethyl Oxalate Market
Europe Diethyl Oxalate Market
East Asia Diethyl Oxalate Market
South Asia & Pacific Diethyl Oxalate Market
Middle East & Africa Diethyl Oxalate Market