Cutaneous Fibrosis Treatment Market Outlook (2022-2032)
The global cutaneous fibrosis treatment market was valued at US$ 574.6 Mn in 2021, with a projected CAGR of 6.8% for the next ten years, which indicates highly positive market growth.
Detailed industry analysis reveals that revenue from cutaneous fibrosis treatment will surge to a market valuation of US$ 1.2 Bn by the end of 2032.
According to Persistence Market Research, cutaneous fibrosis treatment solutions enjoyed a valuation of US$ 574.6 Mn in 2021 and accounted for 12.6% share of the global fibrotic disease treatment market.
In the previous decade, numerous research activities on cutaneous fibrosis treatment have been conducted to examine the treatment choices and disease epidemiology, with the goal of better understanding the disease prognosis.
Although the exact incidence of cutaneous fibrosis is yet to be determined, the prevalence of related disorders, such as scleroderma and keloids, is widely known across the world. There is currently no approved treatment for cutaneous fibrosis. Since no medicine has been approved to treat cutaneous fibrosis, drug manufacturing companies are evaluating the efficacy and activity of a variety of treatments.
| Attribute | Key Insights |
| --- | --- |
| Cutaneous Fibrosis Treatment Market Size (2021) | US$ 574.6 Mn |
| Projected Market Value (2032) | US$ 1.2 Bn |
| Global Market Growth Rate (2022-2032) | 6.8% CAGR |
| Share of Top 5 Countries | 52.4% |
Sales Analysis of Cutaneous Fibrosis Treatment from 2017 to 2021 Vs Market Outlook for 2022 to 2032
The global market for cutaneous fibrosis treatment expanded at a CAGR of 5.1% over the last five years (2017-2021).
Rising cutaneous fibrosis-related disorders are likely to fuel the growth of the cutaneous fibrosis treatment market. The development of fibrosis happens naturally throughout scar formation in wound repair, or as an organic process in pro-fibrotic diseases. Connective tissue fibrosis typically occurs in indications such as keloids, scleroderma, radiation-induced skin fibrosis, and chronic graft-versus-host disease-associated (GVHD) cutaneous fibrosis.
Cutaneous fibrosis is a rather uncommon condition. Due to a lack of understanding among healthcare professionals and the general public, cutaneous fibrosis diagnosis and treatment are usually delayed. Scleroderma and other cutaneous fibrosis-related illnesses are more common in those over the age of 35.
For instance, according to a recent study and meta-analysis on systemic sclerosis globally in the year 2021, among 6983 people, 61 studies of prevalence and 39 studies of incidence in the systematic review for this disease were conducted. It was found that the prevalence of systemic scleroderma ranged from 3.1 to 144.5 per 100,000 person-years with an overall pooled prevalence of systemic scleroderma of 17.6 (95% CI 15.1, 20.5) per 100,000 person-years.
High prevalence and incidence rate of systemic scleroderma disease over the world, is driving cutaneous fibrosis treatment market growth.
Systemic sclerosis treatment had previously been limited to off-label usage of generic drugs from other indications; however, lately, there has been a substantial shift in the market for this condition.
Novel therapeutics for the treatment of cutaneous fibrosis conditions are being developed by several researchers and sponsors.
For example, Boehringer Ingelheim's Ofev (nintedanib) was introduced in the United States and Japan in 2019 upon approval by the FDA for the treatment of idiopathic pulmonary fibrosis (IPF) and systemic sclerosis.
Similarly, the first medicine for the treatment of progressive systemic scleroderma-associated interstitial lung disease was licensed in Europe in 2020.
In March 2021, Genentech's "Actemra therapy" became the first biologic therapy to be approved by the FDA for slowing down the rate of decline of pulmonary function in adults with systemic scleroderma.
With more drugs in the pipeline and launching stages, the cutaneous fibrosis treatment market will see decent growth over the coming years.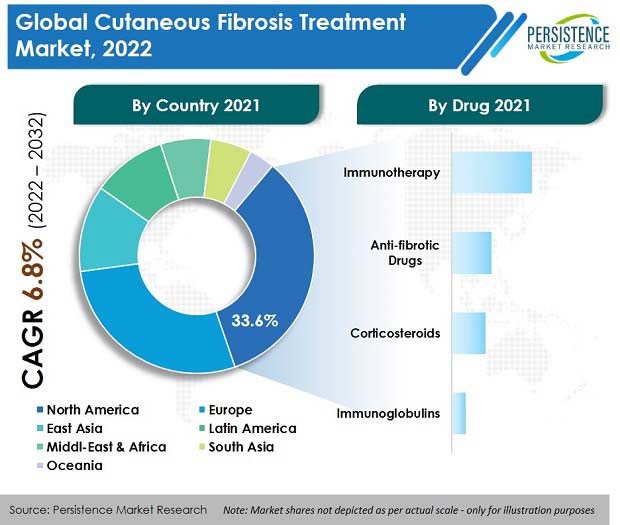 What Opportunities are on Offer for Cutaneous Fibrosis Drug Manufacturers?
"Availability of Novel Treatment Options for Cutaneous Fibrosis"
Lack of approved medicines for the treatment of skin diseases represents a major chance for revenue generation within the international market. A relatively giant patient pool in developed countries and an identical patient pool in developing countries is probably going to provide significant revenue generation opportunities.
Although cutaneous fibrosis treatment awareness in developing countries remains severely limited, and the illness is frequently left untreated due to a lack of awareness and the inconvenience of treatments, increasing cutaneous fibrosis treatment awareness within the scleroderma therapeutics market space is being seen.
Knowledge about epidemiology, treatment approach, and diagnostic tests is increasing worldwide, which is, in turn, expected to boost revenue generation. Growing diagnostics in developing countries offer great opportunities for the sale of cutaneous fibrosis treatment drugs in these regions.
How is Cutaneous Fibrosis Treatment Market Growth Being Dented to Some Extent?
"Limited Treatment Options Hurting Market Expansion"
Fibrotic diseases represent significant unmet needs and there is a lack of approved treatments; hence, drugs are the only form of symptomatic treatment of cutaneous fibrosis.
In case the disease remains untreated, it is likely to get worse with time. Although symptomatic treatment is helpful, it does not stop the progression of cutaneous fibrosis, which eventually leads to a more severe form of the disease.
Symptomatic treatment often lowers patient compliance, which leads to a decrease in the treatment-seeking rate and lowers the quality of life, which, in turn, hampers the growth of the market.
The epidemiology data of cutaneous fibrosis is very limited and has to be derived from various associated diseases, which leads to limited awareness about the disease, even when the symptoms of the disease are clear. The unavailability of data is another factor that is likely to hamper the growth of the market in the developing world, where the treatment of keloids is often ignored.
Lack of novel treatment approaches for the treatment of cutaneous fibrosis has made effective treatment more difficult. Varying diagnosis stages, slow progression of cutaneous fibrosis, and limited treatment options are among the factors that limit the growth of the market.
Country-wise Insights
Why are Cutaneous Fibrosis Treatment Providers Targeting the U.S. Market?
"Frequent FDA Approvals in the U.S. Market"
North America held a market share of 33.6% by value in the global cutaneous fibrosis treatment market in 2021, of which, the U.S. accounted for a market share of 88.5%. Higher rates of approval by the U.S. FDA lead to added product launches, making the U.S a high revenue-generating country.
Recent developments include Pfizer announcing in January 2022 that its drug "CIBINQO" had been approved by the US Food and Drug Administration (FDA) for once-daily oral treatment of people with moderate-to-severe atopic dermatitis (AD).
How is Demand for Cutaneous Fibrosis Treatment Shaping Up in Germany?
"Presence of Leading Cutaneous Fibrosis Treatment Drug Manufacturers in Germany"
In terms of value, Germany accounted for 23.8% of the European cutaneous fibrosis treatment market. This high market share is attributed to the presence of several large industry players in Germany, which increases product availability in the country.
Within Europe, Germany, the United Kingdom, and Italy have the highest rates of systemic scleroderma. The European cutaneous fibrosis treatment market is driven by the high rate of treatment and diagnosis, as well as invested healthcare expenditure.
Why is China Emerging as a Prominent Market for Cutaneous Fibrosis Treatment?
"High Level of Research Activities Ongoing in China"
In 2021, the China cutaneous fibrosis treatment market was valued at US$ 31 Mn and held a market share of 45.3% in East Asia.
Development of medical infrastructure and strategic planning to collaborate for expansion are key factors that are set to have a positive impact on the growth of this industry in China.
Moreover, with established studies on the global burden of the disease, compiled with the estimates of the burden of skin diseases in China (due to lack of availability of original data), incidence of cutaneous fibrosis as well as related indications within the country present lucrative growth opportunities for market players.
Category-wise Insights
Which Cutaneous Fibrosis Treatment Drug Class is Driving High Market Growth?
"Positive Treatment Outcomes through Immunotherapy Drugs"
By drug class, immunotherapy drugs project a lucrative CAGR of 6.2% for the forecasted years.
Immunotherapy drugs, through several available clinical studies, have provided positive outcomes in the treatment of skin, joint, and hand function. Several techniques such as autologous stem cell transplantation have displayed enhanced therapeutic efficiency on the skin, and are set to augment the sales of immunotherapy drugs in the cutaneous fibrosis treatment market.
Which Indication Accounts for Most Demand for Cutaneous Fibrosis Treatment?
"Higher Prevalence Rate of Scleroderma Globally"
Scleroderma accounted for a revenue share of 63.4% in 2021, with the segment projected to hold on to this high market share through 2032 at a CAGR value of 6.8%.
Rising prevalence of systemic scleroderma across the globe is due to several external and internal factors such as genetics, environmental, immune system issues, and others.
The U.S. experiences a high incidence rate of systemic scleroderma across the country, followed by Australia, Europe, and Asia. High prevalence rate of scleroderma and associated indications will promote the growth of the cutaneous fibrosis treatment market over the forecasted years.
Which Route of Administration is Preferred for Cutaneous Fibrosis Treatment?
"Oral Route Continues to Remain Most Preferred"
The oral segment, by route of administration, is driving demand in the market and accounted for 68.2% market share in 2021.
Medication is commonly administered orally since it is the most comfortable and convenient method for patients. Orally-administered medication has a slower onset and a longer, but less potent effect than medications given in other ways. Oral medication is the most common route of drug administration due to its varied benefits.
Competitive Landscape
Manufacturers of cutaneous fibrosis treatment drugs are concentrating their efforts on obtaining regulatory approvals and launching new products to expand their market position.
In June 2021, Novartis announced that the U.S. FDA had authorized Cosentyx (secukinanmab) for the treatment of moderate to severe plaque psoriasis in young children aged six and above.
In October 2018, Sanofi received FDA approval for "ALLEGRA oral suspension" for the treatment of seasonal allergy symptoms and chronic idiopathic urticaria.
In November 2021, Bristol-Myers Squibb announced that the U.S. Food and Drug Administration (FDA) accepted the new drug application (NDA) for deucravacitinib for the treatment of people with moderate to severe plaque psoriasis.
Cutaneous Fibrosis Treatment Industry Report Scope
Attribute
Details

Forecast Period

2022-2032

Historical Data Available for

2017-2021

Market Analysis

US$ Million for Value

Key Countries Covered

U.S.
Canada
Brazil
Mexico
Argentina
U.K.
Germany
France
Italy
Spain
Russia
BENELUX
India
Thailand
Malaysia
Indonesia
China
Japan
South Korea
Australia
New Zealand
Northern Africa
GCC Countries
Turkey
South Africa

Key Market Segments Covered

Drug Class
Route of Administration
Indication
Distribution Channel
Region

Key Companies Profiled

Novartis AG
Pfizer
Sanofi
F. Hoffmann La Roche (Genetech, Inc.)
Boehringer Ingelheim International GmbH
Jubilant Cadista
Horizon Pharma USA, Inc.
Brotol-Myers Squibb Company
Teva Pharmaceuticals
Amgen
Johnson & Johnson Services

Report Coverage

Market Forecast
Competition Intelligence
DROT Analysis
Market Dynamics and Challenges
Strategic Growth Initiatives

Customization & Pricing

Available upon Request
Key Segments Covered in Cutaneous Fibrosis Treatment Industry Research
Cutaneous Fibrosis Treatment Market by Drug Class:
Corticosteroids
Anti-fibrotic Drugs
Immunotherapy
Immunoglobulins
Cutaneous Fibrosis Treatment Market by Route of Administration:
Cutaneous Fibrosis Treatment Market by Indication:
Keloid
Scleroderma
Radiation-induced Skin Fibrosis
Chronic Graft-versus-Host Disease (GvHD)-associated Cutaneous Fibrosis
Cutaneous Fibrosis Treatment Market by Distribution Channel:
Hospital Pharmacies
Retail Pharmacies
Drug Stores
Online Pharmacies
Cutaneous Fibrosis Treatment Market by Region:
North America Cutaneous Fibrosis Treatment Market
Latin America Cutaneous Fibrosis Treatment
Europe Cutaneous Fibrosis Treatment
South Asia Cutaneous Fibrosis Treatment
East Asia Cutaneous Fibrosis Treatment
Oceania Cutaneous Fibrosis Treatment
Middle East & Africa (MEA) Cutaneous Fibrosis Treatment