Systemic Scleroderma Treatment Market Outlook (2022-2032)
The global systemic scleroderma treatment market is valued at US$ 806.3 Mn, with an estimated CAGR of 8% for the next ten years. Comprehensive industry analysis reveals that revenue from systemic scleroderma treatment will surge to a market valuation of US$ 1.74 Bn by the end of 2032.
| Attribute | Key Insights |
| --- | --- |
| Systemic Scleroderma Treatment Market Size (2022) | US$ 806.3 Mn |
| Projected Market Value (2032) | US$ 1.74 Bn |
| Global Market Growth Rate (2022-2032) | 8.0% CAGR |
| Market Share of Top 5 Countries | 67.4% |
According to Persistence Market Research, systemic scleroderma treatment revenue accounted for nearly 49% share of the global scleroderma therapeutics market valued at nearly US$ 1.52 Bn in 2021.
Demand Analysis of Systemic Scleroderma Treatment from 2017 to 2021 Vs Market Outlook for 2022 to 2032
The global market for systemic scleroderma treatment expanded at a CAGR of 6.9% over the last five years (2017-2021).
Rising prevalence of systemic scleroderma across the globe is due to several external and internal factors, such as genetics, environmental factors, immune system issues, and others.
According to the Article of Rheumatology, published in the year 2021, it was found that the prevalence of systemic scleroderma ranged from 3.1 to 144.5 per 100,000 person-years, with the overall pooled prevalence of systemic scleroderma at 17.6 (95% CI 15.1, 20.5) per 1, 00,000 person-years.
Pharmaceutical and biotechnology companies are focused on the development of novel drug therapies for the treatment of systemic scleroderma. Recent and predicted product launches will create new treatment options for systemic scleroderma patients, leading to exceptional market growth over the forecast period.
In November 2020, Boehringer Ingelheim got European Commission approval for nintedanib, which is used to treat systemic sclerosis-associated interstitial lung disease in adults.
Novartis completed a Phase 2 trial of Nilotinib for the treatment of systemic sclerosis.
Abbvie is developing the ALPN-101 therapy to be used in systemic lupus erythematosus, and has also completed a Phase 3 clinical trial.
The global systemic scleroderma treatment market is expected to expand at a CAGR of 8% and record sales worth US$ 1.74 Bn by the end of 2032.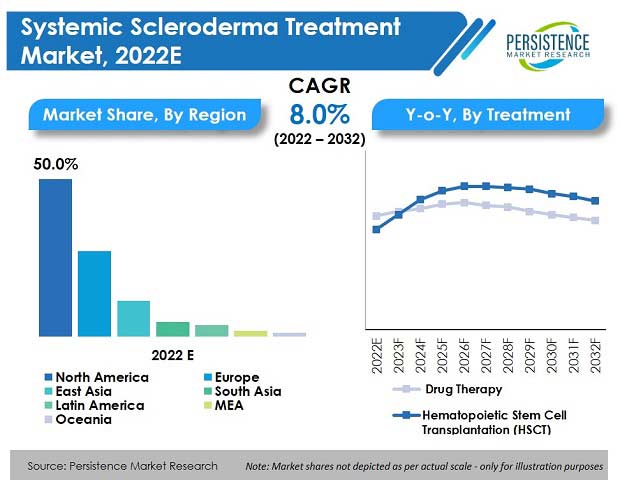 What Opportunities Await Systemic Scleroderma Treatment Drug Manufacturers?
"Strong Product Pipeline & Growing Awareness for Preventive Healthcare for Systemic Scleroderma"
Increasing awareness programs and workshops regarding preventive healthcare among the general population is an impactful factor in raising responsiveness for specific disease indications in relation to prevailing autoimmune disorders around the globe.
Addressing the basic factors of health such as social, economic, and environmental factors, as well as the characteristics and behaviour of individuals through different policies and actions regarding rare diseases such as systemic scleroderma, and overall healthcare industry dynamics are generating more opportunities, which is set to promote systemic scleroderma treatment drugs market growth.
The approach to medications has changed over recent years with the introduction of biologics and therapies through the development of small molecules and targeted biologics. Development of many different targeted biologics and small molecule combination therapies being introduced in recent years is creating huge opportunities for systemic scleroderma drug manufacturers.
Many companies are developing therapies and drugs for the treatment of systemic scleroderma.
For instance, EHP-101 is an oral formulation of the chemical entity derived from cannabidiol, which is also known as CBD - molecules found in the cannabis plant. This is currently in phase II for systemic scleroderma and is produced by Emerald Health Pharmaceuticals.
Such developments in drugs and therapies by different companies are creating more opportunities for the systemic scleroderma treatment market.
What's Impeding Demand for Systemic Scleroderma Treatment to Some Extent?
"Dearth of Standard Framework for Assessing Systemic Scleroderma Treatment; Rising Economic Treatment Burden"
Evaluation of systemic scleroderma therapeutics needs a standard framework.
According to the National Library of Medicine, despite development in drugs for the treatment of systemic scleroderma disease being carried out, none of the disease-modifying anti-drugs have shown proven efficiency and efficacy for systemic scleroderma.
The disease framework needs more improvement without external interventions and trials, which are difficult to assess. The data required for the evaluation of systemic scleroderma is also lacking.
These factors are hindering the demand growth of systemic scleroderma treatment.
The failure of clinical trials in the association of systemic scleroderma therapeutics is another drawback. There are many challenges in the clinical trials of systemic scleroderma because of its low prevalence, diversified clinical manifestations, and fluctuating and variable course. Many drugs are in early phases and do not represent the required outcomes at times. Validated clinical outcome measures are not available for disease manifestations.
Country-wise Insights
Why are Systemic Scleroderma Treatment Providers Targeting the U.S.?
"Increasing Focus on Treatment of Rare Diseases and USFDA Approvals of Systemic Scleroderma Drugs"
In 2022, the U.S. is expected to account for 94.6% share in the North America systemic scleroderma treatment market.
The U.S. has the highest prevalence of systemic scleroderma due to increasing genetic issues, immune disease, and others.
For instance, according to a study in 2020, the predictable prevalence has been estimated at 276 cases per million population, and the incidence of systemic sclerosis in the U.S. is 20 cases per million population.
Due to increasing incidence and prevalence rates, many treatment options are increasing for systemic scleroderma in the country, which contributes to market growth.
How is the Market Performing in Germany?
"Favourable Guidelines for Systemic Scleroderma Treatment"
Germany is expected to account for 19.1% share of the Europe systemic scleroderma treatment market in 2022, and is projected to gain steady growth at 8% CAGR.
Present European guidelines focus on diagnostic scores, characteristic clinical and histopathological features, and serum autoantibodies that are useful for variance diagnosis. Existing approaches in the first- and advanced-line therapy of sclerosis skin diseases are developed and used by researchers due to favourable guidelines in the region, which have a positive impact on the systemic scleroderma treatment market in Germany.
Why is Japan Emerging as a Prominent Market for Systemic Scleroderma Treatment?
"Ongoing R&D of Novel Therapeutics in Japan"
In 2022, the Japan systemic scleroderma treatment market is expected to be valued at US$ 45.2 Mn, and holds a market share of 49.1% in the East Asia systemic scleroderma treatment solutions market.
Leading players are investing in R&D for an innovative late-stage pipeline for systemic scleroderma drugs for more improvement in the treatment of rare diseases.
For instance, in Japan, in December 2021, Kyowa Kirin announced the application for partial change of approved indication for the LUMICEF in systemic scleroderma.
Similarly, J&J launched Tremfya (guselkumab), which is only being developed in Japan.
What is the Outlook for Australia Regarding the Systemic Scleroderma Treatment Industry?
"Growing Incidence of Systemic Scleroderma and New Medical Products from Biomedical Research Discoveries"
Australia is expected to account for 76.9% share in the Oceania systemic scleroderma treatment market, which is valued at US$ 7.6 Mn in 2022.
Australia has a higher prevalence rate for systemic scleroderma disease. Despite improvements in the healthcare sector in recent years, morbidity rate and mortality rate remain high.
According to the International Journal of Rheumatic Diseases, an overall standardized mortality ratio is 3.4 and 10-year survival of 84% in patients who are newly diagnosed.
Cardiorespiratory manifestations are the leading cause of death in patients due to systemic scleroderma disease. These increasing mortality and prevalence rates are major factors driving demand for systemic scleroderma treatment solutions across the Oceania region.
Category-wise Insights
Which Systemic Scleroderma Treatment Type is Driving High Market Growth?
"Off-label Use of Drugs Approved for Symptomatic Indications Leads Market Growth"
The drug therapy segment, among the other treatment types, is expected to account for the highest market share of 95.4% by revenue in 2022.
Absence of curative treatments and high adoption of off-label drug use are underlying factors spurring interest in the systemic scleroderma treatment market.
Which Route of Administration is Most Preferred?
"Greater Level of Safety & Efficacy of Injectable Systemic Scleroderma Drugs"
Injectables are estimated to hold the highest market share of 47.7% in 2022, and are projected to dominate over the forecast period as well.
Growing number of new drug formulations with less water-solubility and permeability allow for sufficient absorption from the GIT tract following oral administration. The only way to make such drugs available in the body is through intravenous administration.
Furthermore, ease of administration and greater level of safety and efficacy have increased the market share of injectable systemic scleroderma medicines among other routes of administration.
Through Which Channel are Sales of Systemic Scleroderma Treatment Products Highest?
"Larger Patient Pool at Hospitals for Intravenous Drug Administration"
Hospital pharmacies are estimated to account for the largest market share of 41.4% by value, in the year 2022.
Hospital pharmacies dominate the market primarily due to a significantly large number of drugs administered intravenously by skilled medical professional for the treatment of systemic scleroderma.
The hospital pharmacies segment in this market is also expected to surge at a CAGR of 6% from 2022 to 2032.
Impact of COVID-19
The COVID-19 pandemic had a huge negative impact on the overall healthcare domain, and it has considerably disturbed the complete supply chain of the industry, from raw materials to manufacturing and delivery. Some studies reported that the association of COVID-19 with systemic scleroderma led to a positive impact on the growth of the scleroderma treatment market during the pandemic.
For instance, in March 2021, a research study issued by the Lancet Rheumatology journal, which was conducted in Italy, stated that a higher prevalence of COVID-19 had been reported in patients suffering from systemic sclerosis-related interstitial lung involvement than in those without COVID-19 patients.
Moreover, the same study reported a high death rate among COVID-19 patients suffering from systemic scleroderma, and concluded that the risk of severe COVID-19 is high in patients suffering from systemic scleroderma.
Thus, COVID-19 overall has a neutral impact on the global systemic scleroderma treatment market.
Competitive Landscape
Key systemic scleroderma drug manufacturers are signing strategic partnership agreements with leading market players to expand their product portfolio across the globe.
In January 2021, Boehringer Ingelheim signed a partnership agreement with PetMedix. Under this agreement, PetMedix worked on discovery activities to bring therapies to the market.
In January 2022, Lupin ltd signed a partnership agreement with Shenzhen Foncoo Pharmaceutical Co. Ltd (Foncoo) in China to increase research and development activities for the development of high-quality generic and complex generic medicines.
Furthermore, several leading players strategize to acquire any competitor or a company that generates less revenue.
In March 2022, Pfizer Inc. acquired Arena Pharmaceuticals, a company that develops innovative potential therapies for the treatment of immuno-inflammatory diseases.
In December 2021, Sanofi SA acquired Origimm Biotechnology GmbH to build an industry-driving immunizations pipeline.
Systemic Scleroderma Treatment Industry Report Scope
Attribute
Details

Forecast Period

2022-2032

Historical Data Available for

2017-2021

Market Analysis

US$ Million for Value

Key Countries Covered

U.S.
Canada
Brazil
Mexico
Argentina
Germany
France
Spain
Italy
U.K.
BENELUX
Russia
India
Thailand
Malaysia
Indonesia
China
Japan
South Korea
Australia
New Zealand
Turkey
GCC Countries
Northern Africa
South Africa

Key Market Segments Covered

Target Organ
Treatment Type
Route of Administration
Distribution Channel
Region

Key Companies Profiled

Pfizer Inc.
Novartis AG
GlaxoSmithKline plc.
Sanofi SA
Lupin Ltd
Cipla Ltd
Teva Pharmaceuticals
Johnson & Johnson Services Inc.
Bayer Healthcare LLC
F. Hoffmann-La Roche Ltd
Amgen Inc
Zydus Lifesciences Ltd
Casper Pharma
Boehringer Ingelheim Pharmaceuticals, Inc.
Organon LLC
Accord Healthcare Inc.

Report Coverage

Market Forecast
Competition Intelligence
DROT Analysis
Market Dynamics and Challenges
Strategic Growth Initiatives

Customization & Pricing

Available upon Request
Key Segments Covered in Systemic Scleroderma Treatment Industry Survey
Systemic Scleroderma Treatment Market by Target Organ:
Skin Fibrosis
Musculoskeletal
Digital Ulcers
Pulmonary Arterial Hypertension
Gastrointestinal
Pulmonary Fibrosis
Scleroderma Renal Crisis
Systemic Scleroderma Treatment Market by Treatment Type:
Drug Therapy

Corticosteroids
Immunosuppressants
Nonsteroidal Anti-Inflammatory Drugs
Calcium Channel Blockers
Proton Pump Inhibitors
TNF Inhibitors
Endothelin Receptor Antagonists
Phosphodiesterase Type 5 Inhibitors
Angiotensin-Converting Enzyme

Hematopoietic Stem Cell Transplantation (HSCT)
Systemic Scleroderma Treatment Market by Route of Administration:
Injectable Systemic Scleroderma Drugs
Oral Systemic Scleroderma Drugs
Topical Systemic Scleroderma Drugs
Systemic Scleroderma Treatment Market by Distribution Channel:
Hospital Pharmacies
Speciality Clinics
Retail Pharmacies
Online Pharmacies
Systemic Scleroderma Treatment Market by Region:
North America Systemic Scleroderma Treatment Market
Latin America Systemic Scleroderma Treatment Market
Europe Systemic Scleroderma Treatment Market
South Asia Systemic Scleroderma Treatment Market
East Asia Systemic Scleroderma Treatment Market
Oceania Systemic Scleroderma Treatment Market
The Middle East & Africa Systemic Scleroderma Treatment Market