Custom Foot Orthotics Market Outlook (2022-2032)
Surging ahead at a CAGR of 7.8%, the global custom foot orthotics market is projected to increase from a valuation of US$ 3.9 Bn in 2021 to US$ 8.8 Bn by the end of 2032. Custom orthotic products accounted for more than 58% market value share in 2021.
According to detailed analysis by Persistence Market Research analysis, revenue from custom foot orthotics accounted for around 45.9% share of the global orthopaedic orthotics market in 2021.
| | |
| --- | --- |
| Custom Foot Orthotics Market Size (2022) | US$ 4.2 Bn |
| Projected Market Value (2032) | US$ 8.8 Bn |
| Global Market Growth Rate (2022-2032) | 7.8% CAGR |
| Market Share of Top 5 Countries | 61.8% |
Sales Analysis of Custom Foot Orthotics from 2015 to 2021 Vs Market Outlook for 2022 to 2032
The global market for custom foot orthotics recorded a historic CAGR of 4.6% over the last 6 years from 2015 to 2021.
Foot orthoses are specialized shoe inserts or insoles that are recommended by podiatrists to help support the feet and improve the posture of patients. They are generally advised to patients suffering from chronic conditions such as diabetes or arthritis, which make daily functioning and motility of the affected individuals challenging. These foot orthotic inserts can be classified as prefabricated and custom.
Patients with plantar heel pain, juvenile idiopathic arthritis, pronated feet, rheumatoid arthritis, and risk of diabetic plantar ulceration or bunions can benefit from foot orthoses in addition to regular medical care. They are designed to change the function of the foot and lower limb joints during weight-bearing activities such as standing, walking, and running to relieve discomfort and improve foot function and quality of life.
Owing to advancements in the manufacturing of custom foot orthotics, such as 3D printing, additive manufacturing of orthotics is being considered the prime standard of treatment in cases of conditions involving lower limb disability.
According to several studies, custom foot orthosis outperformed prefabricated orthoses in terms of objective outcome measures, such as in pressure alleviation, dynamic balance, and weight relocation across plantar regions.
In March 2019, iSUN launched its first medical insole 3D printing system in China. This printing console offers improved efficiency, product quality, and is also cost-effective.
Increasing adoption of smart manufacturing techniques for the production of custom foot orthotics are set to lead to a positive growth outlook of the market throughout the analyzed time frame of 2022-2032.
The global market for custom foot orthotic products is likely to see high growth at a CAGR of 7.8% and reach a global market size of US$ 8.8 Bn by 2032.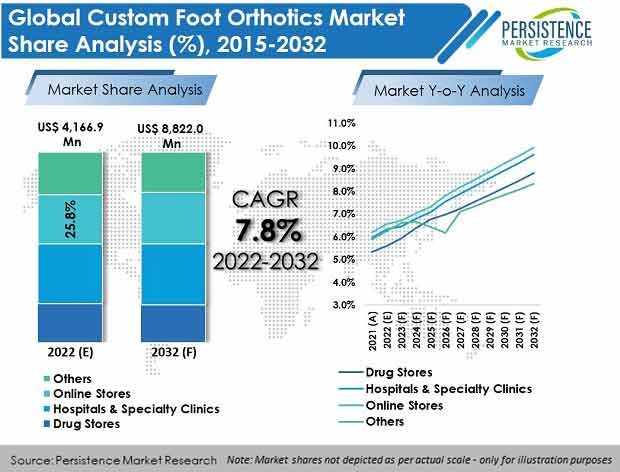 How Can Custom Foot Orthotic Product Manufacturers Grow their Market Share?
"Leverage Advancements in Manufacturing Technology"
Manufacturers of custom foot orthotic systems around the world will have plenty of lucrative prospects in the future years. Demand for custom foot orthotics will be driven by the availability of additive manufacturing solutions such as CAD/CAM software combined with 3D printing.
Use of new technology aids customization by reducing the amount of time it takes for a patient to acquire a fully-customised orthotic insole. Additive manufacturing is a technique in which 3D casts are created by digitally modelling them and then mass producing them with modern technologies such as photo polymerization and injection moulding.
In July, 2019, Gait Up announced a collaboration with French Company SIDAS. They decided to team up to redefine shoe fitting technology in physical stores.
Custom foot orthotic insoles are extremely effective in pain relief for lower back, leg fatigue, plantar facilities, and other conditions associated with chronic diseases such as diabetes and arthritis. Physical modalities, psychosocial therapy, multimodal rehabilitation, and exercise are some of the non-pharmacological treatment alternatives for chronic pain.
Foot orthotics, which comprise custom-made or prefabricated shoe inserts, are an example of a non-pharmacological treatment option for chronic pain (with a treatment intent).
Can Demand for Custom Foot Orthotics Be Affected in Any Way?
"High Cost Associated with Raw Materials"
Raw materials such as leather, plastic, and rubber have recently witnessed a surge in prices. The industry is affected by issues relating to material demand and supply mismatches. In recent years, raw materials needed to create foot orthotic products accounted for around half of total manufacturing expenses.
For example, the recent ban on animal slaughter in some Indian states has had a negative impact on the leather industry, as India is a major global supplier of leather. The negative impact of the leather processing market is based on aspects such as animal cruelty, environmental degradation, and leather tanning, and, as a result, these operations are extensively criticized.
Due to rise in the price of raw materials, particularly plastic and leather, leading foot orthotic product vendors are experiencing difficulties selling their products at reasonable prices.
"Intense Competition among Custom Foot Orthotics Vendors"
In terms of pricing, there is fierce competition among sellers, resulting in slim profit margins. Production and design costs are used to determine competition. Customers can choose from a wide range of products since local vendors sell products at lower prices than global players.
Vendors are finding it difficult to get a competitive advantage in the market by spending a lot of money on promotions. They must employ measures to restrict development costs and cut product development time, resulting in a shorter time to market, in order to thrive in the competitive climate.
Moreover, vendors need to reduce infrastructure, labour, and capital costs. These factors hinder the sales growth of custom foot orthotics.
Country-wise Insights
Why is the U.S. Custom Foot Orthotics Market Proliferating?
"Rising Geriatric Population and Technological Advancements in Healthcare Sector"
The U.S. accounted for more than 90% share in the North America custom foot orthotics market in 2021, and a similar trend is expected over the forecast period.
In the United States, market growth is being driven by increasing elderly population and different technological advancements in healthcare systems. Chronic disorders such as arthritis, diabetes, and others affect almost 3/4 of the overall senior population in the United States.
Foot orthotics are mostly used by the elderly for pain treatment and comfort. Emerging technologies such as additive manufacturing are increasingly being used to create personalised foot orthotics that cater to each patient individually. This presents a lucrative opportunity for market participants in the U.S.
Will Germany Be a Lucrative Market for Custom Foot Orthotic Products Providers?
"Market Driven High Prevalence of Chronic Disorders in Germany"
Germany held around 23.7% share of the Europe custom foot orthotics market in 2021, owing to enhanced digitization of healthcare processes and a rise in the geriatric population prone to chronic conditions.
According to a study published in the International Journal of Endocrinology, diabetic foot ulcers is prevailing at about 2.9% in primary care centers.
Most with such conditions have minor or major amputations. For diabetic patients, foot orthotics provide comfort and relieve excess pressure.
Many manufacturers in the country, such as BioFoot, produce custom foot orthotics using state-of-the-art technologies such as CAD/CAM analysis and 3D printing that is inclusive of additive manufacturing.
How is India Emerging as a Prominent Market for Custom Foot Orthotics?
"Surging Investments in Healthcare Infrastructure Aiding Market Expansion"
India held the second-largest market share of 17.4% of the Asia Pacific custom foot orthotics market in 2021 due to rising investments in the healthcare sector.
According to a review published on BioMed Central Ltd., the population prevalence of plantar heel pain was 9.6% in India in 2019, with 7.9% of those suffering from debilitating plantar heel pain.
With a high prevalence of generalized pain-related ailments within the country owing to various socio-economic factors, such as income group, accessibility to medical care, and level of awareness, the occurrence of cases prone to plantar heel pain is on the rise.
This factor has propelled demand for personalized foot orthotic solutions in the country that are cost-effective for pain relief and provide enhanced treatment outcomes.
Category-wise Insights
Which Custom Foot Orthotic Product Type is Highly Demanded?
"High Demand for Custom Orthotics across Affected Populations"
The custom segment held around 58.6% share of the overall custom foot orthotics market, by product, in 2021.
The reason for this high share is that the improved manufacturing flow enables faster production and ensures lower cost of manufacturing. In several clinical assessments, the efficacy of custom-made foot orthotics was superior to prefabricated foot orthotics. Although, the efficacy was rendered limited due to the presence of kinematic parameters associated with high or intense activity of the foot.
Thus, with high customization in their product offerings, such as the deployment of custom insoles onto regular shoes to cater to diverse client needs and provide personalised solutions, the market for custom foot orthotics is expected to witness a surge in terms of product adoption, and consequently, overall market value share.
Which Application Drives Most Demand for Custom Foot Orthotics?
"Custom Foot Orthotics Most Commonly Used for Medical Applications"
The medical category of application held the largest market share of 55.6% in 2021.
Among all the various types of applications of medical custom foot orthotics employed, foot ulceration and conditions such as arthritis and diabetes account for the highest share.
According to a study published in the International Journal of Endocrinology, around 15-20% of patients with diabetes may develop foot ulcers during their lifetime. Amongst all diabetic complications, managing foot ulcers is the most complex.
Hence, custom-made orthotics are being widely accepted because of their success in eliminating pain, relieving excess pressure, and improving patient mobility, wherein, patients can regain quality of life and get back to the activities that they enjoy.
Which Material is Popular for the Manufacturing of Custom Foot Orthotics?
"High Usage of EVA Orthoses for Enhanced Comfort"
EVA material held 19.4% market share by value in 2021.
Ethylene-vinyl acetate has excellent durability and shock-absorbing qualities. Hence, it is considered to be the ideal substance to wear or walk on. EVA is eco-friendly, provides extra warmth, and offers versatile applications as well.
Owing to its several advantages, EVA custom-made orthotics are expected to register a CAGR of 8.5% over the forecast period.
Competitive Landscape
Various national and international firms compete in the custom foot orthotics market. Partnerships and acquisitions aid in the development of a large client base and the acquisition of a dominant market position.
In order to build a global market presence, new firms are collaborating for better market outreach and a proliferative novel product portfolio.
For instance:
In February 2021, Reckitt announced an agreement to acquire Biofreeze and TheraPearl from Performance Health. Biofreeze is a great fit for RB's Health platform, and it expands the company's footprint in the pain sector.
Superfeet Worldwide Inc., in 2017, entered into a strategic partnership with HP Development Company, L.P., to create a 'FitStation'. This machine is capable of creating a 3D scan of a customer's foot shape and also provides an analysis of the way they walk or run.
Custom Foot Orthotics Industry Report Scope
Attribute

Details

Forecast Period

2022-2032

Historical Data Available for

2015-2021

Market Analysis

USD Million for Value

Key Countries Covered

U.S.
Canada
Germany
France
Italy
U.K.
Spain
China
India
Japan
Australia & New Zealand
Brazil
Mexico
GCC Countries
South Africa

Key Market Segments Covered

Product
User Age Group
Application
Material
User
Distribution Channel
Region

Key Companies Profiled

Reckitt Benckiser Group plc (Dr. Scholl's)
SIDAS
Powerstep (Stable Step, LLC)
Superfeet Worldwide, Inc
Bauerfeind AG
Blatchford Limited
Aetrex Worldwide, Inc.
Amfit Inc.
Arden Orthotics
Algeo Limited
Create O & P
Groupe Gorgé
Foot Science International

Report Coverage

Market Forecast
Competition Intelligence
DROT Analysis
Market Dynamics and Challenges
Strategic Growth Initiatives

Customization & Pricing

Available upon Request
Key Segments Covered in Custom Foot Orthotics Industry Research
Custom Foot Orthotics Market by Product:
Prefabricated
Custom

Rigid/Function Orthotic Insoles
Soft/ Accommodative Insoles
Custom Foot Orthotics Market by User Age Group:
Custom Foot Orthotics Market by Application:
Sports & Athletics
Medical
Personal Comfort
Custom Foot Orthotics Market by Material:
Thermoplastics
Polyethylene Foams
Leather
Cork
Composite Carbon Fibers
EVA
Gels
Others
Custom Foot Orthotics Market by User:
Custom Foot Orthotics Market by Distribution Channel:
Drug Stores
Hospitals & Specialty Clinics
Online Stores
Others
Custom Foot Orthotics Market by Region:
North America Custom Foot Orthotics Market
Latin America Custom Foot Orthotics Market
Europe Custom Foot Orthotics Market
Asia Pacific Custom Foot Orthotics Market
Middle East & Africa Custom Foot Orthotics Market
Rest of the World Custom Foot Orthotics Market