Chondroitin Sulfate Market
Global Market Study on Chondroitin Sulfate: Increasing Demand Witnessed as a Bioactive Supplement for Osteoarthritis Patients
Chondroitin Sulfate Market Manufactured by Bovine, Porcine, Poultry, Fish, Shark, Crocodiles in form of Powder,Tablet,Capsule used in Aquafeed, Pet food & Veterinary supplements
Chondroitin Sulfate Market
Introduction
Chondroitin sulfate, otherwise known as sulfated glycosaminoglycan (GAG), is composed of a huge chain of alternating sugars such as glucuronic acid and N-acetylgalactosamine. Chondroitin sulfate is a chemical compound that is present in the connective tissues in humans, which is found in the cartilages and joints of the body.
Commercial chondroitin sulfate is manufactured from various animal sources such as porcine, bovine, poultry, fish, shark, crocodile, and other animals. Over the forecast period of 2020 to 2030, the global chondroitin sulfate market size is set to expand around 1.5X.
Find Out More about the Report Coverage
Companies
TSI Group Ltd.,
Solabia Group
AcerChem International Inc.
Seikagaku Corporation
Jiaxing Hengjie Biopharmaceutical Co., Ltd
Aoxing Biotechnology Intl Co., Limited
Stanford Chemicals
Shanghai JBiChem International Trading Co.,Ltd.
Sioux Pharm, Inc.
Pacific Rainbow International, Inc.
Synutra, Inc
Zeria Pharmaceutical Co., Ltd.
Summit Nutritionals International, Inc.
Yantai Ruikangda Biochemical Products Co., Ltd.
Bioibérica S.A.
Dextra Laboratories Limited
CTPP-COPALIS
Derechos Reservados Syntex S.A.
Hebei Sanxin Industry Group Co., Ltd.
Sino Siam Biotechnique Co., Ltd.
Iduron Ltd
Aroma NZ
Shandong Focuschem Biotech Co., Ltd.
Kraeber and Co gmbh
Maypro Industries
Nuwen
Qingdao Green-extract Biology Science & Technology Co.,Ltd
Qufu Guanglong Biological Products Factory
Shanghai Huiwen Biotech Corp.,Ltd
United Fisheries limited
Chondroitin Sulfate Market Trends
Gaining Prominence as a 'Bioactive' Supplement for Osteoarthritis Patients: Chondroitin sulfate is being widely consumed as an alternative medicine to decelerate the progression of osteoarthritis. Chondroitin sulfate also helps reduce joint pain and inflammation.
Regular consumption of chondroitin sulfate leads to improved joint functions. Commercial chondroitin sulfate is a mixture of glucosamine and chondroitin sulfate. Apart from improving the joint functions, chondroitin sulfate can also be used as an eye drop for sore eyes, besides having veterinary uses.
The major cause of disability among the ageing population is osteoarthritis. When compared to men, women are more likely to be affected by osteoarthritis, and the occurrence rate also increases with age. According to the Arthritis Research U.K., by 2035, around 8.3 million people in the country aged 45 years and above could have knee osteoarthritis.
This rising prevalence is expected to increase the demand for chondroitin sulfate among supplement, pharmaceutical, and nutraceutical manufacturers, thereby boosting the growth of the chondroitin sulfate market.
Increased Demand for Chondroitin Sulfate from Booming Pet Food Industry: In the pet food industry, chondroitin sulfate is one of the established bioactive supplements that helps in supporting health benefit claims.
Chondroitin sulfate is one of the key ingredients used in veterinary supplements and pet food products to avoid problems related to arthritis or hip dysplasia. Chondroitin sulfate also helps keep pets active and healthy with better joint mobility.
For instance, Zeria Group (ZPD) offers several strengths of chondroitin sulfate for the manufacturers of pet food in accordance with requirements such as different grades containing 20%, 40%, and 80% chondroitin sulfate.
Cosmetic and Personal Care Industry Increasingly Using Chondroitin Sulfate in Natural Products: It has been found that, chondroitin sulfate has various properties, such as its ability to moisturize, heal, and soothe the skin with its anti-inflammatory properties, and the ability to reinforce the intercellular matrix.
Beauty product manufacturers are slowly adopting the usage of chondroitin sulfate in their hair care and skincare products. In 2016, Zeria Group (ZPD) offered chondroitin sulfate under its brand name ScanDroitin, for the cosmetic industry.
Availability of Chondroitin Sulfate for Multiple Applications Boosting its Demand: Usually, chondroitin sulfate is used in combination with various other ingredients such as N-acetyl glucosamine, manganese ascorbate, glucosamine hydrochloride, and glucosamine sulfate. With the combination of glucosamine, chondroitin sulfate is used to treat osteoarthritis, the major functional segment.
There are various other end uses for chondroitin sulfate, such as cosmetics, personal care, and veterinary supplements. Increasing demand for chondroitin sulfate in multiple industries is projected to accelerate the growth of the chondroitin sulfate market over the coming years.
Increasing Clinical Studies on Chondroitin Sulfate Determining its Superiority over Existing Products: The presence of different pharmaceutical products for disease treatment has created a competitive market scenario for chondroitin sulfate. Several clinical studies are going on for the identification of the effectiveness of chondroitin sulfate over existing products, as well as for different indications.
In June 2017, IBSA Institute Biochimique SA conducted a clinical trial using Chondroitin Vs Celecoxib Vs Placebo Trial. The institute named the trial as CONCEPT. This trial showed that, pharmaceutical-grade chondroitin sulfate was effective as an anti-inflammatory drug when compared to Placebo Trial and Celecoxib. The trial also revealed that, chondroitin sulfate is effective for reducing joint pain and increasing the functionality of the joints among knee osteoarthritis patients.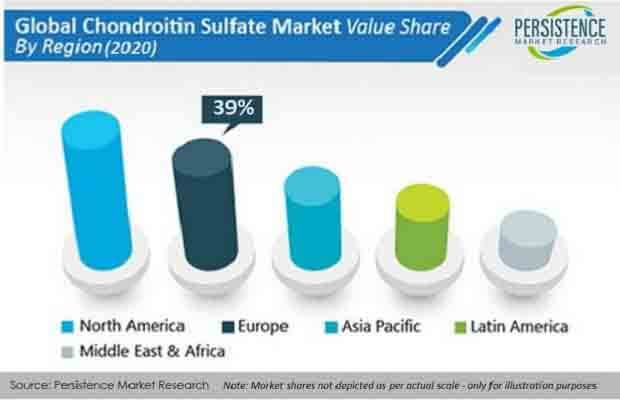 Customize this Report
Explore Intelligence Tailored to Your Business Goals.
Regional Outlook of Chondroitin Sulfate Market
North America holds a leading global chondroitin sulfate market share, followed by Europe. These two regions will continue their dominance over this space over the next decade. However, stakeholders can also look to Asia Pacific for increasing theirs sales and profits, as the chondroitin sulfate market in this region is projected to expand at the fastest rate through 2030.
Market Research Methodology - Perfected through Years of Diligence
A key factor for our unrivaled market research accuracy is our expert- and data-driven research methodologies. We combine an eclectic mix of experience, analytics, machine learning, and data science to develop research methodologies that result in a multi-dimensional, yet realistic analysis of a market.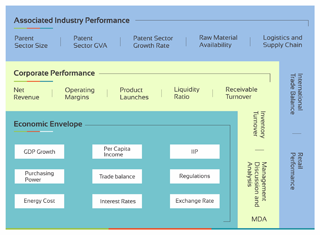 COVID-19 Impact on Chondroitin Sulfate Market
The spread of COVID-19 has affected the world economy, with consequences on different industries. The supplements market is witnessing strong demand with consumers been conscious regarding their health to avoid different illness. Consumers are increasingly opting for various supplements to minimize the risk of getting affected from viruses.
Chondroitin sulfate is prime ingredient in the supplement industry, and is used in joint health products mainly by the ageing population. However, the production and distribution of chondroitin sulfate is a challenge for manufacturers due to supply chain disruptions in the second quarter of 2020.
After resumption of manufacturing, supply will see normalcy to cater to the health and well-being of the target population.
Explore Persistence Market Research's expertise in promulgation of the business !
Analysts' Viewpoint
A comprehensive view of the global chondroitin sulfate market has led our analysts to conclude that, the market is growing at a stable rate, with North America and Europe holding a large chunk of the global consumption of chondroitin sulfate. Technological adaptation and innovation of new techniques by leading market players has led to remarkable growth in the chondroitin sulfate business space. Increasing focus on R&D of new product formulations, new ingredient development, creation of new methods to incorporate certain nutrients in products, and improvement in product tastes and ingredient shelf stabilities is the another key strategy. Companies with research & and development capabilities and expertise in the use of technology will gather momentum and profitability in the global chondroitin sulfate market. Leading market players who are adopting new product launches as a key strategy will continue to grow and have a significant gain in their market share.
Key Segments of Global Chondroitin Sulfate Market
PMR's report on the global chondroitin sulfate market offers information divided into five segments – source, form, end use, distribution channel, and region.
Source

Source
Bovine
Porcine
Poultry
Fish, Sharks, and Crocodiles
Others

Form

End Use

Cosmetics & Personal Care
Pharmaceuticals and Nutraceuticals
Aqua Feed
Pet Food and Veterinary Supplements

Distribution Channel

Drug Stores and Pharmacies
e-Commerce Channels
Other Sales Channels

Region

North America
Latin America
Europe
Asia Pacific
Middle East and Africa
Key Questions Answered in PMR's Global Chondroitin Sulfate Market
Which region will hold the highest market share in the global chondroitin sulfate market during the forecast period?
Which region is experiencing the highest growth (CAGR)?
Which factors are impacting the global chondroitin sulfate market?
What are the global trends impacting the chondroitin sulfate market?
What strategies must emerging players adopt to capture opportunities in various regions in the chondroitin sulfate market?
What is the market structure of the global chondroitin sulfate market?
Our Clients