Introduction
Infrastructural developments in China have been driving the demand for construction materials such as plastic pipes. Rapid growth in population and the subsequent expansion of residential sector demand uninterrupted water supply which is prominently fueling the growth of plastic pipes market in China.
The government of China is laying emphasis on the water and industrial wastewater management and thus, is heavily spending on new pipeline installations and water and wastewater management.
In addition to increasing interest of government in water management projects, the private sector is particularly becoming more aware about water management which is benefiting the market growth in country. Northern China, witnessing proliferation of a multitude of end users, will particularly dominate plastic pipes market.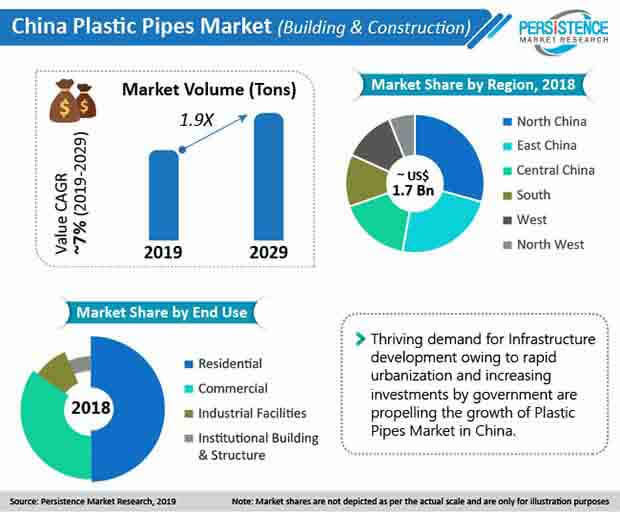 Investments in Construction Peaking
In the recent past, the construction industry of China has witnessed unprecedented growth that makes China the most lucrative market, globally. This warrants high sales of plastic pipes in the near future.
The increase in number of high rise buildings in residential and commercial sectors will uphold demand for plastic pipes that remain highly preferred owing to their lightweight attributes.
Moreover, the polyethylene (PE) pipes are experiencing widespread adoption for safety coating of electrical wiring systems. This in turn is positively influencing China plastic pipes market.
PVC and PE Pipes Witnessing High Traction
Focus of manufacturers on the right choice of material for a variety of applications is paving the way for polyvinyl chloride (PVC) and PE pipes in China's plastic pipes.
Additionally, these plastic pipes are lightweight, durable, and cost effective which remains the prime factor accelerating their adoption in the near future. For instance, in an effort to acquire higher resistance to temperatures, chlorinated polyvinyl chloride pipes (CPVC) are utilized in those applications that tend to subject pipelines with high temperature conditions.
High density polyethylene (HDPE) pipes find application in drainage and sewer systems owing to high endurance and ability to withstand major temperature fluctuations. Increasing preference for HDPE pipes to replace older pipelines at industrial plants is expected to be a strong booster to plastic pipes market in China.
However, plastics still continue to be an incompatible choice for large diameter pipes. Moreover, environmental concerns associated with plastics remain a longstanding factor impeding sales of plastic pipes.
Market Participants Vying for Capacity Expansion
China plastic pipes market is uniformly balanced between leading players, and regional and local distributors. Key development strategies adopted by market leaders include capacity expansion and new launches.
Most companies are currently pivoting on R&D and new product launches to form stronger portfolios of offerings. In August 2019, Formosa Plastics Corporation invested US$ 332 Mn in its manufacturing plant in Baton Rogue, Louisiana for expansion of its production of PVC.
Earlier this year, Rehau AG launched a US $ 30 Mn expansion project at the town of Triptis in the east of Germany for its plastic pipe systems production site and logistics center.
The Analyst's Viewpoint
Broader view of the plastic pipes market in China has enabled analysts to conclude that the market is growing at an impressive rate, with Eastern China holding a larger chunk of the revenue.
Increasing population and demographic changes along with industrial development is driving the need for infrastructure development in the region which in turn propels the growth of the plastic pipes market. The plastic pipes market is characterized by the presence of few big players from Europe and the Asia Pacific region.
Strong financial position and technological developments by leading market participants will fuel the plastic pipes market. The scope of replacement will boost the growth of the plastic pipes market during the forecast period.
Key Segments of the China Plastic Pipes Market
PMR's study on the China Plastic Pipes market is divided into four segments, such as material, transmission media, end use industry and application. This report offers comprehensive data and information about the important market dynamics and growth parameters related to these categories.
Attribute
Details

Material

Plastic Pipe
PVC
cPVC
PE
PP (Polypropylene)
PB (Polybutylene)
ABS
Fiberglass

Transmission Media

Liquid Conduits
Gas Conduits
Others

End Use Industry

Residential Buildings
Commercial Buildings

Offices
Hospitality
Retail Space

Airports
Industrial Facilities
Institutional Buildings & Structures

Application

Solid and Liquid Waste
Hot and Cold Water/ Plumbing Supply
Rainwater Systems
Storm Water Systems
Renovation Systems
Indoor Climate (HVAC Pipe)

Underfloor Based Heating
Ceiling Based Heating
Ceiling Based Cooling
Key Questions Answered in PMR's Plastic Pipes Market Report
Which region is anticipated to hold the prominent market share over the forecast period?
Which will be the key driving factors prompting the demand for plastic pipes during the forecast period?
How current trends will impact the plastic pipes market?
Which are the significant market participants in the plastic pipes market?
What are the crucial strategies of prominent players in the plastic pipes market to upscale their positions in this landscape?