Introduction
High demand for different chatbots ranging from simple pattern matching with response to complex Artificial Intelligence (AI) technology with sophisticated conversational state is being observed on a global level. This demand for chatbots initially started off with basic scripted chatbots that identify key phrases and provide pre-programmed responses.
Today, chatbots with intent recognition abilities, end-to-end conversational capabilities, and human-like characteristics are being deployed in the market, thereby boding well for the growth of the chatbots market in the coming years.
Chatbots Market Trends
Increasing Adoption of Chatbots by Contact Centers: Increasing demand for training, high turnover rates, and requirement of minimizing operational expenditure are motivating traditional contact centers to procure intelligent chatbots and related platforms.
Today, customers prefer to opt for self-service, and they are not willing to wait long periods of time for an agent to help them. In order to cater to this demand, contact centers are procuring scripted, contextual, and social messaging chatbots, thus driving the growth of the global chatbots market size.
Advancements in AI & Natural Language Processing (NLP) Enhancing Attractiveness: Developers are offering chatbots that go beyond basic keyword matching functionalities. Advancements in machine learning, NLP, data management platform techniques, and processing speeds have made chatbots much more intelligent.
Also, as chatbots become popular, related software development kits (SDKs) and application programming interfaces (APIs) are becoming more mature. These solutions facilitate the development of chatbots integrated with easy drag-and-drop user interfaces, thus allowing enterprises to build and operate their own chatbots.
Technical Integrations Complementing Cognitive: Reinforcement learning abilities help chatbots accept user corrections upon repeated usage, which, in turn, enhances the suitability of the offered responses. Machine learning capabilities facilitate qualitative intent recognition in chatbots.
Other capabilities such as dialog management, humanization, interaction channels, task automation abilities, monitoring and reporting, ease of implementation, and regulation of security and compliance are some aspects taken into account by prospects looking to procure AI chatbots.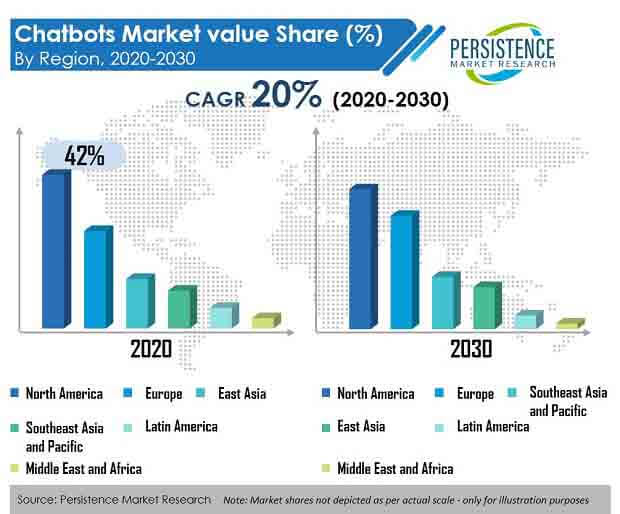 ?Regional Outlook of Chatbots Market
Among all the regional markets of the world, the Southeast Asia and Pacific chatbots market share is projected to record the highest CAGR of approximately 24% during the forecast period of 2020 to 2030.
This high growth rate can be attributed to the rising demand for advanced conversational platforms being generated from the banking, financial services and insurance (BFSI) industry.
Currently, the chatbots market in North America leads the global market space, following by the market in Europe. This dominance is primarily owed to the high adoption of chatbots in the retail and e-Commerce industry in these regional markets.
Impact of COVID-19 Pandemic on Global Chatbots Market
With various restrictions and mandatory lockdowns legislated by governments across the globe, companies are being forced to operate at minimum employee attendance.
Various business processes related to remote administrative services, contact center services, and marketing and sales are facing the brunt of the ongoing pandemic.
In order to continue catering to customer demand, these businesses are procuring highly-efficient chatbots (scripted chatbots, help bots, chatterbots, talkbots, etc.) that come with self-service features. Deployment of contextual chatbots featuring AI techniques are estimated to offer the highest incremental opportunity in the near term.
Analysts' Viewpoint
As per thorough analysis by PMR, the global chatbots market is set to experience tremendous growth and expand at a high value CAGR of 20% over the forecast period of 2020 to 2030. High adoption of chatbots clearly showcases the fact that artificial intelligence is promoting all the hype. However, improvements in NLP techniques and accommodation of flow-based conversational abilities are some features that will demand more time, research, and investment.
Chatbots Market: Segmentation
PMR's research study on the global chatbots market offers a detailed market segmentation, wherein, key segments have been discussed in detail. The segmentation of the chatbots market has been offered on the basis of solution, type, enterprise size, application, industry, and region. Every segment has been analyzed in detail, and data pertaining to the growth of each segment has been included in the study.
Attribute
Details

Solution

Chatbot Platforms
Services
Development Services
Integration Services
Support Services

Type

Scripted Chatbots
Contextual Chatbots
Social Messaging Chatbots
Others

Enterprise Size

Application

Automated Customer Support
Marketing and Sales
Personal Assistance
Digital On-boarding
Others

Industry

BFSI
Retail and e-Commerce
IT and Telecom
Government
Healthcare
Education
Travel and Hospitality
Others

Region

North America
Latin America
Europe
East Asia
Southeast Asia and Pacific
Middle East and Africa
Chatbots Market: Key Questions Answered in the Report
The research study on the chatbots market offers inclusive insights about the growth of the market in the most comprehensible manner for the better understanding of users. Various insights offered in the report answer some salient questions that assist stakeholders in gauging all emerging possibilities in the market.
How has the rapidly changing business environment acted as major growth engine for the chatbots market?
What are the key trends that are constantly shaping the growth of the chatbots market?
Which are the prominent regions offering plentiful opportunities for the chatbots market?
What are the differential strategies adopted by key players to command a significant chunk of the global market share?