Introduction
Cassava starch is obtained from the cassava root, which contains high amount of nutrients such as carbohydrates, fibers, vitamins, and others. Cassava is actually a root vegetable primarily grown in South America and Africa regions. Cassava starch naturally occurs in the cassava root, and is extracted for use in different industries.
Cassava starch contains antioxidants, has fresh taste and high carbohydrate content, prevents infections, and offers other health beneficial properties. Cassava starch is highly utilized in the food and beverages industry for different purposes. Along with that, it is also used in animal feed, pharmaceuticals, cosmetics and personal care, and other industries.
Cassava starch is predominantly used by food manufacturers to produce a variety of food products including bakery, dairy, meat, cereal & snacks, ready-to-eat meals, functional foods, and others. For instance, cassava starch is among the prime ingredients for making bread and biscuits as well as for increasing the volume and crispness of baking products.
Cassava starch is utilized as a native as well as modified starch. Since the demand for chemical-free food products is growing, growth of native starch products is increasing, which is beneficial for the cassava starch market. The growth of cassava starch market is also owing to its gluten-free properties, as the demand for gluten-free food products is growing.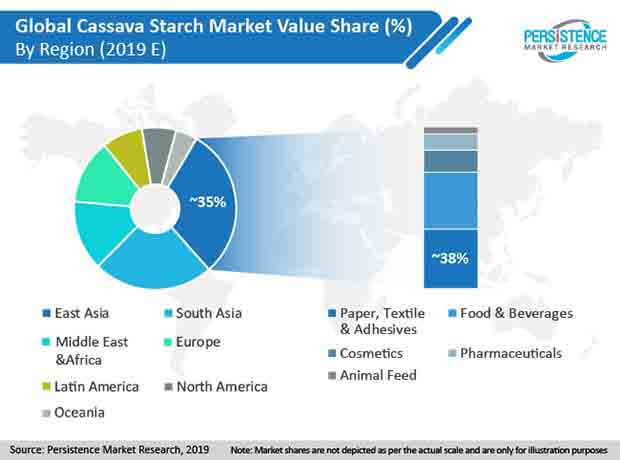 Growing Textile Industry to Fuel the Growth of the Cassava Starch Market
In the textile industry, starches are used for different operations such as warp sizing, cloth finishing, printing, and for other uses. Cassava starch is one of the major ingredients utilized for the warp sizing application. The textile industry is witnessing significant growth, owing to its offering of customized solutions across the world.
Textile applications including warp sizing and cloth finishing, are required to further provide viable textile solutions to the consumers. Textile manufacturers are also considering the use of an effective starch solution such as cassava starch, in varied textile operations.
Furthermore, cassava starch is also utilized for cloth printing and placing a certain design on the smooth surface of fabric. Since the textile industry is continuously achieving growth in the global market, and demanding a viable starch solution, the demand for cassava starch will also increase.
Growth in the Consumption of Functional Foods Escalating the Demand for Cassava Starch
Functional foods contain the perfect nutritional balance of health beneficial properties. Consumers are opting for functional foods in order to maintain a healthy lifestyle. Functional foods are believed to create a positive impact on health and reduce the risk of certain diseases. Cassava starch contains sufficient amount of dietary fiber and also has a low glycemic index.
Large percentage of the population is suffering from health issues such as obesity and high blood sugar, due to which, consumers are adopting functional foods. High consumption of fat and sugar is responsible for obesity and related health problems. As cassava starch contains high fiber content, consumers are preferring it, thus, driving the growth of the cassava starch market.
Utilization of Cassava Starch in Snacks & Cereals Accelerating the Growth of the Cassava Starch Market
Cassava starch is among the vital ingredients used in the food and beverages industry. Bakery, dairy, snacks, and others are prime food products, where cassava starch is utilized. Snack and cereals are one of the major food products consumed. Food manufacturers are utilizing cassava starch for producing snacks and cereal products in order to enhance the quality of food products.
Cassava starch is used as a texturizing and water binding agent, and also helps to achieve the desired viscosity in snacks. The high viscosity, binding, and water holding properties of cassava starch make it suitable for use in making different snacks and cereal products.
Since the demand for hot extruded snacks, pretzels, fried foods, and ready-to-eat cereals is growing, the cassava starch market will be benefitted from this growth.
Cassava Starch Market: Segmentation
The subsequent sections analyze the global cassava starch market on the basis of product type, nature, end use, and region to present a forecast for the period 2019–2029. The market is segmented as follows:
product type
nature

end use

Food & Beverages

Bakery & Confectionery
Snacks & Cereals
Processed Food
Functional Food
Soups, Sauces & Gravies
Beverages
Others

Paper, Textile & Adhesives
Pharmaceuticals
Cosmetics & Personal Care
Animal Feed

North America
Latin America
Europe
South Asia
East Asia
Oceania
Middle East & Africa