Introduction
Avocado (Persea americana) is a tropical fruit, mainly native to South America, which is now widely cultivated in other tropical and few Mediterranean regions of the world as the demand rises. This fruit contains 5-30% oil, depending upon the species/variety, and it is extracted by the cold pressing method or by solvent extraction. Hass and Fuerte are the most commonly used varieties for the extraction of avocado oil. Other avocado varieties include Reed, Bacon, and other regional varieties.
Nutritional Benefits of Avocado Oil Leading to Use beyond Food Processing
As avocado oil's nutrient profile boasts of higher content of beneficial fatty acids, the health-conscious population, especially those who are battling obesity problems become the major consumer base of avocado oil. Avocado oil is positioned in the market as an immediate healthier alternative to olive oil, and an alternative to other cooking and dressing oils.
Also, the short-comings of olive oil such as an unwanted odor and flavor it leaves in food, makes consumers opt for other healthy and flavorful oils such as avocado oil, which is also a key factor driving the avocado oil market growth. Changes in consumer buying patterns such as first acknowledging the nutrient composition of a food product and an inclination towards natural and healthier ingredients acts as a major driving force for the avocado oil market.
In terms of value, the global avocado oil market is expected to represent an incremental opportunity of 430.8 Mn by 2018 end over 2017. By product type, the extra virgin oil segment market is expected to register a CAGR of 6.1% in the avocado oil market. The Middle East & Africa region is expected to register relatively low growth in the avocado oil market, due to lower per capita expenditure on gourmet and specialty products.
Alternatives to Avocado Oil Hampering Adoption
Competitive products for avocado oil are chia seed oil, olive oil, hemp oil, and other alternative oils that are produced from healthy sources. These oils carry unique benefits of their own, and most of them are cheaper to produce, as they are produced from industrial by-products, unlike avocado oil, which is produced from fruit flesh, resulting in higher costs. This is expected to challenge the avocado oil market over the forecast period since consumers have a number of alternative cheaper products easily available on retail shelves.
There has been an upsurge in the popularity of Mexican and Pan-Latin flavors, making them part of a mainstream culinary culture. As a country's food culture is highly influenced by its neighbors, nearly 73% of U.S. consumers use Mexican food and ingredients. Avocado oil has been one of the preferred ingredients in Mexican and Hispanic food items.
Partnering Directly with Local Avocado Farms to Ensure Consistent Feedstock for Avocado Oil Processing
There has been a significant volume of avocados produced that are wasted to rot or fed to livestock. The short shelf-life of avocados makes them highly unsuitable for export and these avocados present a considerable potential for the local farmers to convert them to high value-added products such as avocado oil.
By establishing partnerships directly with the farms to procure avocado feedstock or setting up processing capability at or near farms is likely to mitigate the risk of loss due to wastage, in addition to providing an alternative revenue stream to avocado farmers through the processing into avocado oil.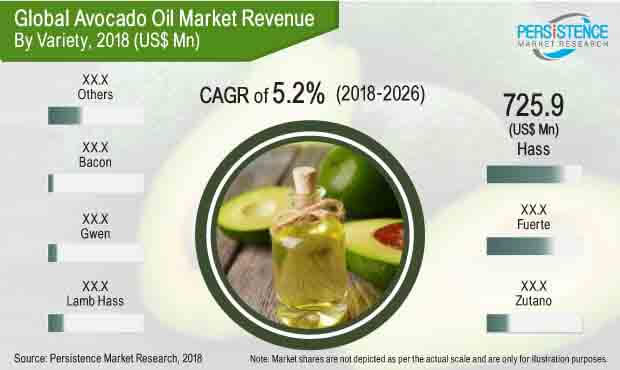 Latin America Expected to Maintain Foothold in Avocado Oil Processing
On the basis of region, the market in Latin America is anticipated to dominate the global avocado oil market in 2018. Europe is expected to gain significant market share in revenue terms by 2026 end. Moreover, countries like U.K., Belgium, and the Netherlands are projected to exhibit significant growth during the forecast period in the avocado oil market. The avocado oil market in Asia Pacific is also expected to gain traction as food processing companies establish their manufacturing base in this region and incorporate avocado oil as an ingredient in processed and packaged food products.
Global Avocado Oil Market
Attribute
Details
By Type

Extra-virgin Oil
Virgin Oil
Refined

By Avocado Variety

Hass
Fuerte
Zutano
Bacon
Lamb Hass
Gwen
Others

By End Use

Food Processing
Personal Care Products
Medicinal Products
Others

By Region

North America
Latin America
Europe
Asia Pacific
Middle East & Africa
- Companies Covered in This Report -
Spectrum Organics Products, LLC (Hain Celestial Group, Inc.)
Avocado Health Limited
La Tourangelle, Inc.
Mevi Avocados, Inc.
Madana Inc.
Proteco Gold Pty Ltd
Bella Vado, Inc
Olivado USA
Sesajal S.A de C.V.
Cibaria International
Crofts Ltd
Tron Hermanos, S.A. de C.V.
Aconcagua Oil & Extract SA
The Village Press
Westfalia Fruit (Pty) Ltd
CalPure Foods, Inc.
Others.