Introduction
Western blotting or protein immunoblot is an analytical technique used to separate and detect specific proteins from a complex protein sample. Proteins are separated by gel electrophoresis based on molecular weight of proteins, which form bands on a gel and are then transferred onto a nitrocellulose or polyvinylidene fluoride membrane. The steps in western blotting are tissue preparation, gel electrophoresis, transfer of proteins onto membrane, blocking to prevent membrane and antibody interactions, incubation of membrane, and antibody-based detection of proteins.
Advantages and drawbacks of using western blotting technique
Western blotting or immunoblotting technique has various advantages as compared with other immunosorbent assays (ISAs), for example ELISA. Western blotting technique is advanced than ELISA as it allows separation of the protein mix by charge, size and/or conformation.
This method of stripping used in western blotting can be used for the detection of a number of targets, while in ELISA only one protein can be detected. Due to the fact that gel electophoreis of proteins helps the separation of proteins into bands, the size of the target protein can be determined using this technique. In addition, the protein of interest can be semi-quantified by running an internal quantity standard simultaneously with the samples in the gel.
However, one of the main drawbacks of western blotting technique is that it is time-consuming as compared to ELISA and requires highly experienced lab technicians to perform this technique. Also, another drawback of western blotting is that it requires high optimization of experimental conditions like gel concentration, protein isolation, etc.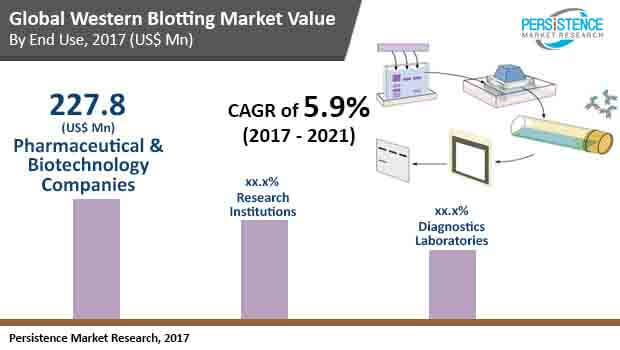 Market dynamics affecting the western blotting market
With the growing incidences of HIV in the world the market for western blotting is being boosted. Also, the rapidly expanding applications of western blotting in the field of proteomics and increased efforts and investments in research and development by several pharmaceuticals and biotechnology companies are other major drivers stimulating the growth of the global western blotting market, since this technique is being rapidly used in such areas. However, there are several restraints that are negatively affecting the market growth of western blotting.
One of them is the emergence of alpha technology that is a highly sensitive homogenous bead-based platform, and is used in the detection of biomolecules. Alpha technology holds several advantages over other technologies like western blotting since it doesn't involve the cumbersome wash-steps and detects any molecule of interest, majorly from protein complexes.
Alpha technique works in a variety of serum, plasma, cell lysate and cell supernatant samples. Hence, alpha technology is an all-in-one-well protocol, unlike the several changes that are the norm in western blotting technique. Emergence of such kind of new technologies is likely to challenge the prominence of western blotting technique in the market.
Automation in western blotting bodes well for the market
Western blotting demands time and technical skill to detect specific protein in a complex mixture. Conventional western blots have inconsistent efficiency. Currently, increased throughput screening in western blotting is possible with automation, which enables numerous trials and accelerates experimentation. Automation of western blot enables analysis of multiple samples at once. Loading the sample is the only manual task with automated western blot systems.
Market Taxonomy
Attribute
Details
Product

Electrophoresis Blotting Systems

Automated Dry Blotting Systems
Semi-Dry Blotting Systems
Traditional Wet Transfer Blotting Systems

Reagents Kits

Chromogenic Reagents Kits
Chemiluminescent Reagents Kits

Horseradish Peroxidase (HRP) Substrate
Alkaline Phosphatase (AP) Substrate

Fluorescent Reagents
Antibodies

Primary Antibody
Secondary Antibody

Buffer Kits

Transfer Membranes

End-Use

Diagnostic Laboratories
Research Institutions
Pharmaceutical & Biotechnology Companies

Application

Scientific Research
Medical Diagnostics
Agricultural Application
Food & Beverages
Other Applications

Region

North America
Latin America
Europe
Asia Pacific
Middle East and Africa
- Companies Covered in This Report -
Thermo Fisher Scientific, Inc.
GE Healthcare.
Hoffmann-La Roche Ltd.
Danaher Corporation (Lumigen, Inc.)
EMD Millipore Corporation.
Bio-Rad Laboratories, Inc.
PerkinElmer Inc., LI-COR, Inc.
Bio-Techne Corporation (ProteinSimple Inc.)
Advansta, Inc.
Other.
These players have been profiled on the basis of various attributes such as company overview, recent developments, growth strategies, sustainability, and financial overview.