Introduction
Ventilation equipment is used in industrial manufacturing, chemical industry, and pharmaceutical industry, amongst many others. The pharmaceutical industry has been growing at a very high pace after the onset of the COVID-19 pandemic, which, in turn, is aiding the expansion of the ventilation equipment market size. As such, the global ventilation equipment market is projected to witness an upward trend over the 2020 to 2030 forecast period.
Ventilation Equipment Market Trends
Energy-efficient Ventilation Systems in Demand at Hospitals & Clinics: Ventilation equipment at hospitals and clinics have huge energy consumption levels. Reducing overall energy usage, proper ventilation and indoor air quality is maintained to ensure proper infection control and patient safety. Healthcare facilities that are not properly ventilated can lead to the spread of airborne pathogens throughout the facility. Patients who have compromised immune systems are therefore at risk owing to improper ventilation. This is anticipated to lead to the growth of the ventilation equipment market over the coming years.
Health & Safety Concerns to Increase Ventilation at Public Places: Customers are very conscious about their health and safety, and also increasing their spending on ventilation equipment. Moving air through supply and exhaust ventilation not only cools residential infrastructure, but also helps control airborne contaminants to acceptable levels. Moreover, it also helps in reducing heat points and stress, and control temperature, humidity, and odors.
Infrastructure Development in Industrial & Non-industrial Sectors Demand Better Circulation of Air: Demographic shifts in the South Asia and Pacific region are estimated to create significant opportunities for infrastructure development and building construction. Development in building construction is anticipated to positively impact the progress of the global ventilation equipment market space.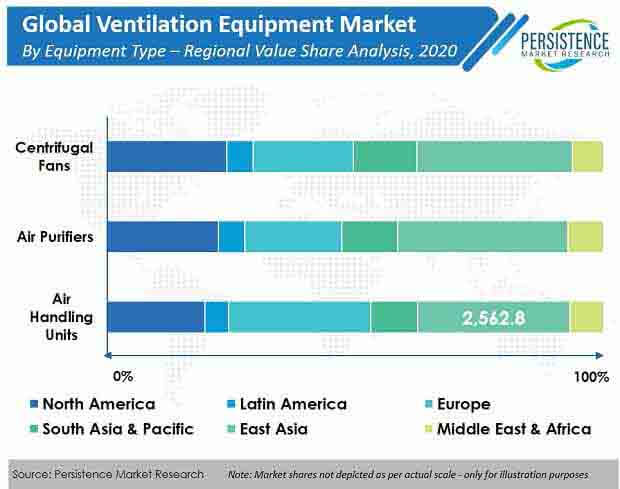 Regional Outlook of Ventilation Equipment Market
In terms of regional distribution, global demand for ventilation equipment is dominated by East Asia, accounting for nearly one-fourth ventilation equipment market share in 2019. The region is projected to continue to be the most significant demand center for ventilation equipment throughout the forecast period.
Manufacturers' Focus: Expansion of Global Production & Supply Network           
The global ventilation equipment market is a highly competitive market space. In order to gain maximum customers, manufacturers are expanding their footprints worldwide. Also, continuing efforts are being made to further improve the cost and performance parameters for different applications. Manufacturers are focusing on expansion of their production and distribution networks in Europe and East Asia, owing to the prevalence of a large number of industrial manufacturers in these regions.
Ventilation Equipment Market: Highly Competitive Market
The ventilation equipment market is moderately fragmented in nature, with several global players operating in the market. Leading players hold more than one-third of the market share. Attributing to the presence of a number of global and regional players, the market sees fierce competition. Some of the key players in the global ventilation equipment market are Daikin Industries, Ltd, Lennox International Inc., Takasago Thermal Engineering Co. Ltd, Systemair AB, Totech Corporation, Nuaire, Crompton Greaves Consumer Electricals Ltd., and others.
COVID-19 Impact on Ventilation Equipment Market
Restrictions on supplies of components from overseas vendors owing to coronavirus spread have impacted the overall production of ventilation equipment. Production activities of almost all industries, including manufacturing industries, have been hit owing to national lockdowns and labor unavailability across the globe. Major manufacturers source their electronic components from Japan and China, which has led to disruptions in supply chain networks.
However, on the back of the pandemic caused by the novel coronavirus disease (COVID-19), ventilation is anticipated to gain more popularity. In a survey conducted by leading manufacturers, maximum respondents said that their "Interest in ventilation had increased" owing to the impact of COVID-19. This is expected to result in sharp recovery of the ventilation equipment market as economic activities resume post the containment of the COVID-19 pandemic.
Analysts' Viewpoint
Growth of the ventilation equipment market is largely driven by demand from industrial manufacturing units, chemical industry, pharmaceutical industry, and textile industry, amongst many others. Demand for air handling units over the past years has been remarkable. This growth is estimated to persist over the forecast period, which, in turn, will set the path for market growth over the coming years.