Introduction
Producers in the global sterols market are offering their products and ingredients to various industries such as food and beverages, pharmaceuticals, and nutraceuticals. Demand for sterols is also increasing for each of its application industries, as rising health concerns have resulted in growing demand for functional products and dietary supplement products over the last few years.
Some manufacturers have shown keen interest in enhancing their market presence by new product developments. Manufacturers are also investing heavily toward capacity expansion to cater to growing demand. This strategy also helps them reach out to new and untapped industries, which will strengthen their position in the global sterols market.
In 2015, BASF Corporation increased its sterol extraction capacity in Boussens, France, to meet increasing demand for sterols in the global market, as primarily, these have high demand among dietary supplements and functional food, owing to their health benefits such as cholesterol reduction and control.
Sterols Market Trends
Rising Demand for Healthy Food Products: Consumers are choosing dietary supplements and functional food over fast food products, as health has become a prime concern.
Growing number of consumers, especially baby boomers, are primarily preferring foods that help prevent chronic conditions such as cardiovascular diseases, blood pressure, high cholesterol, diabetes, and others related to aging.
Owing to this, the demand for healthy food products is increasing at a high growth rate, as such, boding well for the expansion of the sterols market size.
Rapidly Aging Demographics – Supplementing Demand for Sterols: The life expectancy of people around the world is decreasing due to numerous factors, but on the other hand, the desire of people to improve their quality life for the future has stimulated health care professionals and functional food and ingredients manufacturers to meet these demands of consumers.
Statistics show that more than a quarter of the population in Japan is over the age of 60 years, which is on track to reach 40 percent by 2060. This shows that the rising aging population of Japan is one of the key segments that accounts for a lucrative market for companies offering sterol-based products, as they are more prone toward chronic diseases.
Over next thirty years, the number of people aged sixty years or above will increase thrice as much, and is projected to cross over 15% of the global population.
It is expected that the demand for functional food with added sterols will increase, as consumers are seeking preventive measures rather than a cure, thereby surging the growth of the sterols market.
Development of Innovative Products: New food products are appearing in market, in which flavors are added along with plant sterols in order to meet the rising demand for products that reduce cholesterol and also have a unique taste.
Companies are adding functional ingredients such as plant sterols and fruit-based flavors in their food products as intended for particular nutritional purposes or as a dietary food.
For instance, Unilever's brand, Flora ProActiv, offers a wide range of cholesterol-lowering products, such as spreads and milk, and also launched its new flavored range of drinks in pomegranate, raspberry, mango, cherry, strawberry, and others, as a cholesterol-lowering drink.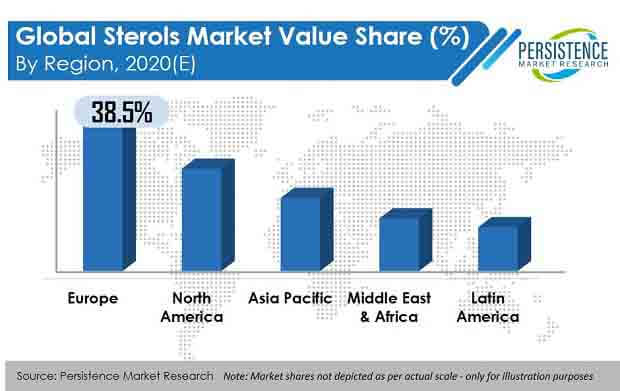 Regional Outlook of Sterols Market
Europe held the highest sterols market share in 2019, followed by North America and Asia Pacific. This trend will continue throughout the duration of the forecast period. However, along with the market in Europe, the sterols market in Latin America is projected to expand at a high CAGR over the next decade.
COVID-19 Impact on Sterols Market
The spread of COVID-19 has moved many consumers to prioritize immune. The long-standing significance of health is coming to the fore. The pandemic is throwing light on the impact that a weak heart and immune condition may have increased disease susceptibility, which is leading to heart health being progressively seen as a piece of encompassing health.
Consumers are likewise increasing a superior comprehension of how essential heart wellbeing can reduce the risk of mortality and viral morbidity.
The coronavirus pandemic has shifted the focus of people with heart disease to a preventive, rather than reactionary a mindset toward overall health. The wellbeing of the lungs and the heart are in top order for lowering the risk of mortality.
According to the American Heart Association, stroke survivors and those with heart disease, including high blood pressure and congenital heart defects, may face an increased risk of complications if they become infected with the COVID-19 virus.
WHO reports have shown cardiovascular diseases to account for an estimated 31% deaths, worldwide. This, in turn, increases the need for nutrition in order to mitigate the risk of heart failure, thus positively impacting the sales for sterols during the pandemic.
Analyst's Viewpoint
A comprehensive view of the global sterols market has led our analysts to conclude that, the market is growing at a healthy rate, with North America, Europe, and Asia Pacific holding a large chunk of the market share. The impact of increasing number of heart patients and preventive healthcare by consumers will remain for a long period. Strategies adopted by manufacturers such as investment in research & development and increase in production capacity and new product launches will give a thrust to the global sterols market.
Companies with research & development capabilities and expertise in the use of technology will gather momentum and profitability in the global sterols market. Leading market players who are adapting to dynamic market changes will continue to grow and have a vast market revenue share. However, the limited availability of sterol-based products in emerging economies and fluctuating prices of raw material could restrain the growth of the global sterols market to some extent.
Key Segments of Global Sterols Market
PMR's report on the global sterols market offers information divided into four segments – source, form, end use, and region.
Source

Vegetable Oil

Soya
Corn
Cottonseed
Sunflower
Rapeseed/Canola

Pine Trees (Tall Oil Pitch)

Form

End Use

Food

Dairy Products
Sauces & Dressings
Beverages
Bakery and Confectionery
Others

Pharmaceuticals

Cosmetics
Dietary Supplements
Others

Region

North America
Latin America
Europe
South Asia
Asia Pacific
Middle East and Africa
Key Questions Answered in PMR's Global Sterols Market
Which region will hold the highest market share in the global sterols market during the forecast period?
Which region is experiencing the highest growth (CAGR)?
Which factors are impacting the global sterols market?
What are the global trends impacting the sterols market?
What strategies must emerging players adopt to capture opportunities in various regions in the sterols market?
What is the market structure of the global sterols market?