Second Hand Footwear Market Outlook (2022-2032)
The global second hand footwear market is projected to expand rapidly at 12.5% CAGR and reach a valuation of US$ 43.1 Bn by the end of 2032, up from US$ 12.8 Bn in 2021.
| | |
| --- | --- |
| Second Hand Footwear Market Size (2021) | US$ 12.8 Bn |
| Projected Sales of Second Hand Footwear (2032) | US$ 43.1 Bn |
| Market CAGR (2022 to 2032) | 12.5% |
| Market Share of Top 5 Players | 1% to 5% |
Worldwide consumption of second hand footwear accounted for 30%-35% share in the global second hand fashion market in 2021.
Sales Analysis of Second Hand Footwear (2017 to 2021) Vs Future Market Projections (2022 to 2032)
Historically, from 2017 to 2021, second hand footwear usage increased at a significant rate CAGR, with the Asian and African regions holding high shares in the global market, and women second hand footwear sales dominating the landscape.
Today, the assortment of second hand goods has increased drastically. Footwear is one of the most traded second hand goods. The affordability factor has played a significant role in driving demand for second hand footwear products.
Overall, over the next ten years, worldwide second hand footwear consumption is expected to increase faster than the historical years, at a CAGR of approximately 12.5% through 2032.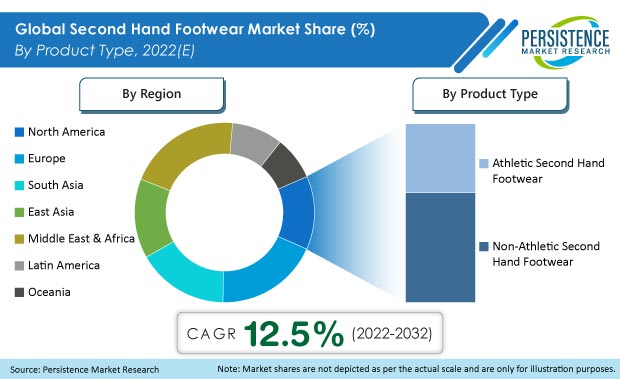 Will the Sustainable Fashion Trend Driving Demand for Second Hand Footwear?
"Prevailing Trend of Eco Fashion Driving Demand for Second Hand Footwear"
The rise of sustainable fashion trends is playing a key role in driving the second hand footwear market. Sustainable fashion is also prominently being promoted as eco consumption. Different forms of conscious clothing decisions and sustainable fashion consumers today hold a different attitude toward second hand footwear stores.
In the light of the growing sustainable fashion trend, second hand footwear is being positively looked upon as a way to express one's uniqueness and individuality through fashion.
Apart from the sustainability factor, the rapidly growing desire to opt for vintage fashion has escalated demand for second-hand footwear in the market. The trend of vintage fashion is gaining more prominence among fashion designers and consumers that take special interest in fashion.
History related to vintage fashion and the memories associated with vintage fashion products triggering nostalgic feelings are greatly influencing consumer perceptions about second hand products, such as footwear.
Country-wise Analysis
What is the U.S. Second Hand Footwear Market Outlook?
"Prevailing Negative Stigma Resulting in Stabilized Market Growth"
The United Sates second hand footwear market is expected to reflect a healthy CAGR of 7.2% during the forecast period.
The negative stigma around the second hand footwear usage is partially restraining few consumers to switch toward second hand shoes. Even today, a prominent ratio of people still consider second hand products to be unhygienic and associated with low status.
On one side, for a few consumers, this form of second hand fashion can be a way of self-expression and a contribution to the environment, while for others, it could often be seen as not fashionable due to the fact that it is used and is perceived as trash and not fashionable.
Thus, this prevailing perception is resulting in stabilized market growth in the U.S.
How is the Sustainability Aspect Driving Second Hand Footwear Consumption in the U.K.?
"Switch to Sustainable Fashion Playing a Key Role in the U.K. Market"
The U.K. second hand footwear market is expected to reflect a CAGR of 6.1% during the forecast period.
In the past few years, a significant ratio of consumers have turned environment-conscious in the country. Thus, the switch to sustainable fashion is playing a key role in driving demand growth of second hand footwear in the U.K.
Putting used products back in circulation contributes significantly in maintaining sustainability. Textile treatment and dying contributes to 15%-25% of industrial water pollution globally. On the other hand, rubber production is also harmful for the environment.
Besides, users discarding waste footwear in landfills further causes the release of toxic substances and materials after decomposition, thus polluting the landfills. Thus, rising awareness regarding the sustainability aspect is further expected to scale up demand for second hand footwear in the U.K.
What is the Market Outlook for Used Footwear in France?
"Luxury Brands Joining Hands in Promoting Sustainability"
Second hand footwear sales in Europe are expected to register a CAGR of approximately 5.2% from 2022 to 2032, with France being one of the prominent markets as the penetration of the fashion industry is comparatively high here.
One of the prominent reasons why the market in France is steadily rising because many renowned brands and luxury companies originating in France are joining the second hand fashion movement.
Many luxury brands in the country are showing their active support for sustainability, LVMH being one of those. Considering that resale is important, but recycle is equally crucial as not every item can be reused, discovering other ways to put them back into circulation is being seen as very important.
Category-wise Insights
Which Product Type Holds Major Revenue Share in the Sales of Second Hand Footwear?
"Enhancing Millennial Interest in Second Hand Athletic Footwear"
On the basis of product, the non-athletic second hand footwear category accounts for a significant share of 61.3%, as the non-athletic category covers a wider scope of casual and fancy footwear that includes resold footwear such as flats, sandals, boots, wedges, etc.
The other second hand athletics category is however expected to reflect a high CAGR during the forecast period as millennial interest in branded sport and athletic shoes is gaining significance.
Which Consumer Category is Expected to Dominate Market Demand?
"Women Shoppers Likely to Drive Market Growth"
As per the analysis, in terms of consumer orientation, women are expected to dominate the market with a significant share of 47.6% during the forecast period.
Rising concept of fast fashion among women has resulted in a significant proportion of women opting for used footwear items. However, the men's category of resold footwear is expected to reflect a significant CAGR as well over the coming years.
What Price Range Category Holds Sway in the Market?
"Premium Second Hand Footwear to Reflect Positive Growth Trend"
According to the research, mass second hand footwear still continues to hold a prominent share in the market.
However, premium second hand footwear sales are expected to reflect a high CAGR during the forecast period as the demand for luxury and premium footwear is gaining significance among millennials.
Impact of COVID-19 on Market
The COVID-19 outbreak had a prominent impact on the second hand fashion industry. The pandemic outbreak significantly influenced second-hand fashion. In the time of crisis, the jump in preference for second hand fashion can be linked to consumers leaning toward sustainability.
Amid efforts to curb consumer spending amidst the coronavirus crisis, luxury consumers focused on saving money did not lose any desire to pamper themselves. In light of this, luxury consignment stores took advantage, reporting an increase in sales of used shoes.
Amid the Covid-19 outbreak, there was an observed a shift from offline to online distribution channels. As the pandemic completely hindered brick-and-mortar shopping, consumers discovered more attractive choices at resale marketplaces, resulting in increased resale of footwear.
Competition Landscape
The market for second hand footwear is highly unorganized in nature. However, the market is further expected to reflect growth as it is experiencing the active emergence of online reselling platforms.
Second Hand Footwear Industry Report Scope
Attribute

Details

Forecast Period

2022-2032

Historical Data Available for

2017-2021

Market Analysis

US$ Mn for Value

Key Regions Covered

North America
Latin America
Europe
East Asia
South Asia
Oceania
MEA

Key Countries Covered

United States
Canada
Brazil
Mexico
Germany
U.K.
France
Spain
Italy
South Africa
Northern Africa GCC Countries
China
Japan
South Korea
India
Thailand
Malaysia
Indonesia
Australia
New Zealand

Key Market Segments Covered

Product Type
Sales Channel
Price Range
Consumer Orientation
Region

Key Companies Profiled

ThreadUp Inc.
The RealReal Inc.
Poshmark Inc.
Vestiaire de Copines SA
Rebelle Company
Vintage-United Company
Labellov AIthentic Luxury Company
Etsy Inc.
Quikr India Pvt Ltd.
Farfetch UK Ltd
Bank & Vogue Ltd
Among Others

Pricing

Available upon Request
Key Segments Covered in Second Hand Footwear Industry Research
Second Hand Footwear Market by Product Type:
Athletic Second hand Footwear
Non-athletic Second Hand Footwear
Second Hand Footwear Market by Consumer Orientation:
Second Hand Footwear for Men
Second Hand Footwear for Women
Second Hand Footwear for Kids
Second Hand Footwear Market by Price Range:
Mass Second Hand Footwear
Premium Second Hand Footwear
Second Hand Footwear Market by Sales Channel:
Online Sales of Second Hand Footwear
Offline Sales of Second Hand Footwear
Second Hand Footwear Market by Region:
North America Second Hand Footwear Market
Latin America Second Hand Footwear Market
Europe Second Hand Footwear Market
East Asia Second Hand Footwear Market
South Asia Second Hand Footwear Market
Oceania Second Hand Footwear Market
MEA Second Hand Footwear Market