Psychedelic API Market Outlook (2023 to 2033)
The global psychedelic API market was valued at US$ 1.6 billion in 2022 and is expected to surge ahead at a CAGR of 13.2% to reach a valuation of US$ 6.1 billion by the end of 2033.
According to this study by Persistence Market Research, LSD APIs held a share of 33.7% in the global market in 2022. Overall, psychedelic API sales accounted for 56.3% revenue share of the global psychedelic drugs market in 2022.
Sales of psychedelic APIs recorded a historic CAGR of 10.6% in the last 5 years from 2017 to 2022. For thousands of years, people have utilized mushrooms as a medicine; fungi are the primary natural source of hallucinogenic substances. There has been growing interest in employing psychedelics and other fungal active substances to treat the symptoms of mental health conditions such as anxiety, addiction, and major depressive disorder. The effects of these substances, which have anti-addictive, anxiolytic, and antidepressant properties, have increased awareness and prompted neuropharmacological research.
Lysergic acid diethylamide (LSD), psilocybin, and other psychedelics may be used in micro or acute doses to provide patients with treatment choices that are not currently available. In addition to altering immune systems, psychedelics can also increase the levels of pro-inflammatory cytokines, raising the possibility that they could be used to treat chronic pain and autoimmune diseases.
There are many well-known mental health conditions or illnesses such as mood disorders like cyclothymic disorder, depression, and bipolar disorder, anxiety disorders; psychotic conditions like schizophrenia, eating disorders, disorders of impulse control and addiction, obsessive-compulsive disorder (OCD), post-traumatic stress disorder (PTSD); and personality disorders.
Direct financial burden variable expenses associated with the effect of mental illness on economic growth include loss of income owing to disability, absence from work, and expense of additional care. Mental illness is related to diagnosis, treatment, or hospitalization expenditures. Mental health disorders are often treated with a mix of psychoactive drug therapy, mood stabilizers, or antipsychotic drugs, as well as psychological treatments. However, people with mental illnesses frequently show no improvement after therapy, a condition known as treatment resistance.
It is vital that appropriate alternatives are being sought to provide therapeutic options for such patients and reduce the burden of disease. Because of their seeming potential to alter consciousness in personally meaningful, therapeutic, and spiritual ways, psychedelics such as psilocybin, LSD, and ayahuasca have garnered interest as a result of their consumption.
Leading biotech researchers are concentrating on the subject of manufacturing psychedelic compounds on an industrial scale to encourage more laboratory-based studies and produce their own mood-altering pharmaceutical medicines.
One of these is Compass Pathways PLC, a leader in the industry with its headquarters in London. This start-up has developed and secured a patent for a novel method of chemically producing psilocybin.
| | |
| --- | --- |
| Psychedelic API Market Size (2023) | US$ 1.5 Billion |
| Projected Market Value (2033) | US$ 6.1 Billion |
| Global Market Growth Rate (2023 to 2033) | 13.2% CAGR |
| Market Share of Top 5 Countries | 65.0% |
Why is the Market for Psychedelic APIs Surging Ahead?
"Emerging Market Players, Emphasis on Regulatory Oversight, and Introduction of Contract Manufacturing"
Psychedelics, formerly demonized as illegal substances, are now broadly acknowledged. Numerous studies from reputable institutions have demonstrated their ability to enhance patient care, particularly for those who demonstrated resistance to conventional forms of treatment. Entrepreneurs developing psychedelic therapies for applications ranging from PTSD to smoking cessation are receiving significant funding from venture capital firms.
A total of roughly US$ 140 million has been put into the psychedelics industry by around 11 venture capital firms, a majority of which were founded in the last three years.
Funding increased after psychedelic start-up Compass Pathways raised US$ 144 million in a secondary offering in April 2021 and an additional US$ 146 million in its IPO in September 2020.
Regulations regarding the use of prohibited substances in drug formulations are being implemented by UN entities. Health organizations such as WHO urge businesses to choose alternative drug forms without the use of controlled substances because of the harsh criticism controlled substances receive for their misuse. If this strategy succeeds in restricting the usage and development of drug formulations based on controlled substances, it will have a significant influence on the market for psychedelic APIs currently in existence.
Such implementations might be made available globally due to the growing illicit drug crisis and black market trade, which would alter the outlook for the market for psychedelic APIs.
There are now 138 psychedelic drugs available on the market worldwide, and four more are nearing completion (Phase III and pre-registration). Attention deficit hyperactivity disorder (ADHD), narcolepsy, and major depressive disorder are just a few of the disorders that these drugs are used to treat.
Controlled drug capabilities and facility requirements can be prohibitively expensive. CMOs have a good potential of making money since they have access to the market for regulated medications, which small-cap pharmaceutical companies are unable to purchase or acquire for these types of locations.
How Can Market Growth Be Adversely Affected?
"High Production Cost and Current Limitations in Patient Scalability"
In reality, it is expensive and difficult to extract active ingredients from multi-compound organic products. This has never been attempted on a significant scale.
There are primarily two causes for this. The first is related to the logistical and technological difficulties of mass-growing such plants and mushrooms while preserving their chemical potency and consistency. This still constitutes a substantial learning curve for medical science. For instance, the variety in the quantity and quality of the active psychedelic compounds contained in the hundreds of various types of 'magic mushrooms' makes it difficult to obtain consistent doses for clinical treatments at present.
The second impediment to the widespread use of psychedelics as a treatment has been the fact that they were formerly off-limits to scientists.
The FDA is emphasizing the risk that therapeutic psychedelic drugs will be abused or result in addiction. To obtain approval, very cautious regulatory oversight will need to be applied while dosing, efficacy, duration, and blinding challenges are addressed.
Once they are licensed, stigmatized medications become more accessible, and the patient scalability of the regimen becomes a problem. This could result in a decline in their utilization among any population that could benefit from treatment.
In contrast to conventional treatment models, which just call for the patient to take pharmaceuticals, psychotherapy is also necessary during trials for the maximum degree of benefit, introducing a demand that limits market scalability.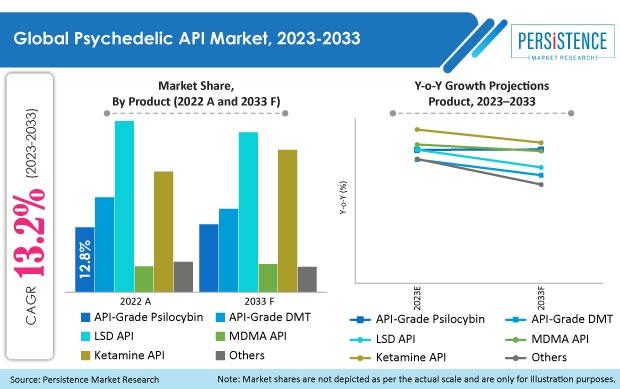 Country-wise Insights
Why is the United States Market for Psychedelic APIs Booming?
"Regulation of Controlled Substances and Growing Research Efforts on Psychedelics"
The United States accounted for 78.2% share of the North American market in 2022.
The federal governments of both Canada and the United States regulate drugs. The Controlled Drugs and Substances Act (Canada) now classifies psilocybin as a Schedule III substance and a Schedule I drug under the Controlled Substances Act. Commercialization of any product is contingent upon all necessary legal and regulatory approvals.
A rise in the number of emerging markets within the United States, an increase in the number of local companies conducting research and development, an elevation in the series of innovative products and drug approvals, and increased funding for the development of novel technologies are some of the factors driving the market in the country.
Will the United Kingdom Be a Lucrative Market for Psychedelic API Manufacturers?
"Need for Revised Regulations and Presence of Strong Market Players"
The United Kingdom held 28.6% share of the European market in 2022.
To address the severe social and financial burden that treatment-resistant mental health problems pose in the country, innovative therapies must be supported immediately. Psilocybin research as a therapeutic is of great economic and scientific interest but is hampered by Schedule 1 regulations.
The expense, time, and complexity of research at all phases of drug development are significantly increased by schedule 1 controls, particularly in late-phase studies, which are already expensive and subject to strict regulations. The pharmaceutical industry has drastically reduced investment in new mental health treatments, although faster commercial development with better regulatory support is desired.
Compass Pathways are conducting a phase 2b clinical trial, a U.K. business that has a U.S. patent on the use of their psilocybin formulation for people with treatment-resistant depression and is now enrolling 216 patients from across Europe and North America.
How is China Emerging as a Prominent Market for Psychedelic APIs?
"Increasing CMO Activities and cGMP Practices"
China held a share of 61.6% of the East Asia market in 2022.
China has seen an exceptional rise in its reputation for producing APIs. Commercial-scale biopharmaceutical manufacturing CMO facilities are being planned or built by a large number of large biologics companies in China and other developing nations to meet local and regional demands. Some are aiming for full-scale cGMP manufacturing in the future to serve Western markets or are otherwise looking for Western clients.
China has been developing cell therapies for many years and could offer some novel treatments over the coming years.
Category-wise Insights
Why are LSD APIs Enjoying Huge Popularity?
"Efficacy in Clinical Trials and Low Physiological Toxicity"
LSD APIs held 33.7% share of the total market in 2022.
One of the most potent substances in existence is lysergide (LSD), a semi-synthetic hallucinogen. Sandoz tested the drug for therapeutic uses in the 1950s and 1960s and began selling it as Delysid®. It was employed in studies looking at the underlying chemistry of mental disease. Even at very large dosages, LSD shows relatively little physiological toxicity, with no signs of biological damage or neuropsychological deficiencies related to its usage.
Recent research has proven a strong correlation between lifetime usage of traditional hallucinogens such as LSD and a reduced risk of mental disorders as well as a favorable but non-significant association with several mental health-related variables, thus propelling segment share in the global market.
Which API Compound is Widely Adopted in the Global Market?
"Novel Synthetic Compounds - Interaction with Diverse Monoaminergic Targets"
Novel synthetic compounds accounted for 42.2% share of the global market in 2022.
Novel psychoactive substances are recently popularised designer drugs (sometimes known as internet drugs, research chemicals, or legal highs) that may have the same health dangers as more traditional illicit drugs. Many new psychoactive compounds fall into one of the following chemical categories: phenethylamines, synthetic cathinones, piperazines, amphetamines, pipradrols/piperidines, tryptamines, and aminoindanes benzofurans.
These drugs interact with diverse monoaminergic targets in terms of pharmacology. Usually, stimulants either cause the release of dopamine and noradrenaline or impede their transport, entactogens primarily increase serotonin release in a manner similar to MDMA, and hallucinogens are direct agonists of serotonergic 5-HT2A receptors.
Which Application is Widely in Focus in This Space?
"Growing Interventions in Clinical Psychedelic Science"
Research applications enjoyed a market share of 87.0% in 2022, globally.
Work in basic and clinical psychedelic science has rapidly increased over the past 15 years, with a majority of the research concentrating on substance abuse, mental health, and related problems. Clinical trials to test treatment effectiveness are currently being conducted by lone researchers and research facilities in the U.S., Canada, the U.K., Brazil, France, and other nations; the focus is primarily on ketamine, MDMA, and psilocybin for mental disorders such as PTSD, depressive disorders, and substance abuse disorders.
A larger range of research techniques such as case studies, mixed methods, observational studies in naturalistic settings, and retrospective perspectives of psychedelic users, including those involved in research and healthy community members, are being used to supplement this work, propelling the research segment globally.
Why are GMP Grade Psychedelic APIs preferred?
"Safety & Quality Maintenance in Accordance to Regulations"
GMP grade psychedelic APIs held a share of 97.8% in 2022 within the global market.
GMPs, or good manufacturing practices, are strict guidelines that must be followed when producing psychedelic APIs. These rules aim to guarantee the identification, efficacy, quality, and integrity of drug products. Compound manufacture for clinical trials must be done in a facility with a GMP certification. GMP ensures that production is reliable, carried out in a clean environment, and adheres to the FDA's quality standards.
Competition Landscape
Companies in the industry are placing a strong emphasis on providing a wide range of APIs and on their involvement in the development of new psychedelic drugs. Venture capital firms have also expressed interest and are making significant investments in start-ups that are developing psychedelic medicines for ailments, ranging from PTSD to smoking cessation.
Some key instances of market development include:
BetterLife secured additional Mitacs funding for BETR-001 preclinical depression studies in July 2022 in partnership with the Carleton University research team.
The novel pipeline of exploratory psychedelic treatments that Cybin Inc. has been building and advancing has been successfully completed ahead of schedule, the company said in September 2022. In December 2020, Adelia Therapeutics Inc. signed an acquisition agreement that included these milestones.
Similarly, the team at Persistence Market Research has tracked recent developments related to companies providing psychedelic APIs, which are available in the full report.
Psychedelic API Industry Report Scope
Attribute

Details

Forecast Period

2023 to 2033

Historical Data Available for

2017 to2022

Market Analysis

USD Million for Value
Kgs for Volume

Key Countries Covered

U.S.
Canada
Brazil
Argentina
Mexico
Germany
France
U.K.
Italy
Spain
Russia
BENELUX
India
Thailand
Malaysia
Indonesia
China
Japan
South Korea
Australia
New Zealand
Turkey
GCC
Northern Africa
South Africa

Key Market Segments Covered

Product
API Compound
Source
Grade
Application
Region

Key Companies Covered

Core One Labs Inc.
Cayman Chemical Company (Matreya)
COMPASS Pathways plc
Beckley Psytech
Atai Life Sciences
Tryp Therapeutics
Filament Health
Ceruvia Lifesciences, LLC
BetterLife Pharma
Psygen Pharmaceutical
Mindset Pharma

Report Coverage

Market Forecast
Competition Intelligence
DROT Analysis
Market Dynamics and Challenges
Strategic Growth Initiatives

Customization & Pricing

Available upon Request
Key Segments of Psychedelic API Industry Research
Product:
API-Grade Psilocybin
API-Grade DMT
LSD API
MDMA API
Ketamine API
Others
API Compound:
Active Plant Components
Novel Synthetic Compounds
Metabolites
Isotopically Labelled Standards
Source:
Natural
Synthetic
Bio-Synthetic
Grade:
Application:
Region:
North America
Latin America
Europe
South Asia
East Asia
Oceania
Middle East & Africa