Phycocyanin Market Outlook (2022-2032)
Global phycocyanin sales are valued at around US$ 168.8 Mn. The global phycocyanin market is projected to register 7% CAGR and top a valuation of US$ 333 Mn by 2032.
| Attribute | Key Insights |
| --- | --- |
| Phycocyanin Market Size (2022E) | US$ 168.8 Mn |
| Projected Sales of Phycocyanin (2032F) | US$ 333 Mn |
| Value CAGR (2022-2032) | 7.0% |
| Value Share of Top 5 Countries (2021A) | 58% |
Worldwide phycocyanin consumption currently accounts for around 3% to 6% value share of the global spirulina market.
Phycocyanin Consumption Analysis (2017-2021) Vs Market Estimations (2022-2032)
From 2017 to 2021, phycocyanin sales registered a compounded annual growth rate (CAGR) of 7.1%. Demand for phycocyanin is increasing as it offers health benefits and is a vital component in naturally obtained healthy products to improve the health and well-being of consumers.
The global phycocyanin market has been benefitted from rising utilization of natural colors in food & beverage, nutraceutical, and various other industries, which are all capitalizing on the various phycocyanin benefits. Consumers are avoiding synthetic and artificial ingredients and progressively adopting food products that comprise natural ingredients. This has led food manufacturers to use natural colors, including phycocyanin, in food products.
Moreover, phycocyanin is also one of the prominent sources of natural blue color. Along with that, considerable growth of spirulina-based products is a key contribution to the growth of the phycocyanin market. Spirulina products, including phycocyanin, have emerged as health-beneficial and multi-functional ingredients and are increasingly becoming favorable in various industries.
Major manufacturers of phycocyanin are adopting strategies such as offering value-added natural products derived from microalgae, product portfolio expansion, quality enhancement, and others. Key market players such as Cyanotech Corporation, DIC Corporation, and Chr. Hansen Holding A/S, Inc. are strategizing toward business expansion for increasing their production capacity of phycocyanin.
The phycocyanin market is expected to experience significant growth at a CAGR of 7% over the forecast period (2022-2032).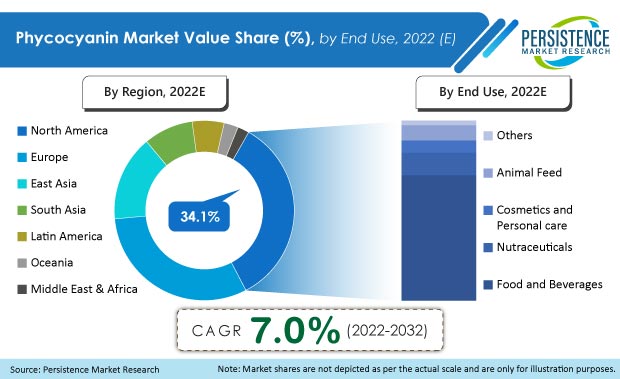 Which Factors are Contributing to Phycocyanin Market Growth?
"Various Industrial Applications of Phycocyanin"
Phycocyanin is known for its wide range of applications in different industries, including food and beverages, nutraceuticals, cosmetics & personal care, and animal feed. Phycocyanin has been commercialized in different countries for its application in health food and therapeutic purposes.
Rising consumer preference for food products with healthy ingredients is likely to compel manufacturers to include natural food additives in their products, leading to increased phycocyanin usage as a replacement for synthetic additives.
Phycocyanin is used in the food and beverage industry as a natural coloring agent for fermented mild products, ice creams, alcoholic drinks, desserts, cake decorations, soft drinks, milkshakes, chewing gum, and many others. It is also widely used as a coloring agent in cosmetic products such as lipsticks and eye-liners.
In February 2019, Hiland Dairy introduced a new chocolate lactose-free milk product. The product is available in a variety of flavors and comprises essential vitamins and minerals. Moreover, the product is lactose-free and offered in half-gallon size.
Parry Nutraceuticals offers a range of organic and conventional phycocyanin powder products, specially formulated to be used as food colorants, additives, nutraceuticals, and dietary supplements.
"High Demand for Natural Food Additives Triggering Growth of Phycocyanin-based Products"
The global food & beverage industry is expected to witness a surge in demand for natural ingredients for color solutions, leading to higher demand for spirulina-based coloring agents. Increasing skepticism of consumers regarding synthetic colorants and rapidly evolving application possibilities of spirulina have triggered demand for phycocyanin across the world.
Majority of players operating in the food & beverage industry are announcing the replacement of artificial colors, owing to increased consumer demand for natural additives.
Phycocyanin can be considered to be one of the best natural alternatives for artificial dyes such as patent blue or brilliant blue, and can be used for nearly all applications. A majority of manufacturers are focused on producing blue color from spirulina and providing spirulina at an affordable price, due to high demand among consumers, to gain a better market share in this segment.
"FDA Approval for Use of Phycocyanin in F&B Industry Driving Market Expansion"
Approval of phycocyanin extracted from spirulina for use in food & beverages by regulatory agencies can be considered as a major factor driving growth of the phycocyanin market.
Phycocyanin is a nutrient-rich substance loaded with protein, which finds application in a number of food & beverage applications, mainly as a coloring agent. Spirulina extract is recognized to be absolutely safe for human consumption by many of the world's leading food-approving authorities, including the U.S. FDA. It is also acknowledged by a majority of doctors for a wide range of health benefits.
Approval from regulatory agencies has opened the doors for natural color manufacturers who have identified spirulina as a potential raw material for natural color production, and started the supply of new products prepared from spirulina.
Emergence of new players in developing countries, including China, India, and Mexico, for the production of natural colors from spirulina, is expected to have a positive impact on global phycocyanin sales.
According to United States Department of Agriculture (USDA), around 8% of the population in Germany is vegetarian, out of which, approximately 12% is vegan.
What are the Nutritional Emphasis Expected from Phycocyanin?
Success of phycocyanin for various health-related issues has been proven through several clinical & research-related studies. Product effectiveness is associated with the complete nutritional profile offered by phycocyanin, as it contains several important essential amino acids with improved digestibility as compared to other sources.
Phycocyanin increases the absorption of nutrients and helps build better immunity. Phycocyanin is known to provide a wide range of minerals, proteins, and essential vitamins used as fuel and catalysts in the human body.
High-nutrient density of phycocyanin makes it an important ingredient in many health-related applications. Curing anemia, better immunity, regulation of blood glucose levels to prevent diabetes, reducing blood cholesterol, anti-aging, weight management, and combating thyroid problems are some of the many health benefits acquired through the consumption of phycocyanin.
Which Factors are Limiting Market Growth of Phycocyanin?
"Soil & Water Pollution Degrading Phycocyanin Quality"
India, China, and Japan are at the forefront in the production of spirulina. These countries are facing the issue of high soil, water, and air pollution, which directly reflects in the contamination of spirulina produced.
High levels of arsenic and lead make spirulina harmful for use by humans and animals. Countries such as China and India, two of the three major producers of spirulina globally, are facing contamination issues due to high pollution levels. Most producers are using lakes, ponds, and other water bodies for the production of spirulina, which are already contaminated with high levels of arsenic, lead, iron, and other minerals, and are harmful if consumed over the stipulated limit.
High levels of soil and water pollution have resulted in a decline in the quality of the product, which has, in turn, affected the sales of phycocyanin in the global market. Majority of European countries refrain from buying phycocyanin products from these regions, leading to increased fluctuation in the import/export of phycocyanin. These challenges prevent the phycocyanin market from reaching its full potential.
"Fluctuating Environmental Conditions"
Uneven environmental conditions are one of the major factors leading to a negative impact on global food supply, resulting in widening of the supply-demand gap. These environmental conditions are uncontrollable and are responsible for the hurdles faced by different countries in food safety programs. Several incidents have occurred leading to a decline in the production of spirulina in different regions due to severe environmental conditions.
In 2014, tornado and flood conditions in China destroyed a majority of the spirulina crop of many West and North China-based companies, resulting in the downfall of the global phycocyanin market.
From 2013, the supply of spirulina has been affected globally by harsh climate, which reduced the revenue of many Chinese companies.
Country-wise Insights
What Countries in Latin America Lead Market Growth?
The market in Brazil, followed by Mexico, is expected to witness CAGRs of 6.5% and 6.2%, respectively, during the forecast period (2022-2032). This makes them leading phycocyanin markets in Latin America.
How is the North America Market Performing?
In the North America phycocyanin market, Canada is showing promising growth for the forecast period and is expected to register a significant CAGR of 7.3%. Market share of the U.S. in the North American market is around 87.3%, which is currently valued at US$ 50.16 Mn.
Category-wise Insights
Which Phycocyanin Form Holds the Largest Volume Share?
Based on form, phycocyanin is segmented into liquid phycocyanin and phycocyanin powder, in which, the powder phycocyanin form is mostly utilized in the global market.
Market volume share of powdered phycocyanin is 80.6%, and is projected to reach 3,942 tons volume sales by the end of the forecast period.
Will Demand for Organic Phycocyanin Increase?
Based on nature, phycocyanin is segmented into organic phycocyanin and conventional phycocyanin, in which, conventional phycocyanin holds a major value share in the global market at more than 91.7% in 2022. Current market value is expected to be US$ 303.6Mn.
Which are the Prominent End Uses of Phycocyanin?
Based on end use, phycocyanin is segmented into food and beverages, nutraceuticals, cosmetics and personal care, animal feed, and others, in which, the food and beverages segment holds a major value share in the global market at more than 69.6% in 2022. Current market value is expected to be US$ 117.5 Mn.
Impact of COVID-19
The COVID pandemic affected industrial and economic activities around the world, and there was significant drop in demand for food flavors majorly because of lockdowns, restrictions on travel and transport, and closure of retail stores.
However, change in the lifestyle of consumers and rising demand for natural food ingredients across end-use industries for nutritious and healthy food is set to drive market expansion over the months and years ahead.
Competitive Dashboard
Key phycocyanin suppliers are involved in the expansion of their business to increase revenue and expand their customer base across the world. Market participants are also focused on developing state-of-the-art production units to improve productivity.
DDW Inc. focuses on the international expansion of its business. The company has set up natural color facilities in the U.S., U.K., Chile, and Ireland. It also exports its products to different markets such as Ireland, China, Brazil, and the U.K.
DIC Corporation has expanded its production capacity for Linablue. A state-of-the-art integrated production unit was set up to solidify the company's position in the production and supply of spirulina-derived blue food coloring. The company invested approximately US$ 13 Mn for this expansion project.
Phycocyanin Industry Report Scope
Attribute
Details

Forecast period

2022-2032

Historical data available for

2017-2021

Market analysis

USD Million for Value

Key regions covered

North America
Latin America
Europe
East Asia
South Asia
Oceania
The Middle East & Africa

Key countries covered

U.S.
Canada
Germany
U.K.
France
Italy
Spain
Russia
China
Japan
South Korea
India
Thailand
Malaysia
Indonesia
Australia
New Zealand
GCC countries
Turkey
Northern Africa
South Africa

Key market segments covered

Nature
Form
End Use
Region

Key companies profiled

Cyanotech Corporation
DDW Inc
DIC Corporation
C.B.N. Bio-engineering Co., Ltd
Fuqing King Dnarmsa Spirulina Co., Ltd
Fraken Biochem Co., Ltd.
Japan Algae Co., Ltd.
Parry Nutraceuticals
Chr. Hansen Holding A/S
Naturex S.A.
Far East Bio-Tec Co., Ltd.
NutraCulture
Merck KGaA
Tianjin Norland Biotech Co., Ltd
Bluetec Naturals Co., Ltd
Wellisen Nutraceuticals Pvt. Ltd.
Sensient Technologies Corporation
GNT Group B.V.
AlgoSource
Zhejiang Binmei Biotechnology Co., Ltd

Report coverage

Market Forecast
Company Share Analysis
Competition Intelligence
DROT Analysis
Market Dynamics and Challenges
Strategic Growth Initiatives

Customization & pricing

Available upon request
Key Segments Covered in Phycocyanin Industry Research
Phycocyanin Market by Nature:
Organic Phycocyanin
Conventional Phycocyanin
Phycocyanin Market by Form:
Liquid Phycocyanin
Powder Phycocyanin
Phycocyanin Market by End Use:
Food and Beverages
Nutraceuticals
Cosmetics and Personal Care
Animal Feed
Others
Phycocyanin Market by Region:
North America Phycocyanin Market
Latin America Phycocyanin Market
Europe Phycocyanin Market
South Asia Phycocyanin Market
East Asia Phycocyanin Market
Oceania Phycocyanin Market
Middle East and Africa Phycocyanin Market