Introduction
Oligonucleotides are short fragments of nucleic acids that are synthesized using genetic engineering and enzyme chemistry. These are mostly used in laboratories in applications such as therapeutic, diagnostics as well as academic and industrial. These are used from initial research and screening through to target validation and drug production.
Oligonucleotides synthesis occurs either commercially to provide services for various end users or individually via DNA synthesizers for self-consumption. Nowadays, subsequent improvements in oligonucleotide synthesis, amplification and automation has completely revolutionized biological research. It is also possible to do the customizations and get the required sequence online easily and at the required time. These services vary greatly by the cost of per base pair, error rates, lengths, throughput, etc.
According to the market analysis, the custom oligonucleotide synthesis market is expected to lead with a higher market share than the universal oligonucleotide synthesis segment. The custom oligonucleotide segment is anticipated to reach a market size of over US$ 540 Mn by the end of 2025, growing at a CAGR of 8.6%.
Whereas, the universal oligonucleotide synthesis segment is expected to expand at a CAGR of 7.8% during the forecast period 2017-2025. Looking at the growth prospects of the market, companies are focusing on improving their services via technology improvisations for high throughput synthesis with cost control in order to get more attention and gain maximum market share.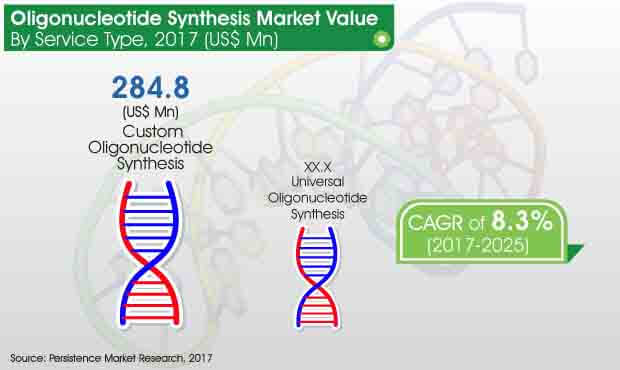 Increase in demand for high end customized oligos and upgradation in purification trending the global oligonucleotide synthesis market
Custom oligonucleotide synthesis is growing popular worldwide. With the increasing pace of research and development for novel products in the synthetic biology segment, there is an increasing requirement for high end customized oligos. An increase in the application of synthetic oligonucleotides in the industry and in academic research labs has resulted in an increase in demand for quality improvisations to remove impurities and increase its effectiveness.
However, the costs of purification account for around 50% of the total production cost and continuous research is currently ongoing to identify upgraded methods to achieve desired results – such as the introduction of non-chromatographic methods of purification and many in-house developed modifications.
The current market scenario involves established players in both the equipment and services market with strong brand recognition and expanded distribution channels. The systematic distribution channels active in the global oligonucleotide synthesis market have helped the market continue on an upward growth trajectory.
In-house development of oligonucleotides may hinder revenue growth of the global oligonucleotide synthesis market
A new trend reveals that in-house development of oligonucleotide affects sales from service providers. This in-house development is mainly carried out by academic and research institutes. Biopharmaceutical companies have also started developing oligonucleotides themselves or have provided the contract to other organizations in order to maintain confidentiality and ease of manufacturing. Limited requirements and cost constraints however cannot be tracked and thus tend to narrow down the market scope.
The global market may also face a restriction in its growth due to the lack of available resources. The global oligonucleotide synthesis market is expected to witness limitations in the availability of funding for research in academic laboratories, which may restrict market revenue growth. Along with this, there are also a limited number of market players existing in some regions and a shortage of skilled personnel. These factors may hamper the growth of research activities.
Market Segmentation
Attribute
Details
By Region

North America
Latin America
Europe
Asia Pacific
Middle East and Africa

By Service Type

Universal Oligonucleotide Synthesis
Custom Oligonucleotide Synthesis

By Application

Academic R&D
Commercial R&D

By End Users

Biopharmaceutical Companies
Academic & Research Institutes
Contract Research Organizations
- Companies Covered in This Report -
Integrated DNA Technologies, Inc.
GenScript Biotech Corporation
Eurofins Scientific SE
Bioneer Corporation
Kaneka Corporation (Eurogentec)
Biolegio B.V.
Eton Bioscience, Inc.
IBA GmbH
Quintara Biosciences
LGC Biosearch Technologies
Thermo Fisher Scientific, Inc.
TriLink BioTechnologies, LLC
TAG Copenhagen A/S
PolyGen GmbH
General Electric Co.
BioAutomation
Biolytic Lab Performance Inc.
Others.