Introduction
Monochloroacetic acid (MCAA) is a specialty organochlorine compound, also known as chloroacetic acid. It is a building block in organic synthesis, and is hence used in the production of various chemical compounds, drugs, and agrochemicals.
Significant amount of MCAA is consumed for the production of carboxymethylcellulose (CMC), thioglycolic acid, USP grade glycine, and technical grade glycine, which is a major precursor to the production of glyphosate. These positive factors bode well for the expansion of the monochloroacetic acid market size over the coming years.
Monochloroacetic Acid (MCAA) Market Drivers
The global monochloroacetic acid market is mainly driven by increasing demand for the production of carboxymethylcellulose, thioglycolic acid, and glycine. Significant amount of monochloroacetic acid is consumed for the production of CMC, also called as cellulose gel. Use of monochloroacetic acid imparts viscosity boosting and emulsion stabilization properties.
Apart from these properties, use of MCAA in CMC production offers alteration of flow and texture of the product. Such attributes impel the use of CMC in the food & beverage industry for applications such as powdered drinks, alcoholic and non-alcoholic beverages, and ice cream.
CMC is also widely preferred over synthetic and natural glues, which is expected to drive its demand, and, in turn, increase the consumption of MCAA for CMC production. These factors are likely to boost the revenue growth of the global monochloroacetic acid market over the forecast period of 2020 to 2030.
Monochloroacetic Acid Market Restraints
Monochloroacetic acid is a basic raw material for the production of various herbicides and insecticides. Chlorpyrifos and triclopyr are widely used insecticides that are also derived from MCAA. However, the MCAA route to produce symtet generates significant amount of hazardous waste.
Also, production facilities that are operated by the MCAA route face challenges such as high operation and maintenance costs that arise due to the corrosive nature of MCAA. Hence, symtet production by the MCAA route is a major challenge for producers operating in the global monochloroacetic acid market.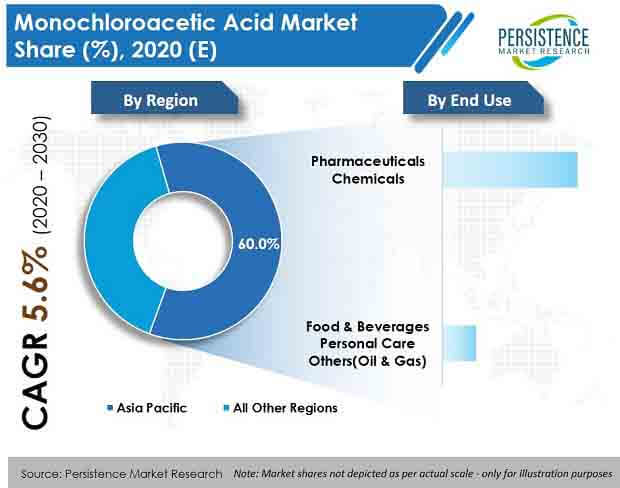 Regional Outlook of Monochloroacetic Acid Market
The global monochloroacetic acid market is segmented into the five key regions of North America, Latin America, Europe, Asia Pacific, and the Middle East & Africa (MEA). Asia Pacific dominates the global monochloroacetic acid market share in terms of production and consumption; this region is expected to account for 60% of the global market share in 2020. Latin America is expected to progress at a rapid pace in the coming years, generating a plethora of growth prospects for MCAA market players.
COVID-19 Impact on Monochloroacetic Acid Market
The MCAA market is poised to grow at a healthy rate through 2030. However, this growth is expected to witness a decline in its pace during the course of the COVID-19 pandemic, owing to the shutdown of businesses across different industries, including the food & beverage industry.
It is safe to say that temporary demand hiccups will impact growth in the short term. The market is projected to regain its regular growth pace gradually with relaxations in lockdowns and restrictions across the world.
Analysts' Viewpoint
A thorough analysis of the global monochloroacetic acid market has led our analysts to conclude that, the market is set to grow at a healthy pace through 2030. Stakeholders in the MCAA market space can look to the end uses of pharmaceuticals and chemicals for increased sales and profits, thereby allowing themselves to enhance their position among competitors in the market.
Key Segments of Monochloroacetic Acid Market
PMR's study on the monochloroacetic acid market is divided into three significant segments - application, end use, and region. This report offers comprehensive data and information about the important market dynamics and growth parameters related to these categories.
Application

Chemical Compounds
Drugs
Herbicides and Insecticides
Others (Indigo Dyeing Agent, Amphoteric Surfactants)

End Use

Pharmaceuticals
Chemicals
Food & Beverages
Others (Oil & Gas, Personal Care)

Region

North America
Latin America
Europe
Asia Pacific
MEA
Key Questions Answered in PMR's Monochloroacetic Acid Market Report
Which region is anticipated to hold a prominent MCAA market share over the forecast period?
What will be the key driving factors propelling the demand for monochloroacetic acid during the forecast period?
How will current trends will impact the monochloroacetic acid market?
Who are the significant market participants in the monochloroacetic acid market?
What are the crucial strategies of prominent players in the MCAA market to upscale their positions in this landscape?