Introduction
Glyphosate is a low-toxicity, chemical formulation effective for weed control. Glyphosate is a type of herbicide with a comparatively small molecule, with a molecular weight of 169g. Glyphosate is a derivative of amino acid glycine, where one of the amino hydrogen is replaced with a phosphonomethyl group.
Glyphosate is most frequently used in the agriculture industry to control weed in a wide range of crops such as cereals, grains, pulses, fruits, vegetables, tubers, and other crops. It is effective to kill weeds such as chickweed, barnyard grass, dandelion, and other weeds.
Glyphosate is usually spread on weeds in water-diluted solutions and is rapidly absorbed by plants. It works by blocking the metabolic pathway, which is essential for the plant's growth. Glyphosate has replaced mechanical weed control in many crops and has had an important impact on agriculture practices and crop yield throughout the globe.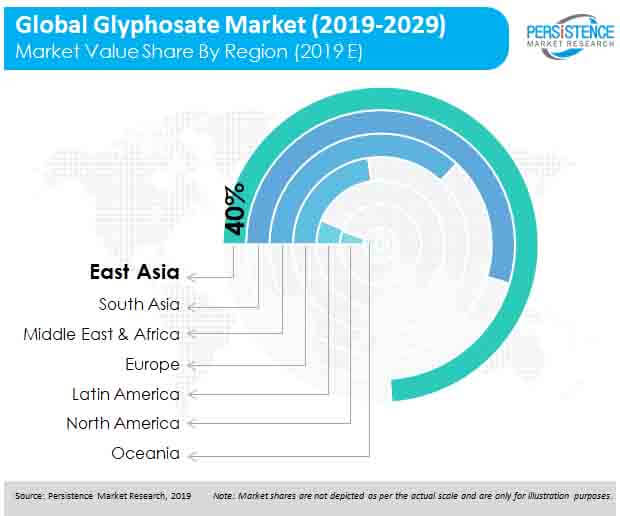 Global Glyphosate Market: Key Dynamics
The global rise in agricultural land and modern agriculture practices and changing harvesting trends are driving the growth of the glyphosate market. From the last decade, plantation of GMO crops has increased dramatically especially in the East Asia and South Asia regions, farmers are opting for GMO plantation in order to increase production within a short span of a period, which also helps to earn higher profit margins.
Asia Pacific regions are more prominent in the plantation of GMO crops and plants. Most Asia Pacific countries are dependent on agriculture resources to increase profits. These factors are fueling the growth of the glyphosate market. At the same time, manufacturers are producing glyphosate-resistant GMO seeds, which are enabling farmers to use glyphosate to protect plants from unwanted weeds and other natural effects.
As population grows, the demand for food and other resources such as energy, water, and agriculture products increases. This factor is increasing the prices of agriculture products. Farmers are using modern agricultural tools to grow plants and crops to earn maximum profits. Farmers frequently use glyphosate to protect crops from weed and unwanted grass. In some regions, farmers use maximum quantity of glyphosate to grow crops faster and to increase production. These factors are driving the demand for glyphosate in the market.
"Pre-Planting" treatment is still a vital tool for controlling weeds before planting the next crop. Farmers use this tool before plantation. They keep land empty for a certain time period to kill the weed from the land so that it cannot compete with the crops. Farmers mostly apply glyphosate on the field 4 to 6 weeks before plantation, to clear fields of these weeds and volunteer crops. These tools are used globally by farmers to protect plants and crops from weeds. Due to empty land and 4 to 6 weeks of time period, crops are not getting affected by glyphosate or other chemicals. These factors are boosting the demand for glyphosate in the market.
Soaring Demand for GMO Grass in Gardens, Lawn, Turf, Stadiums, and Play Grounds Boosting the Market Growth of Glyphosate
With increasing urbanization and population, the number of gardens, lawns, turfs, stadiums, and play grounds is increasing day by day.
These playgrounds and gardens are built for relaxation of people. In urban areas, people don't have places to spend time or surround themselves with plants and nature. Governments create these gardens and lawns for people where GMO grass is cultivated for greenery. To control weeds from these gardens, lawns, turfs, stadiums, and playgrounds, glyphosate is used in huge quantities. These factors are creating huge opportunities for the glyphosate market.
In 2014, some farmers complained against the use of glyphosate, as it causes cancer. More than 30,000 health care specialists advocated for glyphosate ban and International Agency for Research on Cancer's report on glyphosate determined that the chemical is probably carcinogenic to humans. Due to these reasons, the U.S and some parts of Europe imposed strict regulations for the use of glyphosate and some countries banned the use of glyphosate. Hence, glyphosate is facing low demand across these regions.
- Companies Covered in This Report -
DowDuPont
Nufarm
BASF.SE
UPL Ltd
HELM AG
Bayer
Rolfes Agri
Wynca Group
ADAMA Ltd
Albaugh LLC
GOOD HARVEST
ENVIRO Bio Chem
Drexel Chemical
ECOGAURD
Bharat Group
Crystal Crop Protection Limited
Aristo Biotech
HPM Chemicals & Fertilizers Ltd
Kalyani Industries Ltd
Crop Chemicals India Ltd.