Metabolic Testing Market Outlook (2022-2032)
The value of the global metabolic testing market is US$ 590 Mn in 2022, which is likely to reach US$ 1.2 Bn by the end of 2032, expanding at a compound annual growth rate of 7.3% through 2032.
| Attributes | Key Insights |
| --- | --- |
| Metabolic Testing Market Size (2022E) | US$ 590 Mn |
| Projected Market Value (2032F) | US$ 1.2 Bn |
| Global Market Growth Rate (2022-2032) | 7.3% CAGR |
| Leading Regional Market | North America |
Metabolic Testing Overview
Metabolism is a chemical reaction and physical process that involves maintenance of the living state, such as breathing, blood circulation, contraction of muscles, digestion of food and nutrients, elimination of wastes such as urine, controlling body temperature, and functioning of brain and nerves of the organism.
It is a pathway that begins with a sequence of chemical reactions with a specific molecule and ends with a product with the help of a specific enzyme. Enzymes are vital to metabolism as they allow the organism to drive reactions for the required energy. It is divided into two categories, i.e. catabolism and anabolism.
Catabolism is the breakdown of molecules to attain energy, whereas anabolism is the synthesis of all compounds needed by the cell. Most metabolic pathways take place in a specific region of the cell and metabolic pathways are the process by which the body converts food into energy.
Metabolic testing equipment is used to determine the health and wellness of an individual. Metabolic testing equipment is a screening tool to screen organ functions in conditions such as diabetes, liver diseases, and kidney diseases. It is also used to analyze the body's maximum ability to consume oxygen for maintaining physical fitness. It helps physicians and exercise physiologists to identify the risk of lifestyle disorders at an early stage. It is also used as a weight management solution, and for performance testing of athletes.
VO2 Max analysis, Resting Metabolism Rate (RMR) analysis, and body composition analysis are some of the technologies used for metabolic testing. VO2 Max analysis determines the body's maximum ability to consume oxygen. In addition, resting metabolic rate determines the number of calories that the body burns at rest.
Body composition analysis is the physical test to measure various proportions of components, such as water, mineral, fat, and protein, in the body. It is mainly used in hospitals, laboratories, sports training centers, and gyms to test/examine for metabolic disorders, lifestyle diseases, and dysmetabolic syndrome X in the body.
Key Market Players
Increasing market consolidation and new product launches are among the major ongoing trends in the global metabolic testing market. Major companies operating in the global metabolic testing market are CareFusion Corporation, General Electric Company, Geratherm Medical AG, MGC Diagnostics Corporation, OSI Systems, Inc., AEI Technologies, Inc., Cortex Biophysik GmbH, COSMED, Korr Medical Technologies, Inc., Microlife Medical Home Solutions, Inc., and Parvo Medics, Inc.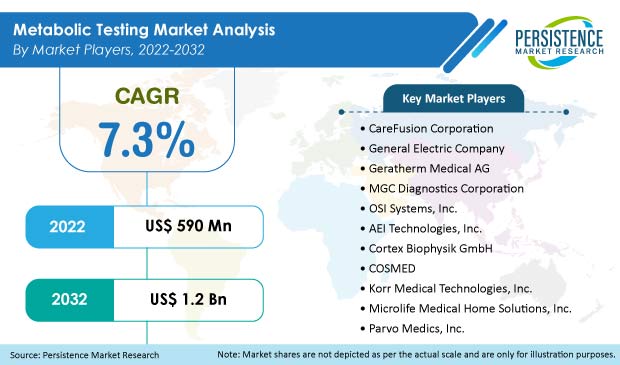 Why is Demand for Metabolic Testing Rising at a Fast Pace?
"Increased Healthcare Spending Driving Market Growth Opportunities"
At present, people from developing countries are investing at an increased rate in healthcare facilities. This is attributed to increasing disposable income, improving healthcare infrastructure, and growing demand for quality medical care among the global population.
In recent years, there is a noteworthy increase in the patient pool who are suffering from various disorders or diseases. Obesity and diabetes are some common lifestyle diseases that are likely to increase the demand for metabolic testing and thus boost growth avenues in the market.
"Growing Government Initiatives to Use Industry Solutions"
Governments around the world are taking initiatives to stimulate the application of metabolic testing. In addition, a rising standard of living is also likely to increase awareness about health care and thus bolster sales opportunities in the market.
Technological advancements that are taking place in the healthcare or medical industry are likely to create novel growth impetuses in the metabolic testing market in the coming years.
How Is Market Growth Being Restrained to Some Extent?
"High Cost of Software & Equipment May Limit Expansion Opportunities"
The high cost of software and equipment used in the metabolic testing market is predicted to restrict growth opportunities in the years ahead. In addition, there are a few related to the reimbursement act that is projected to serve as one of the noteworthy factors to limit expansion avenues in the market.
Which Region is Leading the Global Metabolic Testing Market?
"Increased Prevalence of Lifestyle Diseases in North America Driving Sales Avenues"
Based on geographical locations, North America is anticipated to hold a dominating position in the global metabolic testing market in the years ahead. The dominance of regions is owing to the growing prevalence of diseases that are related to lifestyle.
In addition, the South Asia & Pacific and East Asia regions are expected to show rapid growth over the coming years in the global market. China and India are the two prominent countries in these two regions that are likely to contribute to growth opportunities in the regional market due to increasing demand for these solutions.
Recent Industry Development
Lumen, in March 2022, released a platform that enables its users to log as well as track the macronutrients and nutritional value of every item (volumes of protein, carbohydrates, and fats) and meal. This feature is predicted to help users to measure the direct influence of their respective dietary choices on metabolism.
Metabolic Testing Industry Report Scope
Attribute
Details

Forecast period

2022-2032

Historical data available for

2017-2021

Market analysis

USD million for value

Key regions covered

North America
Europe
Latin America
East Asia
The Middle East & Africa
South Asia & Pacific

Key countries covered

U.S.
Canada
the UK
Germany
France
Spain
Mexico
Italy
Japan
China
India
New Zealand
Malaysia
Australia
Thailand
Brazil
South Africa
Saudi Arabia
UAE

Key market segments covered

Product
Application
Technology
End User
Region

Key companies profiled

CareFusion Corporation
General Electric Company
Geratherm Medical AG
MGC Diagnostics Corporation
OSI Systems, Inc.
AEI Technologies, Inc.
Cortex Biophysik GmbH
COSMED
Korr Medical Technologies, Inc.
Microlife Medical Home Solutions, Inc.
Parvo Medics, Inc.

Report Coverage

Market Forecast
Company Share Analysis
Competition Intelligence
DROT Analysis
Market Dynamics and Challenges
Strategic Growth Initiatives

Customization & pricing

Available upon request
Metabolic Testing Industry Research by Category
By Product:
CPET Systems
Metabolic Carts
Body Consumption Analyzers
ECGs/EKGs Attachable to CPET Systems
Software
By Application:
Lifestyle Diseases
Critical Care
Human Performance Testing
Dysmetabolic Syndrome X
Metabolic Disorders
Other Applications
By Technology:
VO2 Max Analysis
RMR Analysis
Body Composition Analysis
By End User:
Hospitals
Laboratories
Sports Training Centers
Gyms
Other End Users
By Region:
North America
Europe
Latin America
East Asia
The Middle East & Africa
South Asia & Pacific