Introduction
Lentils are a part of the legume family, and considered to be a vital protein source. The protein and fiber content in lentils is high, and the fat content is low. The increasing awareness of protein-rich food products is leading to higher demand for plant protein, and subsequently growth rate of different types of protein ingredients.
The consumer behavior pattern towards food consumption is changing, which is a vital factor fueling the growth of the lentil protein market. It is an affordable and healthy plant-based protein.
The growing awareness regarding the benefits of vegan products over animal-based products in developed countries is leading to flourishing demand for this in developed countries. Consumers are seeking healthier and low-cost protein source alternatives, which improve their health.
Other plant-based protein ingredient sources such as soy and wheat, are also suitable protein sources but these contain gluten and other harmful compounds, which may not be suitable for all consumers. The intolerance towards soy and protein sources and prohibition of animal protein in diets are among the prime factors, which are expected to influence the growth of this market.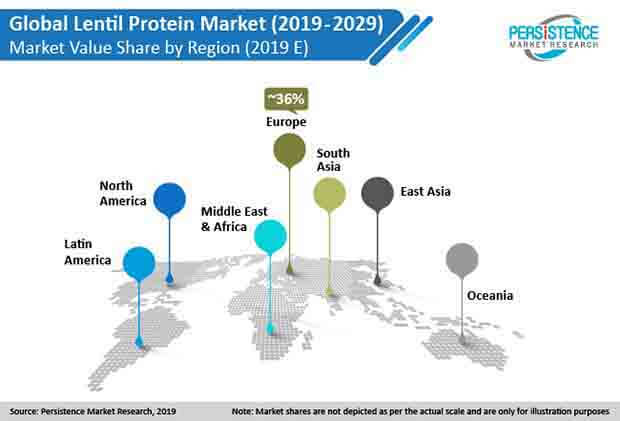 Growing Awareness of Nutritional Value and Benefits of Lentil Protein
Lentil proteins are extracted from lentils, which contain high amount of lysine, glutamic acid, arginine, and aspartic acid. Lentil is also an excellent source of essential amino acids, which are challenging to find in other plant-based protein sources. The presence of essential amino acids in improve the functionality of the immune system and prevent different types of viral infections. Lentil also contains health beneficial lysine and arginine, which are considered to be suitable nutrition for those with active lifestyle.
Furthermore, it contains sufficient amount of iron that can fulfill the requirement of iron in the body. Since consumers across the world are avoiding the consumption of red meat, the interest in plant-based products is growing, which is beneficial for the growth of this market.
Increasing Consumer Health Consciousness Driving the Demand for Lentil Protein
Health consciousness is becoming the prime objective for more number of consumers. Food products that contain synthetic colors and additives offer exciting tastes and flavors to food products but have a negative impact on the body for a long time. As consumers are becoming more aware of these additives and preservatives, they are opting for healthy food products, which can help them for maintaining good health. Most consumers are consuming functional foods, dietary supplements, and other nutritional substitutes.
Prevention of chronic diseases is also a priority for consumers, which is influencing them towards the consumption of health beneficial food. It is considered to be a vital source of nutrients such as protein, vitamins, carbohydrates, and others. It also possess disease protective properties.
Developed regions such as Europe and North America are increasingly moving towards health consciousness as the consumer base in these regions has become very proactive. Since health consciousness is a leading trend among consumers, the demand for it is also growing across the world.
Lentil Protein Use in Meat Analogues
The negative publicity of animal-based products is influencing consumers to move towards meat analogs or meat substitutes. These products contain high amount of protein with the presence of essential amino acids, and help meet the daily protein intake demand.
Sometimes the animal sources of protein are not able to provide all the essential dietary requirements, hence, consumers resort to vegan products to fulfil their dietary requirements. However, this comprises essential amino acids, which is why it is becoming a favorite substitute to meat products. Thus, the growing demand for meat analogues is also creating opportunities for the market.
Lentil Protein Market: Segmentation
The subsequent sections analyze the global market on the basis of nature, form, end use, and region to present a forecast for the period 2018–2028. The market is segmented as follows:
basis of nature
basis of form

Isolates
Concentrates
Hydrolysates

basis of end use

Food and Beverages

Bakery & Confectionery
Snacks & Cereals
Meat Additives
Beverages
Others

Infant Nutrition
Sports Nutrition
Pharmaceuticals
Animal Feed
Others

region

North America (United States, Canada)
Latin America (Brazil, Mexico, Argentina, Rest of Latin America)
Europe (Germany, U.K., France, Italy, Spain, Benelux, Nordic, Russia, Poland, Rest of Europe)
South Asia (India, Thailand, Indonesia, Malaysia, Rest of South Asia)
East Asia (China, South Korea, Japan, Rest of East Asia)
Oceania (Australia, New Zealand)
Middle East & Africa (GCC, South Africa, Rest of MEA)