Introduction
Owing to the advantages and efficiency associated with RFID-based products, the next few years are expected to witness increasing investments in the RFID industry, which will reportedly sustain in the long run. In addition to RFID-based systems, high demand for remotely accessible i.e. keyless entry systems is also being observed from several end users.
The presence of limited vendors in the market is likely to offer high opportunity for growth providing easy entry to new players foraying in the global keyless entry system market.
Growing demand for enhanced security access systems is being witnessed across healthcare and financial organizations, owing to the critical need for privacy and limited accessibility. This demand is further expected to increase in near future, which will reportedly create high-growth opportunities in the market for keyless entry systems through 2026.
In order to provide an efficient layer of security, end users have started adopting and installing keyless entry systems (especially remote access keyless entry systems, RFID proximity card reader entry systems, and keypad access systems), which, as a result, is expected to support the growth of the keyless entry system market during the forecast period. Moreover, a few recent surveys reaffirm declined theft rates in those areas that have been equipped with keyless entry systems.
North America's Hospitality Industry Gets an Upgrade with Smartphone-enabled Entry Access Systems
Increasing living standards and the demand for a seamless end-user experience in North America has led to the introduction of smartphone-enabled entry access systems in hotels and the entire hospitality sector.
Furthermore, high competition in the industry has led to increased adoption at a faster rate, which has offered an attractive opportunity to vendors. For instance, OpenKey, a recently formed smartphone application startup based in the U.S., enables guests at hotels to lock/unlock their rooms using only a smartphone application.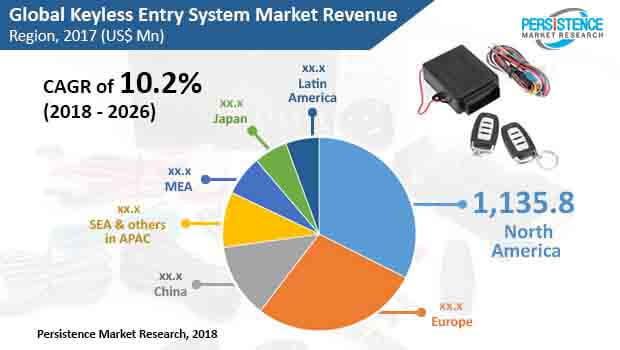 Soaring Application of Biometric Access in European Government Sector Enables the Region to Secure Second Largest Market Position
In Europe, rising adoption of biometric entry access systems is being observed in the government sector to promote border management, provide hassle-free access to authorized individuals, and help in efficient management of the workforce.
The U.K. Government verifies fingerprints using a fingerprint biometric system to grant access to individuals into the country, as a part of their border management process. Other than these, the demand for remote access entry systems is also catered with the deployment of the same, in both, the residential and hospitality sectors.
Surging Demand for Bluetooth-enabled Biometric Systems Uplifts Chinese Market for Keyless Entry Systems
Owing to the rising penetration of Bluetooth technology and burgeoning demand for remote accessibility by end users, increasing adoption of Bluetooth-enabled keyless entry systems is being witnessed from the residential segment in the region.
Various vendors have started offering the same with an intention of expanding their business, especially in the unorganized market. YGS, a local Chinese vendor of digital keyless entry systems, offers a wide product portfolio for biometric-enabled entry systems in the region.
Market Taxonomy
The global keyless entry system market has been segmented into:
End User:

Commercial
Industrial
Residential

Region:

North America
Latin America
Europe
China
Japan
SEA and others in APAC
MEA

Type:

Biometrics
Facial Recognition
Iris Recognition
Signature Recognition
Fingerprint

Recognition:

Others
Card-Based
Magnetic Stripe Cards
Proximity Cards
Smart Cards
Keypad Entry Access Systems
Remote Access
Bluetooth
Smartphones/Laptops
Others.
- Companies Covered in This Report -
ASSA ABLOY AB
Safran Group
Gemalto NV
NEC Corporation
Suprema, Inc.
Aware, Inc.
Daon, INc.
Vivint Smart Home Inc.
Anviz Global
Others.