Gourmet Salts Gaining Traction Through Futuristic Flavors and Colors
The dynamics of global economy and its effects on various industries and countries can be observed on the basis of numerous parameters. The need for industrialization across the globe has given thrust to rapid urbanization. Dynamic economies in particular face the consequences of evolving lifestyles which ultimately impact the spending behavior of consumers. Increasing affluence remains a prime booster to the growth of premium category products, one of which includes gourmet salts.
Growing availability of myriads of crystals, flavors, and colors are taking the gourmet salt market to another height. For instance, the curative properties of pink Himalayan gourmet salt or the salty aftertaste of Grey Atlantic salt are giving consumers a deliciously unique palate and giving a massive upswing to the gourmet salt market.
Its ability to impart exotic natural flavor to food items and its low sodium content will continue to fuel the demand. Moreover, high applicability in meat processing and as a preservative agent will continue to positively impact the growth of the gourmet salt market over the forecast period.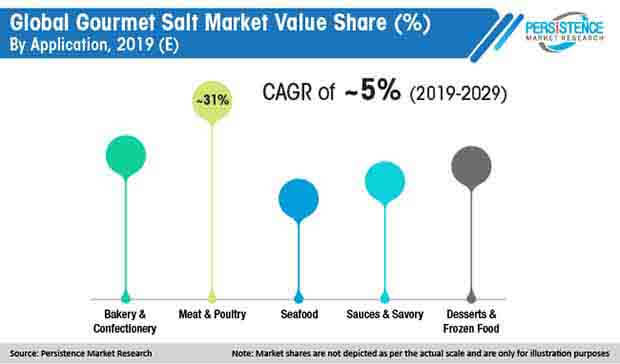 Technological Advances and Attractive Packaging Play a Crucial Role
The manufacturing of gourmet salt requires high precision processing as it is categorized in the range of premium quality salts. In order to cater to the increasing demand for high-quality food-grade salts and other gourmet salts, major players in the market are focusing on the adoption of advanced technologies for salt production. This allows manufacturers to produce high-quality gourmet salts effectively and efficiently.
Besides, manufacturers are adopting the ongoing trend of silent proportioning of products by offering gourmet salt in attractive packaging. This will help manufacturers of gourmet salt position their products in the premium segment and also help them attract more customers across the globe. In 2017, SaltWorks Inc. introduced its new product Artisan salt with three brand new packaging options that include pour spout pouches and ceramic grinder.
Asian Economies – The New Target Pockets of Investment
South Asia and East Asia are anticipated to show a higher growth rate compared to other regions. The increasing urbanization and changing lifestyle of consumers are propelling the demand for exotic foods and effectively for gourmet salt. Also, the increasing trend and popularity of gourmet kitchens and restaurants are expected to boost the gourmet salt market.
Despite having less share in the global gourmet salt market, South Asia and East Asia will be the new target markets for manufacturers of gourmet salt during the forecast period.
North America and Europe collectively account for more than 60% of the revenue represented by the global gourmet salt market. Consumers in North America and Europe have a dense cluster of multinational and local manufacturers of gourmet salt. This has increased market infiltration and market share of these two regions. North America is anticipated to grow at a CAGR ~3% and Europe is expected to grow at a CAGR ~ 4% during the forecast period.
However, gourmet salt harvesting involves high capital investment for processing, packaging, labeling, and marketing, which ultimately increases the final product cost. This additional cost associated with the processing of gourmet salt is hindering the growth of the global gourmet salt market.
Analyst's Viewpoint
The wide outlook of the gourmet salt market has led our analysts to conclude that the global gourmet salt market is emerging at a substantial rate with South Asia and East Asia holding the highest growth during the forecast period in the global gourmet salt market. An increase in innovations in technology and the development of new products coupled with attractive packaging is stimulating the demand for gourmet salt across the globe.
The market players investing in mergers & acquisitions and using their expertise in the usage of the innovative technology will provide momentum and gain profitability in the global gourmet salt market. However, the additional costs associated with the processing of gourmet salt could restrain the growth of the gourmet salt market.
Key Segments of the Global Gourmet Salt Market
PMR's study on the global gourmet salt market offers information divided into 3 important segments- product type, application and region.
Product

Coarse Salt
Flake Salt
Fleur de Sel
Indian Black Salt
Italian Sea Salt
Sel Griss Sea Salt
Smoked Sea Salt
Others

Application

Bakery & Confectionery
Meat & Poultry
Seafood
Sauces & Savory
Desserts & Frozen Food

Region

North America
Latin America
Europe
South Asia
East Asia
Oceania
Middle East & Africa
- Companies Covered in This Report -
Cargill, Incorporated
Morton Salt Inc.
SaltWorks Inc.
CK Life Sciences Int'l., (Holdings) Inc. (Cheetham Salt Limited)
Amagansett Sea Salt Co.
Murray River Gourmet Salt
INFOSA
Pyramid Salt Pty. Ltd.
The Marblehead Salt Co. LLC.
Alaska Pure Sea Salt Co.
Maldon Crystal Salt Company Limited
San Francisco Salt Company
Salty Wahine Gourmet Hawaiian Sea Salts LLC
Saltopia Artisan Infused Sea Salts
Südwestdeutsche Salzwerke AG
The Meadow (Bitterman and Sons, Inc.)
SeaSalt Superstore LLC
The Savory Pantry
Evolution Salt Co.
HEPP'S Salt Co.