Elastomeric Infusion Pumps Market Outlook (2022-2030)
Revenue from the global elastomeric infusion pumps market reached US$ 981.5 Mn in 2021. With the market projected to expand at a steady 9% CAGR, industry valuation is set to top US$ 2.1 Bn by the end of 2030.
| | |
| --- | --- |
| Elastomeric Infusion Pumps Market Size (2021) | US$ 981.5 Mn |
| Estimated Market Value (2022) | US$ 1.06 Bn |
| Projected Market Value (2030) | US$ 2.11 Bn |
| Global Market Growth Rate (2022-2030) | 9% CAGR |
| Top 5 Countries by Share | 67.5% |
Elastomeric infusion pump consumption accounted for nearly 10% share of the global infusion pumps market in 2021. As per Persistence Market Research's analysis, continuous rate elastomeric pumps accounted for a substantial share of 67.2% in the global market.
Sales Analysis of Elastomeric Infusion Pumps from 2012 to 2021 Vs Market Outlook for 2022 to 2030
Increasing prevalence of chronic illnesses is set to propel demand for elastomeric infusion pumps, wherein, continuous rate elastomeric pumps are increasingly gaining attention at healthcare facilities. Demand for elastomeric infusion pumps is primarily driven due to their wide range of applications in various fluid drug delivery systems.
In addition, increase in the number of surgeries with increased rate of hospitalized patients ultimately drive demand growth of elastomeric pump systems for postoperative pain management conditions. Moreover, use of elastomeric pumps for continuous intravenous analgesia administration in post-surgery pain management has been gaining traction.
These types of infusion pumps offer several advantages over electronic pumps, including feasibility, portability, size, less interference with sleep, and ease of use. These advantages have turned them into preferred devices for pain management in various healthcare settings.
As these facilities buy products at a low price, low charges associated with these pumps not only render them attractive but also make them the preferred option for fast-tracking patient care processes.
The global elastomeric infusion pumps market expanded at 7.4% CAGR over the past 9 years, and is expected to expand even faster over the next eight years at a CAGR of 9%.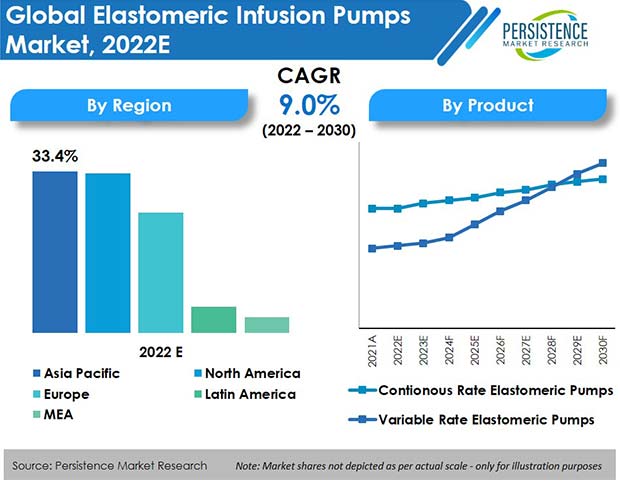 What Key Opportunities Await Elastomeric Infusion Pump Manufacturers?
"Rising Government Initiatives toward Safety, Innovative Product Bundling, and Growing Medical Tourism in Asia"
Increasing initiatives of many institutes, organizations, and associations to mend elastomeric infusion pumps and address the safety concerns will market growth. For instance, the US. Food and Drug Administration (FDA) launched the infusion pump improvement initiative to address infusion pump safety problems and foster the development of safer, more effective infusion pumps across the industry. This initiative established additional requirements for infusion pump manufacturers.
Additionally, the FDA aims to grow awareness regarding mitigating the risks associated with using existing infusion pumps by hospital staff, administrators, and home users. Furthermore, regulatory approvals and support with funding will boost demand growth of healthcare and medical device industries.
Furthermore, elastomeric pump manufacturers are gradually focusing on advancements in their existing products and innovating new products, and also introducing digital platforms to increase market penetration. Training staff to handle devices and administer drugs to patients and increased awareness would create goodwill and increased product adoption.
Affordable pricing with effective margin bargaining is a key strategy expected to uplift the sales of elastomeric infusion systems over the coming years.
For instance, SMARTeZ Chemo CS App helps eliminate human errors and improves patient safety.
Additionally, VSCAN delivers an assessment of the volume of medication remaining in the pump.
In consequence, persistent innovations and signs of progress in infusion pumps will continue driving market expansion going forward.
Medical tourism, on the other hand, also brings an opportunity for patients to receive proper quality of care at well-established medical facilities. Medical tourism in Asia is rising at a fast pace; reason being, cost-effectiveness and availability of affordable treatment options, immediate services, high-quality medical care and treatment facilities, well-connected flights, and excellent communication services.
Growing medical tourism in developing countries thus offers great opportunities for elastomeric infusion pump sales in such regions.
How are Sales of Elastomeric Infusion Pumps being Adversely Affected?
"Inaccurate Delivery and Choice of Alternatives, Vast Product Recalls, and Report Errors Hurting Market Expansion"
Despite all the advantages, many kinds of studies and literature presented that the performance of elastomeric infusion pumps varied depending on the temperature and/or viscosity of the diluent or drug library. Interestingly, a two-phase study to observe and evaluate patients receiving ambulatory chemotherapy concluded that, in 50% cases, the infusion pump did not complete the flow on time. This disrupted the treatment schedule, and in some cases, resulted in sub-therapeutic dosing.
Thus, inaccurate flow rate, inability to trace the history of the administered drug demand by the patient, and detection of abnormal drug delivery due to the absence of alarms are factors limiting product adoption. Also, availability of alternative infusion pumps can dent market growth over the coming years.
Elastomeric infusion pump devices are among the most recalled medical devices due to their design deficiency and product errors. Other errors associated with these pumps include alarm errors, software problems, inadequate user interface design, damaged components, fire, sparks, battery failure, searing, and electric shocks, which are all likely to impede demand growth of elastomeric infusion pumps going forward.
For instance, in March 2022, FDA recalled the Baxter Healthcare's SIGMA Spectrum Infusion Pump. This medical device was recalled after numerous reports of a safety alarm malfunction. The alarm on the pumps was failing to activate in the event of upstream occlusion events.
Till 2020, FDA listed around 32 separate recall entries, with infusion pumps appearing most frequently. The U.S. FDA has become stringent over the approval process of elastomeric infusion pumps, as such leading to longer mark-to-market timings, product recalls, and denials.
Country-wise Insights
Why is the U.S. a Huge Market for Elastomeric Infusion Pumps?
The U.S. elastomeric infusion pumps market dominated the North American region with a market share of 89.4% in 2021, and is expected to continue its high-growth trajectory going forward.
The U.S. projects high adoption of elastomeric infusion pumps as a consequence of the growing number of chronic diseases such as cancer. As per the Centers for Disease Control and Prevention (CDC), each year, around 650,000 cancer patients receive chemotherapy in an outpatient oncology clinic in the U.S.
Increase in the number of patients necessitating chemotherapy and analgesics has surged demand for elastomeric pumps. According to the Cancer Organization, an estimated 1.9 million new cancer cases were diagnosed in the U.S. in 2021.
Will Germany Keep Leading the Europe Elastomeric Infusion Pumps Market?
Germany dominated the Europe elastomeric infusion pumps market with a share of 25.5% in the year 2021.
In Germany, research quality and productivity is high. Additionally, establishment of advanced healthcare facilities in the country has further promoted the market stance for elastomeric infusion pumps for treatment purposes.
Will the Emerging China Elastomeric Infusion Pumps Market Be Profitable for Market Participants?
China holds 64.2% share in the Asia Pacific elastomeric infusion pumps market, which is projected to increase over the decade.
The China elastomeric infusion pumps market experienced rising demand with the advent of COVID-19. Market growth is supported by China investing 15% of revenue in research & development activities.
Category-wise Insights
Which Elastomeric Infusion Pump Type is Most Used?
Based on product, continuous rate elastomeric infusion pumps project lucrative growth at a CAGR of 9.2% and account for 2/3 share in the global.
Continuous rate elastomeric infusion pump systems allow the continuous administration of therapeutic drugs after the initial setup, which results in a steady concentration rate of flow. This type of infusion pump fits in every application, such as home care and hospitals, where continuous infusion therapy is needed.
Which Application Accounts for Most Demand for Elastomeric Infusion Pumps?
Pain management accounted for a revenue share of 46.2% in 2021, with the segment projected to hold on to this high market share through 2030.
One of the most important requirements of evidence-backed treatment is found in Acute Pain Service (APS), which would provide a wider choice of analgesic techniques and increase accountability. During marketplace discussions, most hospitals preferred the usage of elastomeric pumps over electronic ambulatory pumps and patient-controlled analgesia pumps for pain management.
Impact of COVID-19 Crisis
The onset of COVID-19 and infections projected a positive impact on the demand for elastomeric infusion pumps. This was due to increasing incidence of hospitalizations as a consequence of infections associated with COVID-19 that.
For instance, in May 2020, U.S. FDA issued an umbrella emergency use authorization for infusion pumps and accessories. The U.S. FDA issued EUA's (Emergency Use Authorization) to drive the availability of infusion pumps.
Thus, rise in usage of infusion pumps during the COVID-19 pandemic increased production rates, which is further expected to drive market growth going forward as well.
Competitive Landscape
Prominent suppliers of elastomeric infusion pumps are driving product sales either by entering into strategic agreements for collaborations and acquisitions.
Growing demand for elastomeric pumps has led manufacturers to heavily invest in the research area. Innovations by elastomeric infusion pumps manufacturers are also directed toward compliance and safety regulations, along with advancements and developments.
November 2020: Ambu Inc. entered into a contract with Intalere for pain care management solutions. Through this contract, Intalere members would receive the Ambu® ACTionTM Block Pain Pump.
February 2020: LTC Medical collaborated with Woo Young Medical. This collaboration will help the firm expand its distribution network in the Australian region as well provide scope for the generation of new technologies based on elastomeric infusion.
Elastomeric Infusion Pumps Industry Report Scope
Attribute

Details

Forecast Period

2022-2030

Historical Data Available for

2012-2021

Market Analysis

US$ Mn for Value

Key Regions Covered

North America
Latin America
Europe
Asia Pacific
The Middle East & Africa

Key Countries Covered

U.S.
Canada
Brazil
Mexico
Argentina
Germany
France
U.K.
Spain
Italy
Russia
China
Japan
India
Australia and New Zealand
South Africa
GCC Countries
South Africa

Key Market Segments Covered

Product
Treatment
End User
Region

Key Companies Profiled

Baxter International, Inc.
Fresenius Kabi AG
B. Braun Melsungen AG
Ambu A/S
Leventon, S.A.U.
Nipro Corporation
Terumo Corporation
Avanos Medical, Inc.

Pricing

Available upon Request
Key Segments Covered in Elastomeric Infusion Pumps Industry Research
Elastomeric Infusion Pumps Market by Product:
Continuous Rate Elastomeric Pumps
Variable Rate Elastomeric Pumps
Elastomeric Infusion Pumps Market by Treatment:
Pain Management
Antibiotic/Antiviral
Chemotherapy
Others
Elastomeric Infusion Pumps Market by End User:
Hospitals
Ambulatory Surgical Centers
Home Care Settings
Clinics
Others
Elastomeric Infusion Pumps Market by Region:
North America Elastomeric Infusion Pumps Market
Latin America Elastomeric Infusion Pumps Market
Europe Elastomeric Infusion Pumps Market
East Asia Elastomeric Infusion Pumps Market
South Asia Elastomeric Infusion Pumps Market
Oceania Elastomeric Infusion Pumps Market
Middle East and Africa (MEA) Elastomeric Infusion Pumps Market