Introduction
Diphenyl oxide (DPO) is an aromatic grade ether, which is also known as diphenyl ether, in which, oxygen is attached to two phenyl substituents to form the product. Diphenyl oxide is basically a colorless crystalline product that is available in solid as well as liquid form.
On a commercial scale, diphenyl oxide is used for various applications - heat transfer fluid is one of them. Other than this, diphenyl oxide is used for fragrance chemicals due to its aroma characteristics, in polymer production, in flame retardant chemicals, pharmaceuticals, and others. All these factors bode well for the expansion of the global diphenyl oxide (DPO) market size over the coming years.
Diphenyl Oxide (DPO) Market Trends
Increase in Demand for Heat Transfer Fluid: Diphenyl oxide is used as a heat transfer fluid in solid as well as liquid product forms. Heat transfer fluid is a mixture of 73.5% diphenyl oxide and 26.5% biphenyl. Over the last couple of decades, use of heat transfer fluid is increasing in automobile, oil & gas, and renewable industries. CSP plants is one of the key segments where heat transfer fluid is key consumption takes place. Due to increasing demand for heat transfer fluid demand in the global diphenyl oxide market will also see a notable increase during the forecast period.
Improvements in Market Strategies to Meet Global Demand: Globally, potential opportunities for prominent players depend on their product offerings and understanding in getting acquainted with regional schemes and marketing tactics. Additionally, an effective workforce can enhance production in terms of quality, yield, and quantity, and thus, help key players in the DPO market obtain higher market shares. Moreover, strong distribution channels can help multinational companies in the diphenyl oxide market gain a competitive edge in regional markets, and further stabilize their position at a multinational level.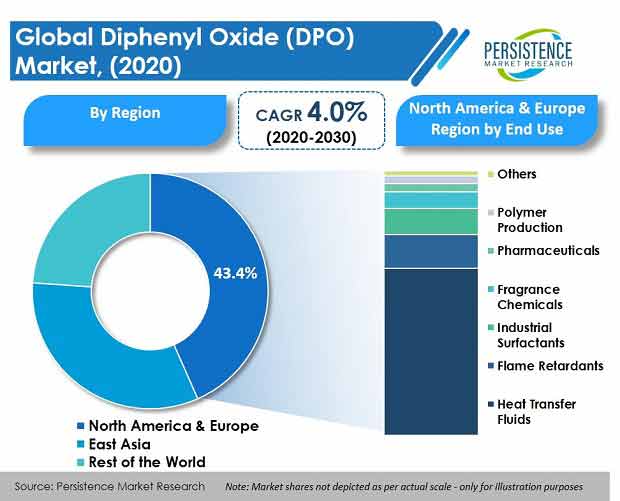 Regional Outlook of Diphenyl Oxide Market
Globally, East Asia is significantly diverse in terms of geopolitical conditions, customer base, and regulations as compared to other regions of the world. Thus, East Asia is estimated to hold a major diphenyl oxide market share in terms of value and volume, and is expected to remain dominant over the coming years. In East Asia, China is the largest producer of diphenyl oxide.
All leading manufacturers in the East Asia diphenyl oxide industry, are, to a great extent, enhancing their brand names by offering entrenched items. As such, over the coming years, East Asia will be a lucrative region in the global diphenyl oxide market.
Manufacturers' Focus: Economic Range Products
Diphenyl oxide manufacturers are continuously developing new production technologies to improve yield, minimize environmental footprint, radically reduce energy use, and improve product quality. The global DPO market is a competitive market space, where end users demand economic range of products for their end products. In order to meet this demand, manufacturers in the diphenyl oxide market are developing high quality and affordable products. This factor is also responsible for product innovation, which increases demand and sales of diphenyl oxide.
Diphenyl Oxide Market: Fairly Competitive Space
The global diphenyl oxide market is a moderately fragmented space, with several global as well as medium- and small-scale players operating in the market. Owing to the presence of a number of regional and domestic players, the DPO market is intensely competitive.
Some of the key players operating in the global diphenyl oxide market are Eastman Chemical Company, Dow Chemical Company, Lanxess, Schultz Canada Chemicals Ltd., HJ Arochem Pvt. Ltd., Radco Industries Inc., BERJE INC., Allan Chemical Corporation, Augustus Oils Ltd., Beijing LYS Chemicals Co. Ltd., Ernesto Ventos S.A., and others.
COVID-19 Impact on Diphenyl Oxide Market
Owing to the COVID-19 impact, the global supply chain of diphenyl oxide has been severely impacted, which has disrupted the overall supply of raw materials. In order to overcome this situation, key players, globally, are evaluating better automation solutions in the supply chain, which would do away with product/ raw material supply disruptions.
Moreover, key players are planning to implement innovative value chain to continue production without interruptions. Some key players have postponed their expansion plans for now. Most are striving to focus on product development through innovative production technologies.
The global economy is projected to contract sharply due to the COVID-19 crisis. As a result of the pandemic, production facilities and supply chain networks have been badly affected. The growth of the diphenyl oxide market too is projected to be affected by the COVID-19 crisis, which is expected to witness a significant drop in demand in 2020.
With a number of end-use industries shutting down or working with reduced capacity in countries such as India, China, Germany, Italy, the U.S., and U.K., amongst others, oversupply and shortage in demand are expected to result in a significant drop in Y-O-Y growth. Growth is projected to witness a sharp rise when economic activities get back to pre-crisis levels and end-use industries operate at near-full capacities.
Analysts' Viewpoint
Manufacturers in the DPO market are focused on strengthening their global supply systems to continue meeting robust demand. Substantial demand from heat transfer fluid, fragrance chemical, industrial surfactant, flame retardant, and pharmaceutical industries will set the path for market growth over the coming years. Competition in the global diphenyl oxide market is anticipated to intensify with increasing manufacturers' focus toward the development of innovative production techniques that are more economical and viable.