Introduction
Cyclodextrins are cyclic oligosaccharides consisting of glucopyranosyl units linked by α-(1,4) bonds. There are three types of cyclodextrin, namely, alpha-cyclodextrin, beta-cyclodextrin, and gamma-cyclodextrin. Beta-cyclodextrin is one of the primarily used cyclodextrins in different applications.
Besides, cyclodextrin has numerous derivatives such as hydroxypropyl-ß- cyclodextrins, nonionic cyclodextrins, anionic cyclodextrins, mono-6-(fmoc-gln-otbu)-β-cyclodextrin, methyl-β-cyclodextrin (mixture of several methylated), and others.
The availability of a high number of derivatives also increases the use of cyclodextrin in various end uses. Manufacturers is the cyclodextrin market are also increasingly introducing different derivatives for industries.
For instance, in October 2018, Cyclolab introduced 6-monoguanidino-6-monodeoxy-βCD, which is a beta cyclodextrin derivative. The product is a unique and versatile compound and can be used in different applications.
Cyclodextrin Market Drivers
Growing Inclusion of Cyclodextrin in Essential Oils: Essential oil has become a major ingredient in various industries, such as cosmetics and personal care, aromatherapy, herbal medicines, and others. Cyclodextrin is being progressively utilized by essential oil manufacturers to retain aroma.
Essential oil contains two vital components - hydrocarbon and oxygenated compound, which are responsible for the aromatic properties of oils. Furthermore, availability of phytochemicals also plays an efficient role in its biological activities.
Beta-cyclodextrin is applied in essential oils to protect them against the damaging effects of the environment, such as oxidation, degradation from heat and light, evaporation, and moisture, boding well for the expansion of the global cyclodextrin market size.
For instance, in cinnamon oil and clove oil, cyclodextrin is added from a freeze-dying method. On the other hand, in camomile oil, lemon oil, lippia gracilis oil, and black pepper oil, beta-cyclodextrin is added by co-precipitation.
Cyclodextrin Used for Environmental Protection Aiding Market Growth: Climate change has become a major concern for the world. Scientists and world leaders are welcoming all possible solutions to reduce climate change effects and protect the environment. Cyclodextrin also has a key use in environment protection, as it can reduce the amount of toxic chemicals that are generated during industrial production.
Trichlorfon, a toxic chemical, can be intoxicated after addition of cyclodextrin complexes, and 90% of toxic material can be removed. Moreover, inclusion of environmental contaminants with β-Cyclodextrin is found to be an effective solution to reduce the release of harmful chemicals into the environment. Increasing use of cyclodextrin to protect the environment is offering a growth opportunity for the cyclodextrin market space.
Increasing Usage of Cyclodextrin for Deodorants and Antiperspirants: Cyclodextrin has become a vital ingredient in deodorants and antiperspirants over the past few years. A deodorant's components contain various ingredients that increase the fragrance and odor.
Since consumers have become more concerned regarding the chemical ingredients used in deodorants and antiperspirants, manufacturers are using innovative ingredients such as cyclodextrins. Strong odor controlling abilities of cyclodextrins has increased its use as a deodorizing agent. Moreover, beta cyclodextrins and its derivatives, hydroxypropyl-ß- cyclodextrins, are mainly used to control the release of fragrances.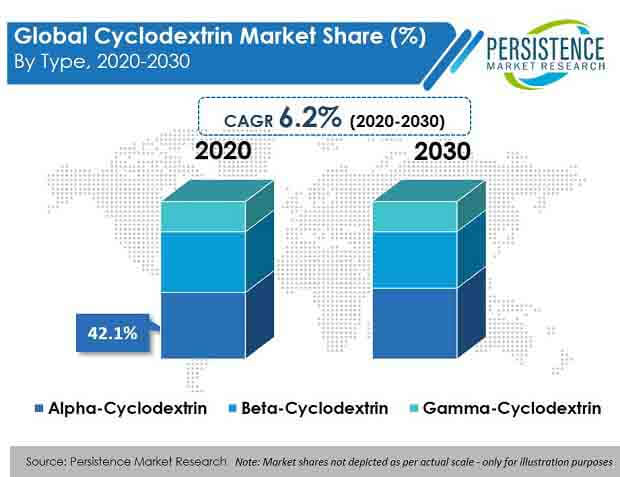 Regional Outlook of Cyclodextrin Market
North America has a prominent cyclodextrin market share, attributable to the higher utilization of cyclodextrin in various end-use industries in the region. Cyclodextrin is witnessing high demand, especially from the cosmetics and personal care industry in the U.S.
Key personal care product manufactures are adopting cyclodextrin due to its odor retention ability. European countries are also prominent producers of cyclodextrin that is used in various applications. Moreover, use of cyclodextrin in the pharmaceutical industry is also increasing in the region. Developing regions such as South Asia and East Asia are anticipated to exhibit high CAGRs in the global cyclodextrin market, attributable to higher consumption by consumer goods manufacturers and rising application in pharmaceutical products in these regions.
Covid-19 Impact on Cyclodextrin Market
The COVID-19 pandemic has hindered the global economy, and subsequently impacted the growth of various industries. Food & beverage and cosmetics & personal care industries have also experienced a slowdown in business due to decrease in sales.
Cyclodextrin has also become one of the major ingredients for the food processing and cosmetics & personal care industry, which has led to reduced use of cyclodextrin during the pandemic. Trade restriction and supply chain disruptions have also affected the growth of the cyclodextrin market. The production of cyclodextrin tool has been affected as a lot of manufacturing has been shut in Europe, China, and others.
Low production outcome could also impact the price of cyclodextrin, which is anticipated to impact the prices of finished products. Nevertheless, as lockdowns are lifted the use of food and cosmetic ingredients is expected to increase. All in all, the coronavirus pandemic is expected to have a moderate impact on the growth of the global cyclodextrin market.
Analysts' Viewpoint
The global cyclodextrin market is anticipated to exhibit significant growth, with South Asia and East Asia projected to offer beneficial opportunities during the forecast period of 2020-2030. Increasing use cyclodextrin in multiple industries is a considerable factor for the growth of the global cyclodextrin market in the foreseeable future.
Leading market players such as Roquette Frères, Cyclolab, Wacker Chemie AG, and others are focusing on business expansion and acquisitions to strengthen their position in the global cyclodextrin market. Increasing production capacity and improvement in quality are other strategies adopted by key players to gain a competitive edge in the global cyclodextrin market space.
Key Segments of Global Cyclodextrin Market
PMR's report on the global cyclodextrin market offers information divided into three segments - type, application, and region.
Type

Alpha-Cyclodextrin
Beta-Cyclodextrin
Gamma-Cyclodextrin

Application

Food Industry
Pharmaceuticals
Cosmetics & Personal Care

Skin Care Products
Hair Care Products
Antiperspirants and Deodorants

Others

Region

North America
Latin America
Europe
South Asia
East Asia
Oceania
Middle East & Africa
Key Questions Answered in PMR's Global Cyclodextrin Market
Which region will hold the highest market share in the global cyclodextrin market during the forecast period?
Which region is experiencing the highest growth (CAGR)?
Which factors are impacting the global cyclodextrin market?
What are the global trends impacting the cyclodextrin market?
What strategies must emerging players adopt to capture opportunities in various regions in the cyclodextrin market?
What is the market structure of the global cyclodextrin market?