Chaga Mushroom Market Outlook (2022-2032)
The global chaga mushroom market registered a value CAGR of 5.5% during the historical period (2017-2021). Worldwide revenue from the sales of chaga mushrooms is projected to increase at a value CAGR of 7.4%, with the market pegged at US$ 912.3 Mn in 2022 and likely to reach US$ 1.89 Bn by the end of 2032.
Inonotus obliquus, commonly known as chaga, is a parasitic fungus that primarily grows on birch trees in colder climatic regions. Chaga is a medicinal mushroom comprising unique natural substances such as mycochemicals and polyphenol due to the absorption of useful elements from the birch tree, thereby exhibiting numerous therapeutic benefits, which is helping it gain traction among various manufacturers and end-user industries around the globe.
Historically, chaga is considered a superfood and has shown various health benefits due to the presence of high antioxidants and immune boosters. As a result, there is sharp demand for chaga mushrooms in dietary supplements, healthcare, functional foods, and beverages. Moreover, the growing trend and popularity of herbal medicines, rising preference for organic and gut-healthy products, and expanding use of sports nutrition supplements are some of the prominent factors that are poised to create strong demand in the global market.
In addition, ongoing clinical trials and holistic research studies on different bioactive compounds present in chaga mushrooms aiming to prove their efficacy are also fuelling market sentiments. Thus, this variant of medicinal mushroom is anticipated to exhibit exceptional demand growth over the coming years.
| | |
| --- | --- |
| Chaga Mushroom Market Size (2022E) | US$ 912.3 Mn |
| Market Value (2022E) | 7,823 Tons |
| Projected Sales of Chaga Mushrooms (2032F) | US$ 1.89 Bn |
| Market Value CAGR (2022-2032) | 7.4% |
| Value Share of Top 5 Countries (2021A) | 49% |
Numerous Medicinal Benefits of Chaga Mushrooms on Offer
For centuries, chaga has been valued as a high medicinal and nutritional food across the globe. In many countries and cultures such as Russia, China, and Siberia it has been attributed to folk medicine. The extract from chaga, inonotus obliquus polysaccharide (IOPS), is composed of bioactive components that possess antioxidant, anti-virus, hypoglycemic, and hypolipidemic qualities.
Inonotus obliquus or chaga is a good source of β-D-glucans, specific polysaccharides that play a holistic role in the smooth functioning of the immune system. Moreover, it comprises many important substances such as phenolic compounds, triterpenes, melanin, vitamins B, K1 (folic acid), inotodiol, betulinic acid, betulin, germanium, selenium, zinc, essential minerals, amino acids, and more.
These wholesome properties help purify the body and address various problems related to the heart, liver, and tuberculosis, and act as a shield that protects against parasitic worms. Furthermore, chaga extract exhibits anti-tumor effects and has shown positive effects in fighting against cancer.
According to the World Health Organisation, cancer is the second-most leading cause of mortality across the globe, and chaga can be a beneficial mushroom to prevent and possibly treat cancer as it comprises a certain amount of betulin and betulinic acid, which can destroy cancer cells.
Thus, the high medicinal attributes of chaga mushrooms have allowed them to gain traction among healthcare and pharmaceutical manufacturers across the world who are focusing on adding these medicinal mushrooms for human welfare.
Rising Demand for Dietary Supplement Products Bolstering Use of Chaga Mushrooms
Rapidly evolving health trends, rising awareness about well-being, and immunity taking center stage have led to a tectonic shift among consumers from reactive to proactive healthcare. Moreover, the outbreak of COVID and changing lifestyles have moved consumers toward dietary supplements and there is soaring demand for nutraceutical products across the globe.
Growing consumption of dietary supplement products is anticipated to boost the demand for chaga mushrooms as manufacturers are comprehensively utilizing this superfood for various health supplement applications. Inonotus obliquus is a highly nutritious mushroom that facilitates adaptogens maintaining the natural balance in the body with positive effects on the immune system; the gastrointestinal tract, the cardiovascular system, the nervous system, and the endocrine system.
Due to the various potential health benefits of chaga, manufacturers are launching innovative and health-supporting chaga products in the form of gummies, tablets, capsules, drink mixes, and other value-added products, which is gaining a positive response from consumers. Hence, the strong demand for chaga mushrooms from the nutraceuticals sector will drive market growth.
For instance, Aloha Medicinals offers pure chaga available in capsule form, which is a unique blend of cultivated and wildcrafted chaga. It is a 100% pure chaga mushroom product comprising 300 mg of polysaccharides (60%) in every capsule, which helps balance the metabolic system.
Growing Usage of Chaga Mushrooms in Cosmetic Products
The skin constitutes the largest living organ that protects the human body from the external environment, and using appropriate skincare products is now a key part of evolving lifestyles. Furthermore, the personal care industry has matured over time and is projected to register exponential growth over the coming years. This has induced a positive growth outlook for the overall market for chaga mushrooms.
Inonotus obliquus is composed of essential minerals, including zinc, copper, magnesium, selenium, and potassium, coupled with vital vitamins that provide multiple skincare benefits. Chaga mushroom is a natural antioxidant and anti-irritant with melanin that can be utilized in several skincare applications as an ingredient, additive, and active agent.
As a result, cosmetic manufacturers are utilizing chaga mushrooms for various beauty care purposes to provide protection from free radicals that contribute to cell damage, aging, and wrinkle formation. Moreover, bioflavonoids found in chaga exhibit astringent properties that tighten the skin and provide additional anti-wrinkle benefits.
Personal care companies have been pioneers in the utilization of mushrooms as skin elixir has several skincare benefits. Thus, the numerous applications of chaga mushrooms in personal care and cosmetic products will drive their demand over the years ahead.
For instance, in 2019, BASF launched Inolixir, a bioactive ingredient for healthy skin. The active ingredient used in it is a 100% natural extract from chaga mushrooms, which fortifies the skin's natural protection system.
High Oxalate Level in Chaga May Hinder Demand Growth
Chaga mushroom has been utilized for medicinal purposes for a long time. However, while it shows some promising benefits, there are also some restraining factors associated with its consumption. The chaga mushroom contains a high level of oxalate, which might cause health concerns among consumers. People may suffer from or are at risk of developing kidney stones and might develop osteoporosis disease.
Oxalates naturally occur in food that is usually soluble or insoluble. Insoluble does not cause any concern to the body, while soluble produces negatively charged ions known as anions, which pass through the bloodstream. These then get mixed with free calcium to produce calcium oxalate crystals, which might result in an increased risk of developing kidney stones and physical harm to the kidneys.
Moreover, soluble oxalates can lower calcium levels required for supporting bone mass. This becomes a concern for people who are suffering from bone health issues. Thus, the numerous side effects of chaga can hinder the sales growth of chaga mushrooms to some extent.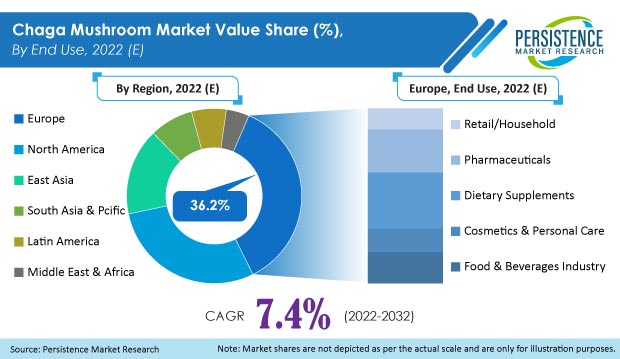 Country-wise Insights
Europe – Leading Regional Market for Chaga Mushrooms
Europe accounts for the highest share in the global chaga mushroom market with the market valued at around 330 Mn in 2022 and is projected to expand at a CAGR of 7% through 2032.
The utilization of chaga mushrooms in the retail/household is growing at a steady rate owing to their high usage in functional beverages in the region.
China Spearheading East Asia Market Growth
In the East Asian market, China accounts for a major share of the market with an expected value CAGR of 8.4%. The market in China is expected to reach a value of US$ 179.8 Mn by 2032 as the production of chaga mushrooms is growing increasingly. This will also lead to increasing chaga mushroom processing facilities to cater to the growing demand across the country.
Category-wise insights
Higher Preference for Powder Chaga
Based on form, powder or dry chaga is widely consumed and holds a market volume share of more than 55% in 2022. Owing to its high therapeutic and nutritional properties that help to support the immune system, the segment is expected to grow at a volume CAGR of 7.1% over the decade.
Substantial Consumption of Chaga Mushrooms in Nutraceuticals Industry
Based on end use, the market for chaga mushrooms is segmented into the food and beverage industry, cosmetics and personal care, pharmaceuticals, dietary supplements, and retail/household, of which, chaga mushrooms are widely used in the nutraceuticals industry.
The market value share of dietary supplements in the chaga mushroom market is around 32%, which is projected to reach US$ 625.9 Mn by the end of 2032. Medicinal mushrooms such as reishi mushrooms and chaga mushrooms are majorly utilized in dietary supplements owing to the presence of natural bioactive compounds, which can be consumed in the form of tincture, powder, or capsules.
Competitive Dashboard
Manufacturers of chaga mushrooms are setting industry standards to maintain product quality and are focusing on clinical trials, in-depth studies, and research activities to prove the efficacy of chaga mushrooms.
Hangzhou Muhua Bio-Tech Co., Ltd stringently follows HACCP (Hazard Analysis Critical Control Point) regulations, which ensures consistent product quality throughout the manufacturing process and assures the safety of extract, while retaining the purity of chaga mushrooms.
Barrington Chemical Corporation's Feno-chaga is a high-concentrate organic extract and Evian Heath Company conducted a study on it to elucidate how this extract works in humans.
Chaga Mushroom Industry Report Scope
Attribute

Details

Forecast period

2022-2032

Historical data available for

2017-2021

Market analysis

USD million for Value
Tons for Volume

Key regions covered

North America
Latin America
Europe
South Asia and Pacific
East Asia
The Middle East & Africa

Key countries covered

U.S.
Canada
Brazil
Mexico
Argentina
Germany
U.K.
France
Italy
Spain
Russia
China
Japan
South Korea
India
GCC Countries
Turkey
Northern Africa
South Africa

Key market segments covered

Nature
Form
End Use
Distribution Channel
Region

Key companies profiled

Fungi Perfecti, LLC
Baikal Herbs Ltd.
Annanda Chaga Mushrooms
Bioway (Xi'an) Organic Ingredients Co. Ltd
Chaga Mountain, Inc.
Eartherbs L.L.C
Aloha Medicinals Inc.
Oregon Mushrooms LLC
Nammex
Mahogany Organics Pvt. Ltd
The Chaga Mushroom Company
NutraCap Labs
Canadian Pine Pollen Company.
The Brainfood Mushroom Company
Vitaforest
Touchwood Mushrooms
The Land of Organic Beauty
Birch Boys
The Land of Organic Beauty.
Biosan Biotech Co., Ltd
Hunan Huakang Biotech Inc.
Xi'an Healthful Biotechnology Co., Ltd
Half Hill Farm.
Chi Chaga Foods
Fat Fox Mushrooms
Pure Nordic

Report coverage

Market Forecasts
Company Sare Analysis
Competition Intelligence
DROT Analysis
Market Dynamics and Challenges
Strategic Growth Initiatives

Customization & pricing

Available upon request
Chaga Mushroom Industry Research by Category
By Nature:
By Form:
By End Use:
Food and Beverage Industry
Cosmetics and Personal Care
Pharmaceuticals
Dietary Supplements
Retail/Household
By Distribution Channel:
Business to Business
Business to Consumer

Hypermarkets/Supermarkets
Convenience Stores
Specialty Stores
Online Retail
By Region:
North America
Latin America
Europe
South Asia and Pacific
East Asia
Middle East & Africa