Ammonia Market Outlook (2022-2032)
The global ammonia market is expected to reach a valuation of US$ 122.4 Bn in 2022, registering a Y-o-Y growth of approximately 4.6%. Worldwide sales of ammonia are projected to exhibit a CAGR of 4.7% over the 2022-2032 forecast period.
As per the research conducted by Persistence Market Research, global ammonia consumption is expected to reach a value of US$ 193.7 Bn by the end of 2032. The South Asia and Pacific market is anticipated to remain a key regional market in the ammonia business owing to high consumption in India and ASEAN countries, and the market is forecast to expand at a CAGR of 5.5% over the decade.
Worldwide sales of ammonia account for around 40% to 45% of the global industrial gas market.
| Attribute | Key Insights |
| --- | --- |
| Ammonia Market Size (2021A) | US$ 117 Bn |
| Ammonia Market Estimation (2022E) | US$ 122.4 Bn |
| Market Forecasts (2032F) | US$ 193.7 Bn |
| Value CAGR (2022-2032) | 4.7% |
| Collective Value Share: Top 3 Countries (2022E) | 44.5% |
Consumption Analysis of Ammonia (2017 to 2021) Vs. Market Outlook (2022 to 2032)
Over the past few years, the global market for ammonia witnessed year-over-year growth of around 3.7% to 4.2%.
High demand for fertilizer production and manufacturing of industrial explosives have resulted in considerable consumption of ammonia. The market has been predominantly influenced by certain macro-economic factors such as growing population, growth in the agricultural sector, and expanding mining industry, among others.
Higher demand for the production of fertilizers over the coming years will reflect a growth rate of around 4.7% CAGR between 2022 and 2032, on a value basis.
The market was significantly impacted by the emergence of COVID-19 in 2020. This impacted the demand for ammonia in the chemical industry and fertilizer production in certain regions.
In the past year, owing to supply constraints, the prices of ammonia skyrocketed as demand remained significant across the world. Further, an increase in the pricing of natural gas and other commodities due to the ongoing Russia -Ukraine conflict impacted the prices of ammonia. This rise in pricing resulted in a significant increment in the value of ammonia across the world.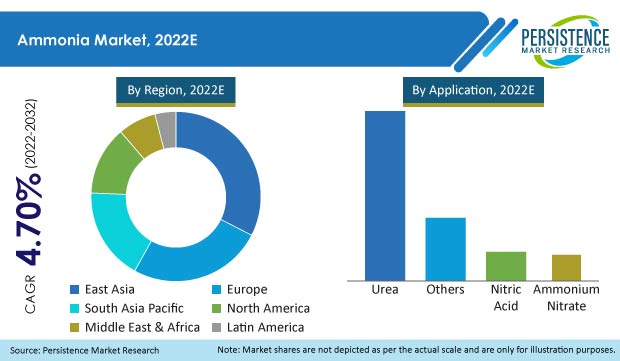 Why is Demand for Ammonia Going Northward?
"Expanding Agricultural Sector Driving Ammonia Usage"
The agricultural sector is witnessing significant growth across the world due to the growing demand for producing crops of better quality and quantity and with a higher yield.
The agriculture sector contributes a fair share to a country's GDP, especially in developing countries. Growing agriculture leads to a higher requirement for various agrochemicals such as fertilizers (urea, MAP, DAP, etc.), which indirectly leads to the growing need for ammonia.
Demand for fertilizers is increasing steadily and has increased the consumption of ammonia, which, in turn, will raise the value of the ammonia market over the forecast period. Further, subsidies provided by governments for fertilizers will also benefit farmers and increase the demand for ammonia across regions.
"Emerging Trend of Green Ammonia to Create Significant Opportunities"
Several manufacturers are shifting their production technology to reduce carbon emissions and decrease hazard generation from their production plants. Key players are opting for the production of green ammonia to reduce greenhouse gas emissions and global warming, and have pledged to achieve net-zero emissions in the near future.
Green ammonia can be manufactured using air and water by means of clean renewable energy. However, green ammonia should not be confused with brown ammonia, which is manufactured from coal and other fossil sources.
Green ammonia offers various benefits and will thus create great opportunities for ammonia manufacturers. This is expected to influence the demand for green ammonia over brown ammonia as the years go by
What is Hindering Market Growth of Ammonia?
"Demand-Supply Gap & Over Usage of Fertilizers"
Demand for ammonia for various applications is more than its in-house production in certain regions. As a result, these regions are highly dependent on imports. To fulfill its demand, North America has to import ammonia, and consequently, the region has to face various problems such as price fluctuations and a deficit in sources, which restrains the ammonia market to some extent.
Furthermore, the regular use of chemical fertilizers and pesticides has resulted in a substantial decrease in the quality of soil across the world. As a result, to meet the increasing demand for sustainable methods of agriculture by decreasing hazards generation and carbon emission, the demand for organic fertilizers is increasing.
With the increasing demand for organic fertilizers, market growth of inorganic fertilizers is facing challenges. Impact on market growth of inorganic fertilizers, including urea and phosphate-based fertilizers, is anticipated to hamper the consumption of ammonia, as a prominent share of ammonia is used in the production of fertilizers.
Country-wise Analysis
Why is China an Important Market for Ammonia?
China is a prominent manufacturer and consumer of ammonia in the world. Substantial production volume of fertilizers in the country has driven the consumption of ammonia, which is also backed by high manufacturers' presence in the country.
China is estimated to manufacture around 48 million tons of ammonia each year, whereas, the demand for ammonia in the country is around 43 million tons.
Development in the industrial sector in the country has resulted in the substantial supply and demand capability of ammonia in the past few years. Initiatives taken by the government to develop the industrial sector in the country have benefited the chemical industries, including the fertilizers and agricultural sector.
Will India Drive the Stance of Local Ammonia Manufacturers?
India is an emerging market in South Asia and Pacific, where the contribution of the agricultural sector to its GDP growth is high. There are numerous government initiatives to promote the growth of the agricultural industry. One such initiative offers subsidies on fertilizers, including N, P, and K fertilizers, to increase crop output.
For instance, government subsidy on N-fertilizers was INR 20.8 per Kg and on P-fertilizers was INR 18.6 per Kg, which substantially affected farmers' preference toward nitrogen fertilizers.
Thus, higher subsidy on N-fertilizers is driving the demand for ammonia, as ammonia is a major component of nitrogen fertilizers such as urea, MAP (Mono-Ammonium Phosphate), and DAP (Di-ammonium Phosphate). With such subsidies, farmers buy higher amounts of fertilizer, thereby increasing the consumption of ammonia.
As the growing population needs a higher quantity of crop production, demand for ammonia in India will remain significant over the coming years.
Category-wise Insights
What's Driving High Demand for Anhydrous Ammonia?
The anhydrous ammonia segment's share is expected to be on the higher side due to high demand for the product, owing to its abundant availability and availability in the gaseous form.
Further, key suppliers of ammonia are expected to provide strength to their value chain through downstream production and by maintaining long-term contracts with end users.
The segment is expected to expand at a significant CAGR of 5.3% during the forecast period. Further, strong consumption of fertilizers, including nitrogen-based and phosphate-based fertilizers, is expected to drive the demand for anhydrous ammonia over the forecast period
Which Application of Ammonia is Set to Bring in Higher Revenue Streams?
The urea segment is considered to be a prominent segment with high market attractiveness. The segment is expected to create an incremental dollar opportunity of US$ 36.23 Bn during the forecast period of 2022 and 2032.
This can be attributed to the higher use of fertilizers in many regions to enhance the quality and quantity of crop yield. As the agricultural sector is growing across the world due to the increasing population and rising urbanization, demand for agrochemicals, especially fertilizers, is also increasing, which, in turn, is increasing the demand for ammonia.
Competitive Landscape
Prominent market participants are focusing on the expansion of their production capacities to cater to growing demand from end users. To enhance their market dominancy, they are acquiring other ammonia manufacturers to increase their consumer base.
Several manufacturers are opting for the production of green ammonia and are shifting their technology for this purpose instead of manufacturing brown ammonia.
Some of the key market developments are:
In May 2022, Mitsui & Co., Ltd., one of the key manufacturers of ammonia, and CF Industries Holdings, Inc., one of the largest manufacturers, announced a collaboration on the development of a greenfield ammonia plant in the United States.
In May 2022, Nutrien Ltd. announced that it is considering Geismar, Louisiana as a potential location for the world's largest clean ammonia facility.
In May 2022, Air Products, OQ and ACWA Power collaborated and signed a joint development agreement to set up a green hydrogen-based ammonia production facility.
Similarly, other key developments related to companies manufacturing ammonia have been tracked by the team at Persistence Market Research, which are available in the full report.
Ammonia Industry Report Scope
Attribute
Details

Forecast Period

2022-2032

Historical Data Available for

2017-2021

Market Analysis

US$ Mn for Value
Kilo Tons for Volume

Key Regions Covered

North America
Latin America
Europe
East Asia
South Asia & Pacific
The Middle East and Africa

Key Countries Covered

U.S.
Canada
Brazil
Mexico
Germany
U.K.
France
Italy
Spain
Russia
China
Japan
South Korea
India
ASEAN
Australia and New Zealand
GCC Countries
Turkey
Northern Africa
South Africa

Key Market Segments Covered

Product Form
Production Process
Application
Region

Key Companies Profiled

CF Industries Holdings, Inc
Potash Corp
Orica Limited
Incitec Pivot Ltd
Mitsubishi Gas Chemical Co., Ltd.
Praxair, Inc.
Achema AB
Linde Group
Jiangsu Huachang Chemical Co. Ltd.
Koch Fertilizer LLC
SABIC
BASF SE
The Dow Chemical Company
Toggliazot PJSC
OCI Nitrogen
Haifa Chemicals Ltd.
CNPC (China National Petroleum Corporation)
Trammo Inc
Haldor Topsoe A/s
Yara International ASA

Pricing

Available upon Request
Key Segments Covered in Ammonia Industry Research
Ammonia Market by Product Type:
Anhydrous Ammonia
Aqueous Ammonia
Ammonia Market by Application:
MAP (Mono-ammonium Phosphate)
DAP (Di-ammonium Phosphate)
Urea
Nitric Acid
Ammonium Phosphate
Ammonium Nitrate
Others
Ammonia Market by End Use:
Industrial Chemicals
Agrochemicals
Explosives
Others (Electronics)
Ammonia Market by Region:
North America Ammonia Market
Latin America Ammonia Market
Europe Ammonia Market
East Asia Ammonia Market
South Asia & Pacific Ammonia Market
Middle East & Africa Ammonia Market