Local and Foreign Investments in Mining Sector
Growing mineral extraction activities are fueling the global demand for xanthates in mining purposes. Moreover, rising inclination of foreign investors in the mining industry is, in turn, boosting the growth of xanthates market. Various governments are strongly supporting the mining sector by permitting foreign investments in mining projects.
Total investment in the mining sector in Mexico reached US$ 14.6 Bn collectively in 2012 and 2013. Mining companies and governments in developing countries of Latin America, such as Chile, Brazil, Mexico, and Peru, are aiming to tap on a majority of mineral resources through mining to drive economic growth of the respective countries.
In January 2015, the government of Peru invested approximately US$ 6.2 Bn on mining projects to increase the extraction capacity of minerals, including zinc, copper, and gold. Furthermore, mining firms are focusing more on extracting minerals from underground mines rather than open-pit mines to reach mineral-rich resources deep inside the earth. Minerals extracted from deep down require reagents for more processing, which will fuel the growth of the xanthates market.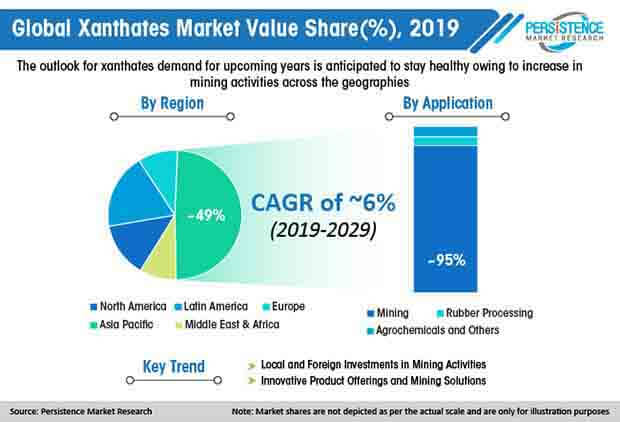 Cyclical Nature of Global Mining Industry
Global mining industry is cyclic in nature, characterized by bust and boom phases that occur on an average every seven to nine years. Growth of the global mining industry is strongly correlated to the overall global economic growth. Relatively slow economic growth observed in North America, specifically in the U.S. - a major consumer of commodities and minerals, has in turn resulted in subdued growth in the global mining industry over the recent past.
Moreover, commodity prices have witnessed a significant downward trend, primarily due to relatively low demand in key mineral-consuming regions across the globe.
However, the mining industry in North America is projected to grow considerably during the forecast period and mining companies have shifted focus toward extraction of ores through deep underground reserves. Thus, for processing ores and minerals from deeper deposits, there has been increasing requirement for xanthates for the flotation process. This factor is expected to fuel the growth of xanthates market.
The mining sector accounts for a major share in the overall xanthates market. The aforementioned factors are expected to have positive impact on the growth of xanthates market. As such, the North America xanthates market is slated to witness substantial growth, especially during the second half of the forecast period.
Availability of Cheaper and Safer Alternatives
There are certain limitations with the use of xanthates in the mining industry. These limitations are pertaining to the safety, health, and environmental issues related to the usage of xanthates. Xanthates being combustible, self-ignite/explode and release toxic gases such as carbon disulfide during usage, storage, and shipment. This factor is expected to have an impact on the growth of xanthates market. As a result, manufacturers are focusing on the use of sustainable methods for mining.
For instance, Cytec XR series, which are flotation reagents, are used as replacements for xanthates, which combat the stability and other environmental issues related to xanthates.
Though there are alternatives available for xanthates, in the current scenario they hold a smaller percentage, i.e., <5%, as compared to xanthates. The major reason being the popularity of xanthate usage and the lower cost and easier availability.
Capacity Expansion and Raw Material Supply Security
Over the recent past, demand for xanthates has registered steady growth. Moreover, this trend is expected to continue during the forecast period. In order to cater to the growing demand for xanthates from end-use industries, such as agrochemicals, rubber processing, and mining applications from regions across the globe, manufacturers are focusing on strategically expanding their capacities.
In 2016, Senmin International (Pty) Ltd. invested US$ 6.1 Mn for capacity expansion of xanthates by 4000 tons/year. Moreover, over the recent past, efforts have also been directed toward providing a stable supply and access to basic raw materials such as amyl alcohol and others.
Moreover, existing supply of raw materials and volatility in prices of raw materials are some of the factors that are expected to prompt key xanthate manufacturers to strengthen access to such key raw materials.
Analyst's Viewpoint
The market is growing at a significant rate, with Asia Pacific holding a prominent share of the global xanthates market. There has been a significant increase in production as well as consumption of xanthates in the region.
China holds the dominant share in the APAC as well as global xanthates market with a large number of xanthate manufacturers in the region. Rising number of prominent market players as well as increasing local and foreign investments in mining activities will positively impact the xanthates market.
The xanthates market is characterized by the presence of few key players from North America, Europe, and Asia Pacific. The mining segment in the xanthates market is anticipated to dominate the global xanthates market over the forecast period. Collaborations, along with merger and acquisition activities by major market participants, will also push the xanthates market growth.
Key Segments of the Xanthates Market
PMR's study on the xanthates market is divided into three significant segments- product type, application, and region. This report offers comprehensive data and information about the important market dynamics and growth parameters related to these categories.
Product

Sodium Ethyl Xanthate
Sodium Isopropyl Xanthate
Sodium Isobutyl Xanthate
Potassium Amyl Xanthate
Others

Application

Mining
Rubber Processing
Agrochemicals and Others

Region

North America
Latin America
Europe
Asia Pacific
MEA
Key Questions Answered in PMR's Xanthates Market Report
Which region is anticipated to hold a prominent market share over the forecast period?
What will be the key driving factors propelling the demand for xanthates during the forecast period?
How current trends will impact the xanthates market?
Who are significant market participants in the xanthates market?
What are the crucial strategies of prominent players in the xanthates market to upscale their positions in this landscape?