Large-scale Infrastructure Projects and Increasing Investments in Asia Pacific to Create Demand
Manufacturers in the industrial gases market are expected to gain significant opportunities by focusing on countries such as China and India in the Asia Pacific, attributable to increasing capital expenditure for construction activities and mega infrastructure projects planned in the region in the foreseeable future.
Ongoing investments in large-scale infrastructure projects and rampant investments in core industrial sector is expected to drive demand for industrial gases through 2029. Various initiatives in the form of tax relaxations, pliable regulations, low cost land, and access to resources have been taken by central and state governments to increase industrial penetration in respective regions.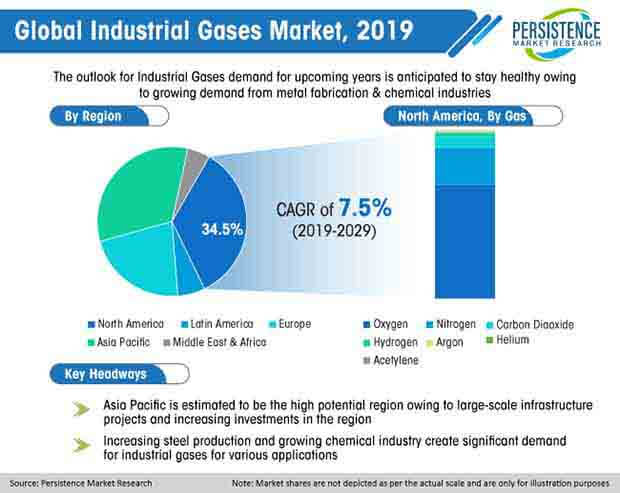 High Demand for Oxygen to Propel Growth of Global Industrial Gases Market
Industrial oxygen is among the most consumed gas and is present in the main streamline of several industries, mainly in steel manufacturing and healthcare sector. Steel manufacturers use oxygen to enhance furnace performance by enrichment of furnace air, while the medical sector uses oxygen at different stages of treatment and in medical devices.
Growing steel production and increasing healthcare expenses at a global level are creating opportunities for product innovation and expansion.
Various players in the global are offering with innovative products for targeting the customers from medical industry. Small oxygen concentrators that are portable and can be used for the patients with chronic respiratory disorders and in emergency medical kits are gaining popularity.
Healthcare and Technical Applications to Boost Demand for Industrial Gases
Elderly demographic has been growing considerably at a high rate at a global level. Governments worldwide are planning to invest significant amount towards improvement of healthcare services, also allowing 100% FDI in the medical device sector.
Owing to this, the healthcare industry in India is experiencing vast infrastructural changes. Additionally, in the healthcare industry, industrial gases are used for respiratory applications and various cryogenic and surgical applications. Rapid growth of the healthcare industry is estimated to create high demand for industrial gases during the forecast period.
Competition Analysis
The global industrial gases market is highly consolidated owing to the presence of limited players across the globe. Tier-1 players account for around half of the market share in the global industrial gases market. Key players in the global industrial gases market are constantly enhancing their manufacturing capabilities by expanding existing processing facilities. Manufacturers focus on strategic agreements or contracts with end-use industries for the supply of industrial gases.
In April 2017, Air Liquide signed a long-term contract with Oman Oil Refineries and Petroleum Industries Company (Orpic), the national refining company of Oman. As per this contract, Air Liquide would supply nitrogen to the Liwa Plastics Industries Complex (LPIC).
Analyst's Perspective
Our analysis suggests that the F&B industry is rapidly emerging as a lucrative target for industrial gases manufacturers. F&B industry operators must ensure that their product offerings are packaged and transported in modified environments, as these are sourced from distant locations. Industrial gases are used for such applications in F&B industry. Growing demand for carbonated drinks is expected to significantly contribute to the growth of industrial gases market over the forecast period.
Key Segments of the Industrial Gases Market
PMR's study on the industrial gases market is divided into three segments- gas type, application, and region. This report offers comprehensive data and information about the important market dynamics and growth parameters related to these categories.
Attribute
Details
Gas Type

Oxygen
Nitrogen
Helium
Acetylene
Argon
Hydrogen
Carbon Dioxide

Application

Metal Manufacturing and Fabrication
Healthcare
Automotive & Aerospace
Electronics
Energy, Oil, & Gas
Food & Beverage
Pulp & Paper
Chemicals
Pharmaceutical & Biotechnology
Other Industrial

Region

North America
Latin America
Europe
Asia Pacific
Middle East & Africa (MEA)
Key Questions Answered in PMR's Industrial Gases Market Report
Which region is anticipated to hold a prominent market share over the forecast period?
What will be the key driving factors propelling demand for industrial gases during the forecast period?
How will current trends will impact the industrial gases market?
Who are significant market participants in the industrial gases market?
What are the crucial strategies of key players in the industrial gases market to improve their market positions?
- Companies Covered in This Report -
Air Liquide S.A.
Linde plc
Air Products and Chemicals, Inc.
Taiyo Nippon Sanso Corporation
Messer Group GmbH
India Glycols Ltd.
Abdullah Hashim Industrial Gases & Equipment Co. Ltd
Yateem Oxygen
Buzwair Industrial Gases Factory
Dubai Industrial Gases
Gulf Cryo
Ellenbarrie Industrial Gases Ltd.
Bristol Gases – Concorde Corodex Group
SICGIL INDIA LIMITED
Bhuruka Gases Ltd.
National Industrial Gas Plants - Mohammed Hamad Al Mana Group
The Southern Gas Ltd.
Tripti Gases Pvt. Ltd.
Mohsin Haider Darwish LLC