Residential buyers to outnumber corporate buyers in the global ready-to-move-in luxury homes market
The global ready-to-move-in-luxury homes market consists of end users such as residential buyers and corporate buyers. Residential buyers in the scope of this report refers to those luxury residential property buyers, whose purpose of purchase is either for personal residency or for investment.
Corporate buyers in the scope of this report refers to corporate organizations that purchase luxury residential properties for organizational purposes, such as employee short term stay and for organizational investment. According to the market analysis presented in the research report by Persistence Market Research, the residential buyer segment leads the market with a projected market value of over US$ 670 Bn in 2025, witnessing a robust CAGR of 7.0%.
The corporate buyer segment is estimated to hold a market value of over US$ 250 Bn in 2025, with a comparatively lower CAGR of 6.1% during the forecast period of 2017-2025.
Factors leading to the increase in residential buyers for ready-to-move-in luxury homes
There are a lot of factors contributing to the rise in the number of residential buyers in the global ready-to-move-in luxury homes market. One of the main reasons is people's growing preference towards luxury amenities, especially in the U.S. Global political instability and the potential weakening of the U.S. dollar creates opportunities for wealthy buyers who are looking for reliable places for real estate investment, which include New York City's super luxury housing market, where homes are sold at US$10 million or more.
Single-family homes in residential areas such as Bel Air, Brentwood, and Beverly Hills dominate the luxury market in Los Angeles. Buyers of super-prime properties prefer private entrances, spa and wellness offerings, and five-star hotel services. U.S. metropolitan cities offers expensive and luxurious homes that will continue to attract the world's ultra-wealthy population, as buyers are becoming more perceptive in their search for the best location and amenities. This increase in demand for luxurious amenities is creating demand for ready-to-move-in luxury homes in the U.S.
Crypto currencies is also considered as a driver of the global market revenue growth. There is a major shift in residential real estate as more people are looking to engage in property transactions using cryptocurrencies that offer quicker and more efficient transactions, among other benefits.
Cryptocurrencies and smart contracts also aid in improving transparency, speed and security of property transactions. Peer-to-peer digital transactions are especially compelling in markets where international sales are common because they are instantaneous and remove the need for currency conversions and transfers between foreign banks, which can take weeks or in some cases months.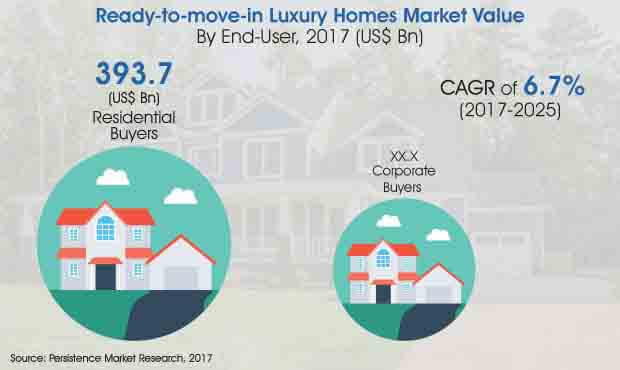 Business travels increase the demand from corporate buyers in the ready-to-move-in luxury homes market
Although resident buyers outnumber corporate buyers in the ready-to-move-in luxury homes market, some factors are helping boost the demand from corporate buyers in the market. Consumers staying in urban and sub-urban areas, especially in regions like Latin America, are significantly impacting the progress of the economy and levels of corporate mobility, due to which business and leisure travel will continue to escalate.
Business travel is the major source for serviced apartments as global spending in this category is rising at a high pace. Also, the relocation of working professionals can be a positive sign for the market. In a country like India, the service sector is one of the fastest growing in the world, attracting numerous working professionals from across the world to come here for work purposes.
Now-a-days both national and international working professionals in the service industry are relocating from city to city for their official work, for longer or shorter periods of time. It is observed that these professionals prefer ready-to-move-in apartments, as these are less expensive in comparison to hotels and also ensure privacy, along with all the other benefits of luxurious hotel stays. Such relocations of working professionals throughout the globe to India is driving the sales of ready-to-move-in luxury homes in the country.
Segmentation of the ready-to-move-in luxury homes market
Attribute
Details

By Type of Home

Super Luxury Homes
Luxury Homes

By Unit Size

1,000-3,000 Square Feet
More than 3,000 Square Feet

By End User

Residential Buyer (Individual)
Corporate Buyer

By Region
- Companies Covered in This Report -
Houzz Inc.
HomeAdvisor, Inc.
The Porch Company, Inc.
Livspace
Algedra Group
Al Zaher Interiors
Others