Polycystic Ovary Syndrome (PCOS) Treatment Market Outlook (2022-2032)
The global polycystic ovary syndrome (PCOS) treatment market was valued at US$ 3.82 Bn at the end of 2021 and is estimated to evolve at a CAGR of 4.7% to reach a valuation of US$ 6.31 Bn by 2032.
Persistence Market Research reveals that polycystic ovary syndrome treatment accounted for approximately 19.7% revenue share of the global gynecology drugs market in 2021.
Demand for PCOS treatment recorded a CAGR of 3.1% from 2015 to 2021. A complex endocrine condition, polycystic ovarian syndrome (PCOS) is characterized by ovarian cysts, subfertility, and endocrine variance in women.
According to estimates by the World Health Organization (WHO), PCOS affected more than 116 million women globally (3.4%). Of U.S. women of reproductive age, PCOS accounts for 6% to 12% (up to 5 million cases), making it one of the most prevalent reasons for female infertility.
The Centers for Disease Control and Prevention states that women with PCOS are frequently insulin resistant, meaning that although their bodies can produce insulin, they are unable to effectively utilize it, which raises their risk of developing type 2 diabetes. Females also have elevated amounts of androgens, which are male hormones that can inhibit ovulation and can lead to irregular menstrual cycles, acne, thinning hair on the scalp, and excessive hair growth on the body and face called hirsutism.
In postmenopausal women, PCOS persists with hyperandrogenism far after menopause and continues to show metabolic changes, including metabolic syndrome with an increased risk of cardiovascular disease. Therefore, postmenopausal women who had PCOS in the past during the years of conception may, in any case, show symptoms of the illness.
Recently, significant progress has been made in the reduction of pathogenic elements, and, as a result, has bettered the diagnosis and treatment of PCOS. PCOS treatment is to be suggested not just to lessen the symptoms but also to prevent the development of long-term consequences. The usual strategy to reduce androgen levels, manage symptoms, and provide endometrial protection is to combine oral contraceptives and anti-androgens.
Apart from the above-mentioned factors, PCOS treatment is mostly related to lifestyle changes in women, changing dietary habits, overworking, less rest during their fertile period, and also smoking and alcohol consumption.
| | |
| --- | --- |
| PCOS Treatment Market Size (2021) | US$ 3.82 Bn |
| Projected Market Value (2032) | US$ 6.31 Bn |
| Global Market Growth Rate (2022-2032) | 4.7% CAGR |
| Market Share of Top 5 Countries | 53.1% |
What Opportunities Await PCOS Drug Manufacturers?
"Changes in Female Lifestyles Leading to Increased Incidence of PCOS"
PCOS is a well-known lifetime condition. Therefore, it is important to encourage a specific diagnostic strategy and course of action at various phases of life. According to the most recent international PCOS guidelines, PCOS should be prevented, screened for, and treated while a woman is still fertile. While secondary prevention relies on early screening of girls at greater risk of PCOS, primary therapies focus on adopting healthy lifestyle habits and avoiding excessive weight gain.
Additionally, this recommendation supports consistent diagnostic standards, prompt and accurate diagnosis, increased patient and professional education, enhanced screening and diagnosis procedures, and the earliest possible treatment for problems associated with PCOS.
Over the past few years, a significant increase in awareness regarding PCOS in the female population has been observed globally.
For example, the PCOS Awareness Association (PCOSAA) conducts several events and conferences to spread awareness among the population across the globe. Recently, PCOSSA declared September as PCOS awareness month and has planned several events and activities to spread awareness.
Metformin, clomiphene (Clomid), either individually or in combination, and rosiglitazone, are first-line medications for PCOS patients seeking to induce ovulation and cure infertility. According to anecdotal evidence, oral contraceptives are one of the most popular medications used to treat irregular menstruation in women with PCOS. Metformin, rosiglitazone, and pioglitazone are examples of insulin-sensitizing medications that have been successful in enhancing fertility and ovulation in PCOS-afflicted women.
Future projections indicate that the market for medications for polycystic ovarian syndrome will grow steadily. Sensors, digital technology, and wearables are driving the scope of treatment, enabling medical professionals to delve deeply into patients' lives, whether they are pre-operative, post-operative, or in the interim. Consumer tech businesses are working to make it possible for caregivers to be seen outside of the clinical setting.
Manufacturers are offering an expanded range of drug formulations as well as dietary formulated products to increase the revenue base from PCOS treatment drugs as well as for improving the quality of life. This is prominent because, in recent years, there has been quite a fast surge in women getting diagnosed with PCOS.
The different line of treatment for various symptoms, since it is a syndrome, is expected to have a positive benefit for the manufacturers of these drugs as well as healthcare and lifestyle brands over the coming years. The introduction of innovative and better alternatives is expected to increase adoption rates, which will drive the market over the approaching years.
What Difficulty is Faced by Market Players?
"Stagnant Growth Owing To Unavailability of FDA-Approved Drugs"
Few drugs are approved to treat the most prevalent PCOS symptoms, which forces people to use drugs that were meant for different purposes off-label. Overall, there aren't many randomized or placebo-controlled studies on the effectiveness of these drugs for treating PCOS symptoms and indications. However, due to the lack of alternatives, these drugs are widely utilized when approved therapies are ineffective or when no approved drug is available for the indication.
No medication has been FDA-approved, particularly for the treatment of PCOS. Moreover, there aren't many drugs that are suggested or approved for treating PCOS symptoms such as irregular menstruation, acne, and hirsutism. This makes the production and sales of the treatment modalities difficult for the manufacturers too.
Despite several awareness programs conducted by government authorities, awareness regarding PCOS and its symptoms among the population in underdeveloped economies is significantly low. PCOS diagnosis is very low in countries such as Nigeria, for example. Additionally, almost 30% of the diagnosed population does not complete their course of treatment. Therefore, it is anticipated that the lack of understanding and a carefree attitude about treatment may hinder market growth.
Also, there are other alternative treatment options available such as homeopathic and ayurvedic modalities. Many people prefer to use these as the means for PCOS treatment because of their benefits and results. This is another factor that can restrict the progress of this market.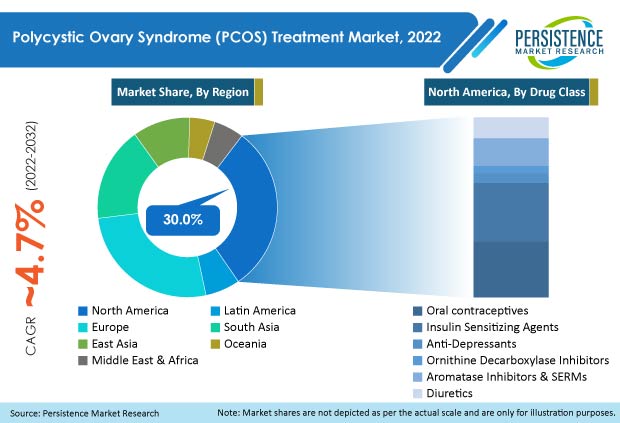 Country-wise Insights
Why is the U.S. a Lucrative Market for PCOS Treatment?
"Increasing Prevalence of Obesity, Adoption of Insulin Sensitizing Agents"
The U.S. accounted for 91.4% market share of the North American polycystic ovary syndrome treatment market in 2021.
Numerous advanced economies, including the U.S., are experiencing rising healthcare costs. Although the specific origin of polycystic ovarian syndrome is still unknown and there are no medications approved for direct treatment, its associated disorders, including obesity and insulin sensitivity, are on the rise.
The improvement of healthcare infrastructure in the United States and rising disposable income are factors that have contributed to the growth of the insulin-sensitizing agent medication class segment. Additional awareness-raising initiatives launched by the U.S. government are also credited with market expansion in the country.
What is the China PCOS Treatment Market Outlook?
"Rising Prevalence of PCOS Disorders in the Country"
China held a 50.3% share of the East Asian PCOS treatment market in 2021.
A study on the prevalence of polycystic ovarian syndrome in Chinese women found that the condition affects 5.6% of Chinese women between the ages of 19 and 45.
Over the past ten years, PCOS has become more common among Chinese women. In China, PCOS affects a considerable number of women of reproductive age, and national policy and guidelines need to be reviewed in light of the most recent information. Hence, the Chinese market is considered to be lucrative for growth in the future.
Why is India Emerging as a Prominent Market for Polycystic Ovary Syndrome Treatment?
"Growing Awareness and Changing Lifestyles & Dietary Habits"
India held the largest market share of 53.2% of the South Asia PCOS treatment market in 2021.
An increasing number of Indian women are thought to have PCOS. The disorder can have detrimental effects on one's health if it is not treated promptly. The prevalence of PCOS in India has increased in the past few decades. Approximately 22.5% of women in India, or one in five Indian women, currently have PCOS.
A large number of Indian women are now making themselves aware of the ill effects of PCOS and opting for changes in their diets as well as lifestyles. Mumbai-based PCOS Club India is working toward this cause, arranging workshops and interactive sessions with holistic experts as well as doctors.
Also, India has an emerging market in the pharma sector. Increased awareness together with high disposable income is expected to drive the demand for PCOS treatment in the country.
Category-wise Insights
Which Drug Class is Driving High Market Growth?
"Increased Demand for Insulin Sensitizing Agents"
Insulin-sensitizing agents held a revenue share of around 32.8% in the global market in 2021.
Considering insulin resistance and accompanying hyperinsulinemia being acknowledged as significant pathogenic elements of the illness, insulin-sensitizing medications have lately been advocated as the preferred therapy for the polycystic ovarian syndrome.
Additionally, as nearly all PCOS patients who are obese and more than half of those who are normal weight are insulin-resistant and exhibit some amount of hyperinsulinemia, the administration of insulin sensitizers is recommended for a majority of PCOS patients. Insulin-sensitizing medications (ISDs) improve PCOS-related reproductive irregularities, restore regular ovulation and menstruation, boost pregnancy rates, and lessen androgenic symptoms. ISDs, in particular metformin, have so been largely embraced as a treatment for PCOS.
Which Distribution Channel is Most Preferred for PCOS Drugs?
"Hospital Pharmacies Account for Highest Drug Sales"
Hospital pharmacies held a prominent share of 32.6% with a market value of around US$ 1.24 Bn in 2021. Since these medications and treatment modalities are mostly prescribed by doctors, hospital pharmacies have enjoyed a bigger share of the distribution channels in the market.
The reason for this segment's large share can also be attributed to the easy availability of treatment options and medications for the expensive aspects of PCOS care, which includes treatment for conditions such as long-term metabolic health conditions (type-2 diabetes) or reproductive health problems (infertility, abnormal uterine bleeding, menstrual dysfunction, and hirsutism) within hospital premises.
Competitive Landscape
To strengthen their product pipelines globally, leading manufacturers and pharma companies are developing innovative products. Similarly, several major competitors in the polycystic ovary syndrome treatment industry have engaged in consolidation activities to speed up research and development.
Various companies are focused on collaborations with other firms with products in advanced stages of development to enable quicker approval and efficient distribution channels of their products.
For instance:
In June 2022, Bayer announced the opening of its new Research and Innovation Center at Kendall Square in the U.S., expanding the company's footprint further in one of the world's most innovative pharmaceutical research and development locations.
In Feb 2020, Merck announced plans to focus on its key growth pillars through the spinoff of women's health, trusted legacy brands, and biosimilar products into a new company
In May 2019, Sanofi partnered with the Women's Forum, AXA, BNP Paribas, and Google, in association with RB and Gavi, the Vaccine Alliance, to find the most promising innovations to improve and promote access to health for women.
Similarly, the team at Persistence Market Research has tracked recent developments related to companies manufacturing drugs for polycystic ovary syndrome treatment, which are available in the full report.
PCOS Treatment Industry Report Scope
Attribute

Details

Forecast Period

2022-2032

Historical Data Available for

2015-2021

Market Analysis

USD Million for Value

Key Countries Covered

U.S.
Canada
Brazil
Argentina
Mexico
Germany
France
U.K.
Italy
Spain
Russia
BENELUX
India
Thailand
Malaysia
Indonesia
China
Japan
South Korea
Australia
New Zealand
Turkey
GCC
Northern Africa
South Africa

Key Market Segments Covered

Drug Class
Distribution Channel
Region

Key Companies Profiled

Novartis AG
Sanofi.
Teva Pharmaceutical Industries Limited
Merck & Co., Inc. (Merck group)
AstraZeneca plc.
Bayer AG
Pfizer, Inc
Bristol-Myer Squibb Company
Ferring Pharmaceuticals, Inc.
Johnson and Johnson
Mylan N.V.
Allergan plc.
GlaxoSmithKline
Lupin Pharmaceuticals
AbbVie
Takeda
BIOCAD Global
Blairex Laboratories Inc
Agile Therapeutics

Report Coverage

Market Forecast
Competition Intelligence
DROT Analysis
Market Dynamics and Challenges
Strategic Growth Initiatives

Customization & Pricing

Available upon Request
Key Segments of PCOS Treatment Industry Research
By Drug Class:
Oral Contraceptives
Insulin Sensitizing Agents
Antidepressants
Ornithine Decarboxylase Inhibitors
Aromatase Inhibitors & SERMs
Diuretics
By Distribution Channel:
Hospital Pharmacies
Drug Stores/OTC
e-Commerce
Clinics
By Region:
North America
Latin America
Europe Polycystic
South Asia
East Asia
Oceania
Middle East & Africa