Introduction
Developing economies are witnessing revolutionary changes in terms of internet penetration. This has also changed the dynamics of the e-commerce industry. Key players in the e-commerce industry are targeting their consumers through personal care products and other life style products.
These companies are conducting marketing campaigns to increase the awareness of personal hygiene, which has fueled the demand for perineal care products globally. Over the years, consumer behavior has altered drastically, and they are more inclined towards researching about products online and making purchases of various products, including incontinence products (perineal care) through home care settings.
The growing prevalence of bladder related chronic diseases has also triggered the adoption of perineal care products. The rising prevalence of bladder related chronic diseases such as bladder cancer, kidney disease, and endocrine and urological disorders is in turn slowly driving the growth of perineal care products. An increase in the number of patients suffering from the above indications would lead to incontinence related disorders.
A growing number of patients suffering from incontinence problems has led to a rise in the adoption of perineal care products. In 2013, according to the World Health Organization, one out of four women aged 35 years and above suffered from urinary incontinence problems. It is expected that demand for perineal care products will surge in the coming years, owing to a rise in the aforementioned diseases and disorders.
Barrier to be the most preferred product type
Barrier creams or perineal moisturizers are used for protection by acting as a buffer in the protection of skin against moisture and degrading enzymes present in fecal matter. They may be formulated as creams that are an emulsion of oil/lipid and water, and contain barrier ingredients (zinc oxide, dimethicone) in combination or alone, as an ointment that is semi-solid and comes in formulation with petroleum in the form of pastes that are formulated with absorbent materials such as carboxymethylcellulose, in the form of lotions which is a liquid suspension of active or inert ingredients, and as films that contain polymer (acrylate based) suspended in water, and forms a transparent protective layer on the skin.
The inclination of women towards keeping the perineal area clean and also moisturize it has resulted in a high use of barrier perineal products. The low risks of side-effects also makes barrier a suitable choice.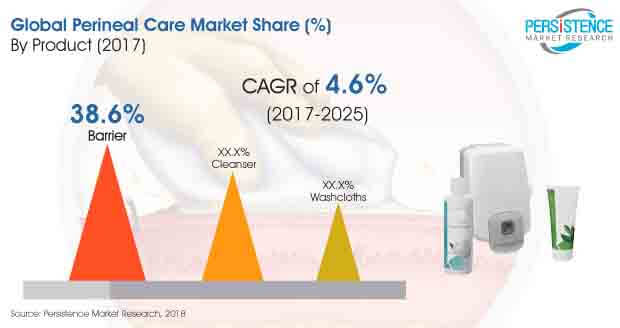 Use of cleanser to rise initially
Perineal cleansers are formulated with surfactants and offer easy removal of debris (dead skin, oil) with minimal force. Perineal cleansers are available in several categories on the basis of their chemical structure such as non-ionic, anionic, and amphoteric, and contain more than one type of surfactant. Cleanser sometimes also contains additional conditioning agents to preserve the moisture in the skin.
Washcloths to compete with other product types
Perineal wipes or washcloths are pre-moisturized wipes and offer easy and quick cleaning of the skin. Perineal wipes are made up of smooth material to offer minimal friction. These are available in both scented and non-scented forms and sometimes contain mild surfactants for conditioning of the skin. As a result of the infections that washcloths can cause, its demand is expected to rise at a rather slower pace as compared to the other product types.
Market Taxonomy
Attribute
Details

Product Type

Barrier
Cleanser
Washcloths

Distribution Channel

Institutional Sales

Hospitals
Long-Term Care Centers
Nursing Facilities

Retail Sales

Retail Pharmacies
Drug Stores
Online Sales

Region

North America
Latin America
Europe
Asia Pacific
The Middle East and Africa
- Companies Covered in This Report -
3M Company
Coloplast A/S
Smith and Nephew plc.
ConvaTec Group plc.
Essity Aktiebolag (SCA Hygiene AB)
Cardinal Health, Inc.
Sage Products, LLC (Stryker Corporation)
GOJO Industries, Inc.
Medline Industries, Inc.
Others.