Introduction
Home care service providers are continuously growing, owing to rising number of elderly patients suffering from disabilities and improving day care facilities. Hence, companies are more focused on wireless connectivity and advanced devices to deliver healthcare services. In order to meet customer needs, home care service providers are entering into various private care centers, because of the fact that, the elderly tend to choose residing in care facilities with specialized care services, which are provided in private care centres. Chronic conditions of the elderly and preventive care technology are opening up niche markets.
Moreover, the driving factor of such day care facilities is the overall cost of the setup, which is comparatively less than hospitalization. Nursing care, companion care, and personal care are provided for 10-12 hours or 24/7, which is also expected to fuel market growth in terms of revenue over the forecast period. The demand for customized solutions via online applications is increasing in developed economies.
Market Value and Forecast
The global home care services market is expected to record a year-over-year growth rate of 9.9%, and reach a market value of US$ 413,123.5 Mn in 2026.
Market Dynamics
Few factors driving the growth of the global home care services market include increase in healthcare expenditure, increasing adoption of elder home care services, government/private/public funding for home care services, and well-developed infrastructure with wide-ranging services. Also, the rising number of elderly patients suffering from disabilities, and high the dependency ratio of elderly over the younger population is likely to fuel the home care services market over 2018–2026.
Market Segmentation by Service Type
By service type, PMR has segmented the home care services market into personal care, nursing care, companion care services, and counselling services.
When compared to all the segments in the market, the nursing care segment had the largest market share in 2017, and is projected to grow over the forecast period with the highest CAGR of around 10.4%. Home-based care and community-based care segment revenue share is expected to be high due to the increasing adoption rate.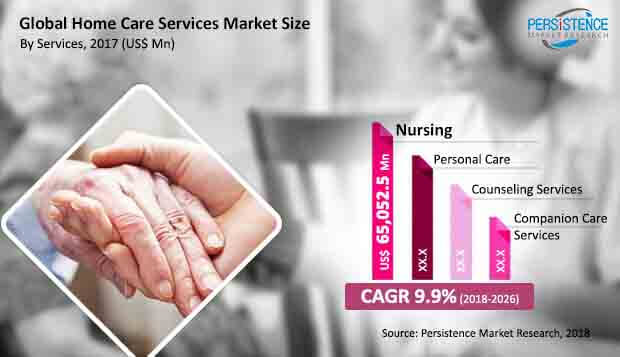 Key Regions
European market revenue is likely to grow at the highest CAGR over the forecast period. The increase in the total number of home care services providers along with the increase in privately run institutions are factors likely to propel the growth in the revenue of the home care services market in the region. As per PMR market analysis, the U.S. market is likely to register a CAGR of 9.2% in the global home care services market during the forecast period, owing to the increase in government investments, increasing demand for personal care living and nursing care, and the high cost of the hospital-centric system in the country.
The total number of home care companies in Europe is higher as compared to other regions. However, several companies are strategically entering into the developing economies in order to increase the number of home care facilities, which is likely to drive revenues of the overall home care services market in the region. The Asia Pacific Home Care services market is projected to expand at a high growth rate in terms of Y-o-Y over the forecast period.
Market Segmentation
Attribute
Details

By Service Type

Personal Care

Mobility Assistance
Meal, Home, & Personal Care
Toileting and Incontinence Care
Others

Nursing

Health Vital Alerts
Diet and Nutrition
Medication Management
Personal Safety Monitoring

Companion Care Services

Life Enrichment & Empowerment
Community Networking
Grooming Guidance
Others

Counseling Services

Dietary Counseling
Psychiatric Counseling
Medical Social Services
Others

By Specialty

Hourly Care
Live-in-care
24 Hour Care

By Region

Brazil
Mexico
Argentina
Rest of Latin America

Germany
France
U.K.
Italy
Spain
Switzerland
Russia
Poland
Nordic
Benelux
Rest of Europe

China
Japan
Australia & New Zealand
Singapore
South Korea
India
Rest of Asia Pacific

GCC Countries
South Africa
Rest of Middle East & Africa
- Companies Covered in This Report -
Australian Home Care Services
Home Care Assistance Corporation
Hired Hands Inc.
BrightStar Care
Home Caregiving, Inc.
Eldercare Services
Seniorlink, Inc.
Honor Technology, Inc.
CareLinx, Inc.
Living Assistance Services, Inc.
CK Franchising, Inc.
Family inHome Caregiving, Inc.
Others.